Odds for the 2015 Jacksonville Jaguars NFL Home Schedule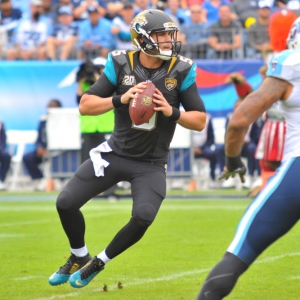 I don't think it can be argued that the Jacksonville Jaguars have the worst home-field advantage in the NFL at EverBank Field. They don't sell out that often -- at least the NFL lifted its blackout ban in home markets this season -- but it's hard to blame the fans. This franchise hasn't had a winning season since 2007 or won more than five games since 2010. The fall/early winter in Florida is quite nice, so there are plenty better things to do than go watch your home team lose big in football. There's a reason you hear rumors the Jags might be the club that moves to London, and the team happily gives up a home game a year to play there.
Frankly, the biggest event in Jacksonville every year is the Florida-Georgia game. I recommend you spend that weekend there as it's a riot. The Jaguars were 3-5 at home last season, 3-5 against the spread and 3-5 "over/under." Jacksonville's 2015 strength of schedule is ranked as the 13th-easiest in the NFL this season with an opponents' combined 2014 winning percentage of .480. It's easily the toughest in the AFC South, however.
Here's the schedule with very early (opponent) odds.
Sept. 13 -- Panthers (-4): I honestly think the Jags could have a rare 2-0 start with winnable home game games to kick things off. I wouldn't bet on it, but it wouldn't shock me. Carolina's offense isn't anything special, but the Jags also might not score on that defense. First meeting with Panthers since a 16-10 loss in Charlotte in September 2011. Key trend: Jaguars 2-8 ATS in past 10 at home vs. NFC.
Sept. 20 -- Dolphins (-4): Miami comes off a Week 1 game at Washington. There will probably be more Dolphins fans than Jags backers at this game. The Jaguars lost at home to Miami 27-13 in Week 8 last year. Blake Bortles had a rough game, completing 18 of 34 for a touchdown but two picks returned for touchdowns. He was also sacked four times and lost a fumble. The Jags outgained Miami by about 50 yards and held the ball about five minute longer. Key trend: Jaguars 3-7 ATS in past 10 at home vs. AFC East.
Oct. 18 -- Texans (-3.5): Jacksonville has a month in between home games because it has a three-game road trip following the Miami game. The Jags come off a Week 5 trip across the state to Tampa ahead of this one. Houston has extra time to prepare as it has a big Thursday home game with the Colts in Week 6. The Texans won 27-13 in Jacksonville in Week 14 last season. The Jags led 13-10 at the half but did nothing after the intermission. They had just 4 yards in the third quarter. It was a chilly, rainy day, so the stands were just about empty in the second half. Bortles threw for 205 yards with a TD and a pick. Key trend: Jags 2-3 ATS as a home dog vs. Houston.
Oct. 25 -- Bills (-6): This is the London game (9:30 a.m. ET start) and will only be available to watch -- outside of the Jacksonville and Buffalo markets -- via Yahoo streaming, an NFL first. I love these 9:30 a.m. starts but not sure I'll even bother with this one. Buffalo comes off a home game vs. Cincinnati in Week 6. First meeting since 2013, a Jaguars 27-20 home loss. Because it's in London, Jags on bye following week. Key trend: Over/under is 8-2 in Jaguars' past 10 before a bye (any location).
Nov. 19 -- Titans (+1.5): Yep it wouldn't surprise me if this is the only time the Jags are favored home or away this season. This is a Thursday game -- can you say lowest ratings of the season? Jacksonville comes off a game in Baltimore in Week 10, while Tennessee is home to Carolina in Week 10. The Jags beat the visiting Titans 21-13 in Week 16 last year, also on a Thursday night. Bortles completed 13 of 26 passes for 115 yards and a touchdown, also running for 50 yards. Jordan Todman had a 62-yard TD run. Key trend: Jaguars 5-5 ATS in past 10 as a home favorite vs. any team.
Nov. 29 -- Chargers (-4.5): San Diego is off a home game vs. Kansas City in Week 11. The Jaguars visited the Bolts in Week 4 last year and lost 33-14. That was Bortles' first NFL start. He had a stellar first half with the Jags trailing only 17-14 but struggled in the second. He finished 29-for-37 for 254 yards, a TD and two picks. Key trend: Jags 5-5 ATS in past 10 at home vs. AFC West.
Dec. 13 -- Colts (-6): I'll be shocked if this line is less than a touchdown. Jacksonville is off a trip to Nashville in Week 13, while Indianapolis is in Pittsburgh on Sunday night the previous week. Colts won 44-17 in Jacksonville in Week 3 last season. Bortles replaced an ineffective Chad Henne at halftime for his first NFL action and the Jags down 30-0. Bortles completed 14 of 24 passes for 223 yards, including fourth-quarter scores to Allen Hurns and Cecil Shorts III. Key trend: Jags 3-7 ATS in past 10 as home dog vs. Colts.
Dec. 20 -- Falcons (-2): After this, Jags finish at New Orleans and at Houston. Atlanta is in Carolina in Week 14, its third straight road game, so this could be a trap. Teams haven't played since a Falcons home rout in 2011. Key trend: Jags 6-4 ATS in past 10 December home games as a dog of 3 points or fewer.
Doc's Sports has a great offer for new clients. You can get $60 worth of picks from any Advisory Board handicapper for any sport he handicaps. All with no obligation and no credit card needed. Claim your free picks today .
Read more articles by Alan Matthews