Odds for the 2015 Jacksonville Jaguars NFL Road Schedule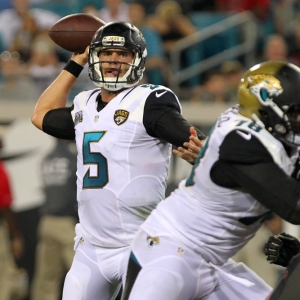 I actually think Jacksonville is on the right track as there is some good talent on this club. And it has the fifth-youngest projected starting lineup in the NFL. The Jaguars probably will start one rookie and five second-year players on opening day. Unfortunately, one rookie who won't be starting is Dante Fowler, the No. 3 overall pick in this year's draft. The pass rusher from Florida suffered a season-ending torn ACL during workouts in May.
Jacksonville hasn't had much luck with its first-round pick the past five years, all in the Top 10. In 2011, the team took quarterback Blaine Gabbert, and everyone knows how bad he was. In 2012, the Jags took talented-but-troubled receiver Justin Blackmon, and he remains suspended indefinitely by the NFL due to off-field issues. In 2013, offensive tackle Luke Joeckel was the pick, and he has missed 11 games in his first two seasons due to injury. And then last year, quarterback Blake Bortles had a rough first season, throwing 11 TDs and 17 picks for a rating of 69.5 that was the worst in the NFL.
Free $60 in Member NFL Picks No Obligation Click Here
Maybe when the club moves to London in 2018 it will be ready to compete for a Super Bowl. The Jaguars were 0-8 on the road last season, 3-4-1 against the spread and 5-3 "over/under." Their 2015 road schedule ranks as the seventh-easiest in the NFL with an opponents' combined 2014 winning percentage of .445. That's actually tied with Houston for the toughest in the AFC South.
Here's the schedule with very early (opponent) odds. Three of the road games are against 2014 playoff teams.
Sept. 27 -- at Patriots (-11.5): Jacksonville is off a Week 2 home game vs. Carolina, while New England is in Buffalo the previous Sunday. Obviously, the Jaguars will be very interested to see if Tom Brady's suspension gets cut in half to two games because if that's the case, this would be Brady's season debut. Jags have lost six straight in series, last in 2012. They will here, too, whether it's Brady or not. That line obviously was posted before Brady's suspension. Key trend: Jaguars 4-6 ATS in past 10 at AFC East teams.
Oct. 4 -- at Colts (-10.5): Colts could be caught looking past this one and toward a Thursday night trip to Houston in Week 5. Indy is off a trip to Nashville ahead of this. The Jaguars lost 23-3 in Indianapolis off their bye week last year in Week 12. The Jaguars sacked Andrew Luck five times and forced three turnovers but could do nothing offensively. Bortles was 15-for-27 for 146 yards and a pick. Jacksonville totaled 194 yards. Jags lose this. Key trend: Jaguars 6-4 ATS in past 10 as road dog in series.
Oct. 11 -- at Buccaneers (-3.5): Tampa is off a Week 4 home game vs. Carolina. While the Jags didn't have a road win last season, Tampa didn't have one at home, the only club without one. Jags have lost four straight in the series, last in 2011. They lose here too. Key trend: Jaguars 4-6 ATS in past 10 as a road dog of 3.5 points or fewer.
Nov. 8 -- at Jets (-5). Jacksonville comes off its bye week, while New York is in Oakland in Week 8. Jags have lost last two meetings with Jets, last in 2012, but might actually have the quarterback edge in this one against Geno Smith. Jaguars lose. Key trend: Jaguars 5-5 ATS in past 10 after a bye (any location).
Nov. 15 -- at Ravens (-10.5): Baltimore comes off its bye week. Jacksonville lost 20-12 in Baltimore in Week 15 last year despite leading 12-10 at the half. Bortles completed 21-for-37 passes for 210 yards and an interception that came in the game's final minute. He was sacked eight times. The Jags also had a punt blocked and returned for a score. They lose here. Key trend: Jaguars 4-5-1 ATS in past 10 at AFC North teams.
Dec. 6 -- at Titans (-3): Jacksonville is off a home game vs. San Diego in Week 12, while Tennessee is home to Oakland. The Jaguars lost 16-14 in Nashville in Week 6 last season as they had a field-goal attempt in the final seconds blocked. The Jaguars scored with 37 seconds left as Bortles found Clay Harbor for a 20-yard TD. They recovered the onside kick after Titans safety Michael Griffin couldn't hold onto the ball. But Josh Scobee's 55-yard attempt was partially blocked. Bortles was 32-for-46 for 336 yards, a TD and a pick and was sacked six times. Jags win this. Key trend: Jaguars 7-3 ATS in past 10 as road dog in series.
Dec. 27 -- at Saints (-8): Jacksonville is home to Atlanta in Week 15, while New Orleans is on a short week, hosting Detroit on Monday night. Jaguars have lost last two meetings, most recently in 2011. They lose here too. Key trend: Jaguars 5-4-1 ATS in past 10 as road dog of at least 8 points.
Jan. 3 -- at Texans (TBA): No Week 17 line yet because potentially too many intangibles on the final Sunday of the regular season. Certainly the Jags will be dogs assuming Houston has something to play for. Houston is off a Week 16 home game vs. Tennessee. The Jaguars and Texans closed last season in Houston, and the Texans won 23-17. Bortles was 14-for-33 for 117 yards and was sacked five more times, three by J.J. Watt. Jaguars lose this. Key trend: Jaguars 4-5 ATS in nine games as a road dog in this series.
Doc's Sports wants you to try out our stable of NFL handicappers absolutely free of charge. We know you'll be impressed, so access $60 worth of member's picks with no obligation. Get started today with one click.
Read more articles by Alan Matthews