Odds for the 2015 New England Patriots NFL Road Schedule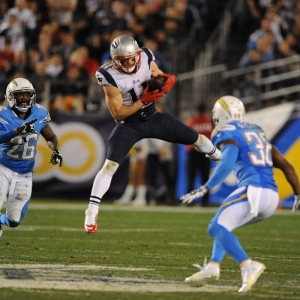 I've cycled through all 32 teams in analyzing their home schedules for the coming season, so I start my 32 road schedule previews with the defending Super Bowl champion Patriots.
We still don't know what the situation with Tom Brady's appeal is as of this writing. Reports are that Commissioner Roger Goodell won't decide until late this month, likely on the eve of the Patriots reporting to training camp, which they do on July 29. It really depends on whom you believe on whether Brady's suspension is dropped. Some media outlets reported that the appeal went great, while others reported that the NFL wasn't impressed and Brady kept denying everything. I still say it gets reduced by at least a game, but for my purposes here, I will keep at four games.
Free $60 in Member NFL Picks No Obligation Click Here
New England was 5-3 on the road last season, 4-4 against the spread and 4-4 "over/under." Their 2015 road schedule ranks as the tied for the sixth-toughest in the NFL with an opponents' 2014 combined winning percentage of .555. That's the hardest in the AFC East, which is only fair considering the Pats have by far the easiest home slate in the division.
Here's the schedule with very early (opponent) odds.
Sept. 20 at Bills (+1): Line was before the Brady suspension. This follows that Thursday night home season opener against Pittsburgh for New England, and I'm assuming Brady at least misses that one so the Pats could be staring a 0-2 start in the face here as they see Rex Ryan for the first time as the Bills coach. Ryan loved nothing more than beating Bill Belichick while with the Jets. Buffalo is home to Indianapolis in Week 1. The Patriots won 37-22 in Buffalo in Week 6 last season. Brady improved to 23-2 against the Bills all-time by completing 27-for-37 for 361 yards and four scores. The Patriots' defense forced three turnovers, and New England never trailed. I say Pats lose this if no Brady. Key trend: I'm going to say no Brady and thus Pats are slight dogs. They have been dogs in Buffalo just four times this century. New England covered three of them.
Oct. 11 at Cowboys (pick'em): This is off the New England bye week, so I could see Brady maybe playing. This line also was before his suspension. Dallas is off a game at New Orleans in Week 4. Could be the last time we see Brady and Tony Romo on the same field? I don't see the Pats winning in Big D without Brady. Key trend: Pats 4-5-1 ATS in past 10 after a bye (any location).
Oct. 18 at Colts (-1): If the suspension stands, this will be Brady's return, of course against the team that turned the Patriots in for "Deflategate." This will easily be the highest-rated Sunday night game of the year if this is indeed Brady's first game. It's also the two AFC favorites right now. Indy will have extra time to prepare, visiting Houston on Thursday in Week 5. The Pats bombed the Colts 42-20 in Indy in Week 11 last season. That was the Jonas Gray game, where he came from nowhere to rush for 199 yards and four scores, became the No. 1 fantasy football pickup that Monday and then fell off the earth again. Brady was 19-for-30 for 257 yards with two scores and two TDs. Pats of course blew out visiting Colts in AFC title game. I think Colts take this one. Key trend: Pats have covered eight of past 10 at Indianapolis.
Nov. 15 at Giants (+1.5): New England is off a three-game homestand ahead of this one, concluding Week 9 against the Redskins. New York is off a game in Tampa the previous Sunday and it's ahead of the Giants' bye. Brady will want to beat Eli Manning in a big way here for those two Super Bowl losses. Pats win. Key trend: Patriots 5-4-1 ATS in past 10 at NFC teams.
Nov. 29 at Broncos (-2.5): New England will be on a short week as it hosts Buffalo on Monday in Week 11. Denver is in Chicago the previous Sunday. This will be the 17th meeting between Brady and Peyton Manning, and I think it's the last in the regular season. Brady improved to 11-5 in the series (including playoffs) with a 43-21 home win in Week 9 last season. Brady was great, throwing for 333 yards and four scores. Rob Gronkowski caught nine for 105 and a score. Broncos win here. Key trend: Patriots 3-7 ATS in past 10 as a road dog of at least 2.5 points.
Dec. 13 at Texans (+1.5): New England is off a Week 13 home game vs. Philadelphia. Houston is in Buffalo the previous Sunday. The Patriots have lost once in six all-time meetings vs. the Texans, and that was in 2010. They last played in December 2013, a close New England win in Texas when Houston was horrible. Patriots win here. Key trend: Pats 6-4 ATS in past 10 on road vs. AFC South.
Dec. 27 at Jets (+4.5): New England comes off its home finale vs. Tennessee, while New York is in Dallas in Week 15. Patriots won 17-16 at the Jets in Week 16 last year to clinch a first-round bye in the playoffs. Gray scored the go-ahead touchdown on a 1-yard run early in the fourth quarter. New England became the first team to earn first-round byes in five straight seasons. Brady finished 23-for-35 for 182 yards with a TD and pick and was sacked four times. Patriots win this one. Key trend: Pats have won six straight (4-2 ATS) as at least 4-point favorite at Jets.
Jan. 3 at Dolphins (TBA): No Week 17 lines available yet -- 5Dimes has started to release some -- because of too many possible intangibles on the final Sunday of the season. Miami is off a Week 16 home game vs. Indianapolis. Wouldn't surprise me if this is for the division. Patriots lost 33-20 in south Florida in Week 1 last season. New England was shut out in the second half and held to 67 yards. Brady threw it a whopping 56 times and completed 29 for 249 and a score while being sacked four times. Can't pick a winner here because totally depends on what teams are playing for. Key trend: Pats 5-4-1 ATS in past 10 at Miami.
Doc's Sports has had a winning tradition for more than four decades. Don't believe us? Try us out for free, and we are convinced you will be a believer. Get $60 worth of free sports picks - members' picks just like our paying clients get - here .
Read more articles by Alan Matthews