Odds for the 2015 New York Giants NFL Home Schedule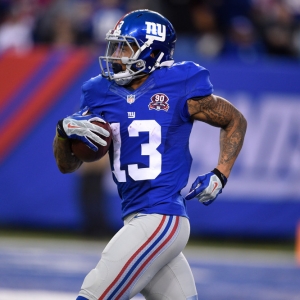 The Giants got some potentially concerning news this week in that it has been reported that rising superstar receiver Odell Beckham Jr., the 2014 NFL Offensive Rookie of the Year, might not be ready to practice with the team until camp because of a sore left hamstring (Madden curse!?). It's not a big deal if he misses OTAs (going on now) or next week's mandatory minicamp as long as he's ready for training camp. But the Giants have to be at least a bit worried because a hamstring problem, albeit the right one, cost him all of training camp and four games in 2014. Once Beckham got on the field, he was incredible. Frankly, he probably is why Tom Coughlin is still the coach of this team. Remember, too, that fellow starting receiver Victor Cruz is coming back from a major injury that cut his 2014 season short.
New York was just 3-5 at home last season, 4-4 against the spread and 4-4 "over/under." The Giants' 2015 schedule ranks almost right in the middle in terms of toughness/easiness as their opponents had a combined .496 winning percentage last season. It is the hardest in the NFC East.
Here's the schedule with very early (opponent) odds.
Sept. 20 -- Falcons (+3.5): New York opens the season with a big one at Dallas on Sunday night in Week 1, while Atlanta will be on a short week as it hosts Philadelphia in the Monday night opener on Sept. 14. The Falcons visited the Giants in Week 5 last season, and New York won 30-20. That was Beckham's season debut, and he caught the go-ahead 15-yard touchdown pass from Eli Manning with 10:02 remaining. Manning threw two touchdowns, and Josh Brown added three field goals, the last of which was set up when the Giants sacked Atlanta QB Matt Ryan on fourth down with 4:40 remaining. Key trend: Giants 6-4 ATS in past 10 at home vs. NFC South.
Sept. 24 -- Redskins (+2): This is New York's Thursday night appearance of the season. Washington comes off a Week 2 home game against the Rams, and it's the Skins' first road game. In Week 15 last season, the Giants beat the visiting Redskins 24-13. Beckham was everywhere, catching 12 balls (one shy of team record) for 143 yards and three touchdowns. New York iced the game with a 76-yard drive that featured five catches by Beckham. Key trend: Over/under just 1-9 in past 10 in this series with Giants as a home favorite.
Oct. 11 -- 49ers (pick'em): This line has to be wrong -- are oddsmakers not aware of how much the 49ers have lost this offseason? New York comes off a trip to Buffalo in Week 4, while San Francisco hosts Green Bay in Week 4. Usually I give East Coast teams a huge advantage at home against West Coast teams. However, this isn't an early start but on Sunday night, so that edge is gone. The Giants lost to the visiting Niners 16-10 in Week 11 last season. Manning was pretty awful, throwing for 280 yards and a score but completing only 22 of 45 and getting picked off five times, including at the 49ers 2-yard line with 4:34 to play. Key trend: Giants 5-5 ATS in past 10 at home vs. NFC West.
Oct. 25 -- Cowboys (pick'em): Short week for the G-Men as they are off a trip to Philly on Monday night in Week 6. Double edge for Dallas as it comes off its bye. New York lost to visiting Dallas 31-28 in Week 12 last season. That was the game Beckham had perhaps the most acrobatic catch in NFL history. I'm sure you have seen it, but if not Google it. Manning threw for 338 yards, three scores and a pick. Beckham caught 10 of them for 146 yards and two scores. New York had taken a 28-24 lead with three minutes left on a Manning 1-yard TD pass to Adrien Robinson. Key trend: Giants 6-4 ATS in past 10 at home in series.
Nov. 15 -- Patriots (-1.5): New York is off a trip to Tampa and on its bye week after this game. The Patriots come off a home game against Washington. Think this might have extra motivation for Tom Brady after Manning has led two huge Super Bowl upsets of Brady and Co.? Super Bowl XLVI was the last time these teams played. It's New England's first trip to the Giants since 2007. Key trend: Giants 1-9 SU in past 10 as a home dog (4-6 ATS).
Dec. 6 -- Jets (+5): The Giants are off a trip to Washington, while the Jets are home to Miami in Week 12. Be interesting to see the makeup of the fan base since obviously both these teams call MetLife Stadium home. But it will be in Giants colors as it's their home game. First meeting since a 29-14 Giants "road" win on Christmas Eve 2011. Key trend: Giants 2-7-1 ATS in past 10 at home vs. AFC.
Dec. 20 -- Panthers (+2): Short week for the Giants as they are in Miami on Monday night in Week 14. Carolina is off a home game against Atlanta. Teams last played early in the 2013 season, and New York was crushed 38-0 in Charlotte. That was loss No. 3 of New York's six-game losing streak to start that season -- I'm surprised Coughlin survived that. The Giants had only 150 yards vs. Carolina. Key trend: Giants 4-6 ATS in past 10 at home as a favorite of 2.5 points of fewer.
Jan. 3 -- Eagles (TBA): Again, no line for the Week 17 game with too many potential intangibles on the final Sunday of the season. New York off a trip to Minnesota, and Philadelphia is home to Washington in Week 16. The Giants lost to the visiting Eagles 34-26 in Week 17 last year. Beckham basically clinched the Offensive Rookie of the Year Award with 12 catches for a career-best 185 yards, including a 63-yard fourth-quarter touchdown that got the Giants within 31-26. Manning threw for 429 yards, that TD and a pick. Key trend: Giants 3-7 ATS in past 10 at home in series.
Want free sports betting picks? Doc's Sports has you covered - get $60 worth of picks free from any of Doc's Sports expert handicappers. Click here for free picks (new clients only).
Read more articles by Alan Matthews