Odds for the 2015 New York Jets NFL Road Schedule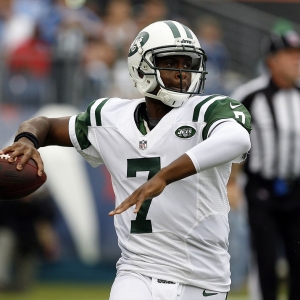 The New York Jets hired former Arizona Cardinals defensive coordinator Todd Bowles as their new head coach this offseason to replace Rex Ryan, and I think Bowles is essentially going to try and turn the Jets into Seattle East. By that I mean win with a game-managing quarterback, punishing running game and great defense. Alas, I think the Jets only have the latter of those three.
Geno Smith, who is certainly no Russell Wilson, will be your Week 1 starter at quarterback, but I highly doubt he's the guy all season. At some point, all Smith's turnovers are going to have Bowles turn to Ryan Fitzpatrick. The Jets also don't have a Marshawn Lynch-type in the backfield. It looks like the featured back will be Chris Ivory. He's an OK player but not really the guy you want your offense built around.
The defense looks outstanding with the returns of Darrelle Revis and Antonio Cromartie in the secondary, but it's the front that's the strength. However, Pro Bowler Sheldon Richardson already was suspended the first four games of the season and recently was arrested for driving 143 mph, trying to avoid police and eventually getting caught with a loaded semi-automatic handgun in his car, which reeked like marijuana and had a 12-year-old in it. He was charged with resisting arrest and various traffic violations but got lucky he didn't get child endangerment charges. Still, I don't see how the NFL doesn't at least double that suspension now.
The Jets were 2-6 on the road last season, 3-4-1 against the spread and 4-4 "over/under." Their 2015 road schedule ranks as the ninth-toughest in the NFL with an opponents' combined 2014 winning percentage of .547. It's the second-toughest in the AFC East behind New England.
Here's the schedule with very early (opponent) odds. There are three road games against 2014 playoff teams.
Sept. 21 -- at Colts (-7.5): Monday night game. New York is off a Week 1 home game vs. Cleveland and better win that or is likely staring at 0-4 entering its Week 5 bye. Indianapolis is in Buffalo the previous Sunday. Jets have faced Andrew Luck only once and won 35-9 in October 2012, picking off Luck twice. Jets lose this. Key trend: Jets 5-4-1 ATS in past 10 as a road dog of at least 7.5 points.
Oct. 4 -- at Dolphins (-3.5): Not a true road game as it's in London. New York plays its first division game off a Week 3 home encounter with Philadelphia, and this is ahead of the Jets' bye. Miami is home to Buffalo in Week 3. This will be the fourth international game in Jets history and the second regular-season game outside the USA. Jets won in Miami to close last regular season, 37-24. Smith had the game of his career, going 20-for-25 for 358 yards and three TDs -- the NFL's only perfect 158.3 rating last season. Dolphins actually led 24-14 in the third quarter. Jets lose this. Key trend: Jets 6-4 ATS in past 10 before a bye (any location).
Oct. 25 -- at Patriots (-8.5): New York is off a home game vs. Washington in Week 6, while New England is off a huge Sunday night game in Indianapolis -- which might be Tom Brady's season debut if the four-game suspension stands. Thus if so, this would be his first home game and even more of a zoo than usual. Revis no doubt won't be warmly welcomed in his return to Foxboro. The Jets lost 27-25 in New England in Week 7 on a Thursday last year. Nick Folk's 58-yard field goal attempt to win as time expired was blocked. Smith had a good game, completing 20-for-34 for 226 yards, a TD and no turnovers. Ivory rushed for 107 yards and a score. Jets lose this. Key trend: Jets 1-9 SU (6-4 ATS) in past 10 as a road dog of at least a touchdown in series.
Nov. 1 -- at Raiders (pick'em): Clearly this will be New York's best chance for a road win. Oakland is off a Week 7 game in San Diego. The Jets opened last season with a 19-14 home win over the Raiders. Ivory had a 71-yard touchdown run midway through the fourth quarter for a 19-7 lead. New York outgained Oakland 402-158 but had two turnovers and 11 penalties. Jets lose this. Key trend: Jets 3-7 ATS in past 10 at AFC West teams.
Nov. 22 -- at Texans (-5): Extra time for New York to prepare off a Week 10 Thursday home game against Buffalo. Short week for Houston as it is in Cincinnati the previous Monday. New York won the first five meetings with Houston but dropped the last, 23-17 in 2012. Jets pull upset here. Key trend: Jets 7-3 ATS in past 10 at AFC South teams.
Dec. 6 -- at Giants (-5): This schedule is great for New York in a way in that really it's only two true road games if you subtract that London one and then this one against the MetLife Stadium co-inhabitants. Jets are off a Week 12 home game vs. Miami, while Giants are in Washington the previous Sunday. Jets have lost five straight in series. Make it six. Key trend: Jets 3-6-1 ATS in past 10 at NFC East teams.
Dec. 19 -- at Cowboys (-7.5): Saturday night game. New York off a home game vs. Tennessee, while Dallas is in Green Bay in Week 14 so might be flat here off that playoff rematch. First meeting since 2012. Jets lose this. Key trend: Jets 7-2-1 ATS in past 10 December road games as a dog of at least 7 points.
Jan. 3 -- at Bills (TBA): Again, no Week 17 lines with too many potential intangibles. How great would it be if this game were for a wild-card spot (might be for Bills) as Jets go up against Ryan? New York lost 38-3 "at" Buffalo last year on a Monday night in Week 12. That game was moved from Sunday in Buffalo to Monday in Detroit because of a snowstorm. Michael Vick went 7-for-19 for 76 yards for the Jets before being replaced by Smith in the third quarter. The Jets had only 218 total yards. They lose this. Key trend: Jets 5-5 ATS in past 10 as road dog (they surely will be) in this series.
Hungry for a winning NFL season? Doc's Sports can help, and they will do it absolutely free. New clients can access $60 worth of NFL member's picks absolutely free. No obligation. No salesmen to deal with. Get started today by clicking here.
Read more articles by Alan Matthews