Odds for the 2015 Oakland Raiders NFL Road Schedule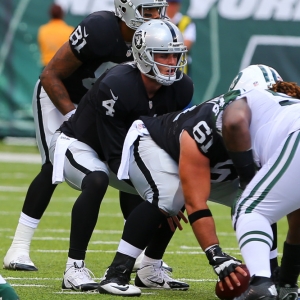 If I'm a Raiders fan, I'm pretty excited about where this franchise is going. Well, that is unless I live in Oakland because there's just about no chance that the Raiders will be there next season. The team is going to end up in Los Angeles but perhaps could play a couple of seasons in San Antonio until a new stadium is built in L.A. There's also talk that if the Chargers join the Raiders in a Los Angeles stadium then one of those teams would have to switch conferences and head to the NFC West. Be interesting to see which NFC team would move over. I assume the league wouldn't want Oakland and San Francisco in the same division simply for TV reasons. Pro Football Talk is reporting that the most likely move is the Raiders moving to the NFC West and the Rams (who also want to move to L.A.) or Cardinals moving to the AFC West.
From a player perspective, I like second-year quarterback David Carr, and this year's first-round pick, Alabama receiver Amari Cooper, is the +600 third-favorite behind Tampa's Jameis Winston and San Diego's Melvin Gordon to win Offensive Rookie of the Year. The defense is still pretty weak, but last year's top pick, linebacker Khalil Mack, is the real deal.
The Raiders aren't going to finish with their first winning record since 2002 this season, but you can finally see a light at the end of the tunnel. Oakland was 0-8 on the road last season. (Jaguars only other team without an away win), 4-4 against the spread and 4-4 "over/under." Its 2015 road schedule ranks right in the middle as the 16th-toughest in the NFL with an opponents' combined 2014 winning percentage of .516. It's tied with Denver for the easiest in the AFC West.
Here's the schedule with very early (opponent) odds. There are three road games against 2014 playoff teams.
Sept. 27 -- at Browns (-4.5): First 1 p.m.. ET start for Oakland in 2015. Raiders are off a home game vs. Baltimore in Week 2, while Cleveland is home to Tennessee the previous Sunday. Raiders have lost three of past four vs. Browns, including 23-13 in Ohio in Week 8 last year. That was the Raiders' 16th straight loss in the Eastern time zone. Carr was 34-for-54 for 328 yards and a touchdown. Raiders only trailed 9-6 entering the fourth and outgained the Browns by 81 yards but had three turnovers. Raiders lose this. Key trend: Raiders 0-10 SU (7-3 ATS) in past 10 September road games as a dog of at least 4 points.
Oct. 4 -- at Bears (-6): Oakland might decide to stay somewhere in the Midwest with a second straight 1 p.m. ET game. Chicago is off a trip to Seattle in Week 3. Frankly, I think the Raiders are in better shape going forward from a talent standpoint than the Bears are. Chicago would have jumped on Cooper had he been there at No. 7 overall in this year's draft but instead had to settle for West Virginia's Kevin White -- Raiders considered him -- and he may now miss the season. Oakland won last meeting in 2011 but hasn't been to Chicago since 2003. Raiders lose this. Key trend: Raiders 1-5 ATS all-time at NFC North teams.
Oct. 25 -- at Chargers (-8): The L.A. Bowl! Oakland is off its bye week, while San Diego is in Green Bay in Week 6. Oakland lost 13-6 in San Diego in Week 11 last year, the Raiders' 16th straight defeat overall, but they would end it the following week. Carr was 16-for-34 for 172 yards. Oakland had only 233 total yards and nine first downs. Raiders lose this. Key trend: Raiders 5-4 ATS in nine games at San Diego as a dog of at least 7.5 points (1-8 SU).
Nov. 8 -- at Steelers (-9.5): Another 1 p.m. ET start for the Raiders, who are off a home game vs. the Jets in Week 8. Pittsburgh is home to Cincinnati the previous Sunday. Raiders have lost four of past five in series, last in 2013. They fall again. Key trend: Raiders 2-8 ATS in past 10 at AFC North teams.
Nov. 22 -- at Lions (-8.5): This will be Oakland's only indoor game all season. Raiders are off a home game vs. Minnesota, while Detroit is off a trip to Green Bay in Week 10 and thus could be a bit flat. Raiders have lost three straight in series, last in 2011. Make it four. Key trend: Raiders 6-4 ATS in past 10 as a road dog of at least 8 points.
Nov. 29 -- at Titans (-2): Tennessee has extra time to prepare as it is in Jacksonville on Thursday in Week 11. Quite clearly this and the Cleveland games are the two best chances for the Raiders to avoid another winless road season. They have lost three straight to Tennessee, last in 2013. I say streak ends. Key trend: Raiders 5-5 ATS in past 10 at AFC South teams.
Dec. 13 -- at Broncos (-10.5): Oakland is home to Kansas City in Week 13, while Denver is in San Diego the previous Sunday. Raiders have lost seven straight in series. They were beaten 47-14 in Denver to close last season. Carr was 18-for-36 for 158 yards, a TD and a pick. Raiders had only 199 total yards. Score a bit misleading as it was only 27-14 with about six minutes left in the third. Oakland loses this. Key trend: Raiders 4-4 ATS all-time as a dog of at least 10 points in Denver.
Jan. 3 -- at Chiefs (TBA): No Week 17 line with too many potential intangibles on the final day of the regular season. If Raiders do switch conferences, it will mean the end of this good rivalry. Oakland is off perhaps its last home game in the city in Week 16 against the Chargers on a Thursday night. Chiefs are home to Cleveland the previous Sunday. Oakland lost 31-13 in K.C. in Week 15 last year. It was only 10-6 early in the third quarter. Carr was 27-for-56 for 222 yards, throwing a TD pass in the final minute. But he was sacked four times and fumbled a snap that led to a Kansas City touchdown. Raiders lose this to finish 1-7 on road. Key trend: Raiders 7-3 ATS in past 10 as a dog in series.
Doc's Sports is offering new clients free NFL picks from any handicapper on our Advisory Board. This special offer does not require a credit card, and you will never have to deal with a salesman. Click here to get your free $60 NFL picks credit today. Also, get three handicappers for the price of one when you sign up for a full-season football package! Click Here for details.
Read more articles by Alan Matthews