Winning NFL Betting Advice: Tips on Thinking Outside the Box
by Jason Sharpe - 8/11/2015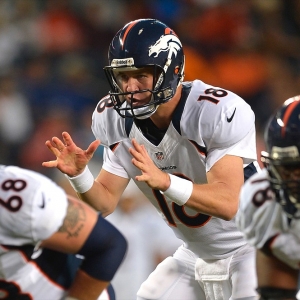 The NFL remains king when it comes to the sports betting world. All week long we are hit with loads of information. It's day after day of what happened last week and also what to expect for the upcoming weekend of games. It seems that when it comes to the NFL, everyone has a strong opinion on it.
The problem with that is...........everyone's opinion STINKS!!! There's been numerous studies done, and all of them claim the same thing, about 90-95 percent of the betting public loses money betting on the NFL each season. How could that possibly be true?
The answer is because everyone is thinking the same way and placing way too much of an emphasis on how a team played last week. When it comes to betting on the NFL, you have to go against the grain and think outside the box. Thinking and betting like everyone else will end up putting you in the with the 95 percent group that loses money betting on the NFL.
My strategy for beating the NFL is a very simple one, but it's also extremely effective. First off you have to remember that when it comes to any kind of investing you have to think like an investor and search for 'value'. The line movement on NFL games comes from the money being bet throughout the week. If a bookmaker is getting hit with money being bet on only one side of a game, the best way for them to lower their risk and get some balanced action is to move the number on the game. So if the Indianapolis Colts are listed at -5 over the Detroit Lions and the books are getting lots of money bet on the Colts, they will usually move the spread higher.
Due to its extreme popularity, the NFL is the only sports betting market that gets a higher percentage of money bet coming from recreational sports bettors. If the line moves on a college basketball game involving Cal State Fullerton, it's most likely because a professional sports bettor likes the bet and that is something you don't want to bet the other side against. In the NFL if you see a line move on game day or the day before the game, there's a good chance it moved from all of the money being bet by the smaller recreational bettors. Those line moves will make for some nice line value betting on the other side these games. It's really that simple, you're looking to make bets in the NFL from the line value that's been created from heavily-bet public sides.
So how does one find these types of plays? There's no perfect answer, but you don't want it to be, either, because if there were a specific set of rules to follow the edge with these plays would eventually go away. I'm going to share with you here a few things that you can do to find these types of plays each week in the NFL.
1) For the most part, recreational bettors don't care what the point spread on a game is -- they just want to bet on the team they picked to win the game (the favorite), and their hope is that team will win the game by enough points to cover the spread. This leads to the line value being on the underdogs in the NFL, and so those are the type of bets you need to be placing. Bet on NFL underdogs!!!
2) Read/listen all week to what everyone is saying about the teams in the NFL and then THINK OPPOSITE of all you read/heard. If the Washington Redskins start the season off 3-0 and win each game by 20+ points, they are going to be the talk of the NFL for Week 4, and you want to bet against them if they are favored. This also works the opposite way, too, meaning if a team loses its opening game 49-0 then it's a good idea to bet on that team in Week 2. We are basically betting on bad news and against the good news. I know this is going to be hard for some, but believe me it's the best way to bet on the NFL. NFL teams don't dominate against the point spread over the course of the season. In fact, look at this stat: "Last season 16 of the 32 teams, or half of the NFL teams, won more than 10 games or less than six games." Don't let that scare you, though, because the key here is when it came to the point spread, only three teams overall won more than 10 games or less than six against the point spread. That's the only thing that we care about here, winning and losing our bets. Twenty-nine of the 32 teams finished the NFL regular season last year winning between just 6-10 games overall against the point spread, meaning in the NFL no team is as good as people think and no team is as bad as people think.
3) Look at the betting percentages for each team and focus on betting the underdogs who are show a low percentage of bets being placed on them for the week. There are numerous websites online, if you search for them, that show the percentage of bets being placed for each team in all of the upcoming games. Look to play on the sides that are one of lower-percentage bet teams for the week and especially if the line on the game has moved up and added more line value to that team.
4) The best places to look for underdogs are usually home underdogs getting a touchdown or more. Historical data shows these plays have won long-term at higher-than-normal rates. The worse a home underdog looks, it normally means the better the bet.
6) National TV home underdogs on Sunday/Monday night games have also been very strong plays in the past. Like with the advice given above, you're taking a team at home and in a game where most aren't giving them a chance to win. An underdog at home in a nationally-televised contest can be a dangerous team as they will usually treat the game like it's their Super Bowl.
A couple of other quick pointers to add: A) when looking to bet underdogs, try getting a team with a 'key number'. The numbers +3, +7, +10 and +14 are the four most important numbers when betting the NFL. If you like a game where you're getting +6.5 points, try and wait and see if maybe some +7s start to show up as that extra half point onto a key number means a lot. B) bet only late in the week and very close to game time as that's when the recreational bettors start betting and will push the lines higher. C) the more options you have for places to bet, the more likely you will come across games getting an extra half a point on a team. D) lastly, let me add to also BE VERY CAREFUL betting on the NFL when it comes to the volume of games in a week. These edges that I'm describing are profitable long-term, but they are also smaller edges than most other bets as the NFL betting market is one of the tougher ones to beat. You can't go crazy betting every single game on the board and expect to be profitable at the end of the year as most of the time a line on a game is dead on. I personally try and limit myself to making just three or four NFL plays a week and no more as there's just too much randomness in an NFL game.
This NFL betting method takes some work each week, but I think it will give you your second-best chance to win money betting football this upcoming season. The best chance for you to be a winner is to bet the same exact plays that I'm betting myself as I once again release every single one of them here at Doc's Sports. I'm on top of my game right now when it comes to betting on football as I've posted back-to-back personal record-breaking seasons of profit. Like I stated earlier, statistics show that only 5-10 percent of people betting on football will make money in a given season. I've shown a documented success rate of 80 percent overall of winning football seasons here at Doc's Sports (four of five years overall).
I have a reputation of being conservative with my money management as I understand firsthand that there's some stress involved with investing in sports betting. I work exceptionally hard in the summer getting prepared to take advantage of the early part of the football season as I want to quickly get my clients ahead for the year overall. Getting ahead early in the football season means we are now betting with the sportsbooks' money (our profits) and not our own. I've been able to do that in four of my five years by making a nice profit during the NFL Preseason. It's the only time of the year that you will find games involving two teams who are playing with completely different motivations. My career documented 65 percent win rate on preseason NFL selections is as high as any handicapper I've seen in the sports betting industry on these type of plays. When I do pull the trigger on my biggest plays (one a week), I leave no stone unturned. I don't care if that pick involves a small college football team like Central Michigan or is an NFL selection instead, because at the end of the day the money won from these big plays bets spends the same way.
My biggest 7-8 Unit football plays last season became one of the top stories in the Las Vegas betting community as I went a perfect 8-0 on them in August, September, October and November. The one great thing about Doc's football packages is it's the only place I know that combines BOTH the NFL and CFB together each week. Most places will separate these two sports, forcing the consumer to have to buy two different football packages. Early-bird prices are up right now so call our offices today and join me Jason Sharpe as I'm extremely confident this will be my third straight year of record-breaking profits betting on football!!
Click here for more information on my NFL and college football picks service , and new clients can get a free $60 credit to use towards a week of my service. For more details, click here.