AFC Championship Betting: Keys and Distractions New England vs. Denver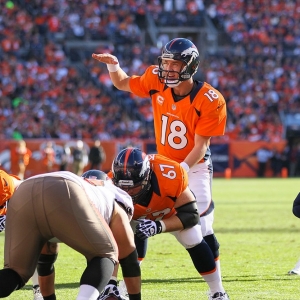 The pretenders have gone home. Now it's all about the big boys in the NFL. In the AFC we have the top two seeds meeting to decide who will be representing the conference in the Super Bowl. It's the Broncos and the Patriots - much like many expected before the season even started. As bettors we have the luxury of only having to concentrate on two games - instead of the huge number that face us during the regular season. Media coverage has intensified dramatically, though, so there is much more noise we have to wade through to get to the bottom of the game. When looking at this game, then, here are three keys to determining the outcome of the game and two distractions that get much more attention than they deserve:
Keys
Are the Patriots really healthy?: It's interesting how quickly the narrative has changed. At the end of the season and leading up to last week's game the story was how banged up the Patriots were and what impact that could have on their playoff performance. After one very successful game, though, the story is now about how they are healthy and ready to go. It's a big shift. We know that most of the relevant players who have been injured and are able to return are going to be back for this one. The question, though, is how healthy they really are and whether they are going to be able to perform at their best. The eyes have been on guys like Gronkowski and the receivers. What I am most interested in, though, is the offensive line. They have had a ridiculous number of injuries up front. Against a good pass rushing team in Kansas City, though, the line performed extremely well. Was that because they are that good or were they helped by the poor health of pass rushing savant Justin Houston? It's a big question that will have a significant impact on the outcome of the game.
Ability of Denver offense to keep up: I have had very little respect for this Denver offense all season, and that respect is at an all-time low right now. Peyton Manning can't complete long passes with any accuracy. His receivers were dropping so many short passes last week that it was shocking, too. They are just not good - certainly not good enough. They have put a whole lot of pressure on their defense all year as a result. This week, against one of the most talented and focused playoff performers of all time at quarterback, that defense is going to face even more stress than usual. There is a decent chance that New England will score some points. People have tried to argue that the defense is in top form because they shut down the Steelers last week, but Pittsburgh was missing their top running back and receiver, and their quarterback was all kinds of broken, so that argument doesn't hold. Denver will need to score, too, to come out on top. How much faith you have in Denver's offense will dictate how you feel about their chances overall.
Coaching mismatch: Coaching matters in the playoffs - more than in the regular season, even. That is not good news for the Broncos. Bill Belichick's record speaks for itself - he owns the playoffs and knows exactly what it takes to win and get his team ready. Gary Kubiak has a much less-decorated past as a head coach - two premature departures in the divisional round with the Texans. If all other things were equal, I would take the better coaching staff, and that's not even a fair fight.
Distractions
Manning-Brady: There is no rivalry in football that gets more attention than this quarterback showdown. At times in the past that mattered. Sort of. Now, though, it is completely irrelevant, and the only reason it gets so much attention is because the media is too lazy to go beyond the cheap headline to what actually matters. You can't even begin to consider what has happened in the past when these guys have met to handicap this game. That is irrelevant. All you can do is compare the two players for what they are able and likely to bring to the game at this moment. For the purposes of the game, you need to imagine them as two random quarterbacks, not the two best talents and biggest rivals of their era.
Location: I keep hearing about how the location of this game is a huge advantage for the Broncos. While a home game always helps in the playoffs, it would be too easy to overstate the significance here. Given the experience at the core of both teams, it would be a huge mistake to assume that the location of the game would have more than a secondary impact on the outcome of the game.
Get free picks from any Doc's Sports handicapper - there is no obligation for this offer and no credit card required. Just sign up for an account, and you can use the $60 in free picks for any Doc's Sports Advisory Board handicapper and any sport. Click here to get started now.
Read more articles by Trevor Whenham