Basic Strategy Teasers: Best Week 8 NFL Betting Options
by Chris Vasile - 10/28/2016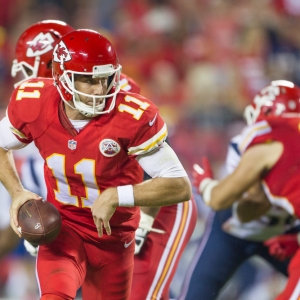 I'm running out of great things to sayabout the Basic Strategy Teaser. After going 3-0 inWeek 5 and 3-0 inWeek 6, the BST outdid itself in Week 7. It went 2-0 with the top plays and 3-0 with the extra options. If your counting at home, which I know you are, that brings the system's record to a mind-blowing 13-1 (17-2 if you count the extra options). The BST is hitting at a .928 winning percentage, which is higher than I could have imagined when I took on this system.
By now we all know the Week 7 results, so I won't get into too much detail. The Buffalo Bills essentially choked away their game against Miami in the second half. Jay Ajayi had his second consecutive 200+-yard rushing game, which makes him the fourth running back to accomplish the feat in NFL history. The other top play was Baltimore, who covered the six-point teaser by half a point. It was a very poorly-played game that saw Ryan Fitzpatrick benched, only for him to come back after an ACL injury to Geno Smith. The Jets are and will always be a circus. The rest of the plays covered with ease. New England took care of Pittsburgh, Seattle stayed well within eight points of Arizona for the entire game and Denver made Brock Osweiler look like a fool.
Week 8 of the NFL season once again gets underway Sunday morning and 9:30 a.m. EST in London as the Cincinnati Bengals take on the Washington Redskins. These two teams come into this week on the heels of very different Week 7 results. The Redskins blew a fourth-quarter lead to the Detroit Lions with 25 seconds left to play. The Bengals got the better of the Cleveland Browns and put up more than 30 points for the first time this season. Both teams are ranked inside the top six in offensive yards per game, so I believe there will be plenty of points in this one. Other key Week 8 games include New England travelling to Buffalo to take on the Bills. The Patriots will be looking to avenge their Week 4 shutout loss and will have history on their side in this one as they have not lost both regular-season games against an AFC East opponent since 2000.
The game most football fans will be anxious to watch happens during primetime on Sunday night. The Eagles, fresh off their big win against previously-unbeaten Minnesota team, travel to Dallas for a date with the Cowboys. This is a huge game that has massive division title implications. The Eagles are 5-1 in their last six games against the Cowboys at AT&T stadium.
In this article, I will be giving you teams that I think will be the most attractive when teasing the spread either up or down six points. This is called the "Basic Strategy Teaser". A basic strategy teaser is a two-team, six-point teaser that uses the power of NFL key numbers, which are the most common margins of victory, to move certain spreads around the three- and seven-point mark.
It's a very tricky Week 8 in the NFL, but the BST has three games that qualify for the system. I am a hesitant to pull the trigger this week, but I do believe there is value in two of the three games.
All lines are courtesy of GT Bets
Seattle Seahawks @ New Orleans Saints
Six-Point Teaser: Saints +8.5
The Seahawks just played five quarters of football on the road against their division rival. Their defense was on the field for 46 minutes and 21 seconds. If there is any team in the NFL that can exploit that gruelling game, it's the New Orleans Saints. The Saints are second in the league in total yards per game (421.7), first in the league in passing yards per game (339.3), third in the league in points per game (29.3) and second overall on third down conversion percentage (49.4). If you think the Seahawks were gassed after last week's game, then you best believe that they won't have an ounce of energy to contain this high-flying Saints' offense. Yes, by now we all know how bad the Saints' defense is, but Seattle has a very weak and limited offense this year. The injuries to Russell Wilson have affected his throwing and mobility, which is causing the offense to sputter. On the other hand, Drew Brees is in fine form and at 37-years old he continues to play at a high level. He is completing 68.5 percent of his passes (17 touchdowns against five interceptions) and is averaging a career-best 350 passing yards per game.

Prognosis: If the Saints can pull off a minor upset here, they will find themselves right back in the division race. If they can't win this game outright, then I fully expect them to keep it close. This will be Seattle's second consecutive road game. Under normal circumstances I would look to take the better defense. However, last week's results have me worried that the Seattle defense may be running on empty this week. Take the points in this one.


Detroit Lions @ Houston Texans
Spread: Lions +2.5
Six-Point Teaser: Lions +8.5
Matthew Stafford has gotten little to no respect so far in his NFL career. Maybe that's because he hasn't helped the Lions reach the postseason since he's been there, or maybe it's because he had Calvin Johnson carrying him up until last year when he retired. In my opinion, Stafford is a very good QB with a rocket for an arm. He's just had the unfortunate opportunity to play for a franchise as pathetic as the Lions. He's had mediocre teams and has still put up decent numbers. The Lions have four wins this season, and all of those wins have been of the come-from-behind fashion. Since 2011, nobody has more fourth-quarter comebacks (19) or game-winning drives (22). The kid can play, and right now I will ride his gun-slinging ways over just about any quarterback in the league (excluding Tom Brady). I will definitely back him against Brock Osweiler and his weak Texans' offense.

Prognosis: Last week's game was such a big deal for Osweiler that he promptly laid an egg on Monday Night Football in front of the entire country. Yes, Denver has a great defense, but the Texans' just look completely out of sync. The chemistry between Osweiler and former fantasy star DeAndre Hopkins is non-existent, which leaves him with a rookie wideout and a running back who is just getting used to a full workload. I understand that the Lions' defense isn't even close to how good the Broncos' D is, but the Lions definitely have a better offense. If Trevor Siemian can put up 27, Stafford, Golden Tate and Marvin Jones can at least replicate that number. Detroit wins outright.
The Rest
Kansas City Chiefs @ Indianapolis Colts
Spread: Colts +2.5
Six-Point Teaser: Colts +8.5
Doc's Sports has been handicapping the NFL since before every single player currently in the league was born. That's experience. You can get that experience on your side absolutely free. Doc's wants to give you $60 worth of free NFL picks - the same ones that members get. No obligation. Click here to get started today.