Free NFL Picks: New Orleans Saints at Carolina Panthers Odds & Predictions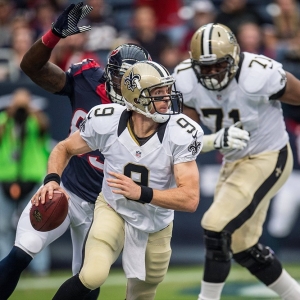 Here we go again, another Thursday night matchup that leaves a lot to be desired this week as New Orleans visits NFC South rival Carolina in a matchup of teams with losing records. But I'm pretty happy with the NFL right now after an absolutely fabulous Sunday of action that saw some pretty incredible finishes. Unfortunately for the Saints and Panthers, they were on the wrong end of two of the most gut-wrenching regular-season losses you will ever see.
You can probably rule out the loser of this game making the playoffs with the Saints at 4-5 and the Panthers at 3-6. Although Atlanta is only 6-4 atop the NFC South and the Falcons have tough games this week and next against Arizona and Kansas City, albeit both at home. The Falcons visit Carolina in Week 16 and host New Orleans in Week 17 in what would be the final NFL game at the Georgia Dome unless the Falcons do get a home playoff game. Atlanta currently holds the head-to-head tiebreaker with both New Orleans and Carolina. Don't rule out Tampa Bay (4-5) winning the division, either.
Perhaps Panthers fans can take solace in knowing that four teams to start 3-6 since the playoffs expanded in 1990 have made it: 1994 Patriots, 1995 Lions, 1996 Jaguars and 2012 Redskins. In all but one case, the 3-6 team won out to make the postseason. I honestly give Carolina little chance as after this game it goes to Oakland and Seattle in back-to-back weeks and probably loses those. So we should have a new NFC champion.
Saints at Panthers Betting Story Lines
I was one of those fans happy that the NFL before last season moved the extra-point try from a total gimme kick to a 33-yard try. I actually wish the league would move it back even further so more coaches might go for 2 points, but that's an argument for another day. As part of moving the PAT back, the league also instituted a rule that the defense could return a blocked or missed kick for 2 points. That has happened a couple of times but never like Sunday in New Orleans.
The Saints had tied Denver at 23 on a spectacular Drew Brees-to-Brandin Cooks 32-yard TD pass with 1:22 to go. If you watched the game, and I did, the sideline was still celebrating when Will Lutz lined up for the PAT -- hit that and the Saints probably win because I'm not trusting Trevor Siemian to lead a two-minute Denver offense into field-goal range. But the Broncos had a special play called where one member of the team was to hold down the New Orleans center after the snap so another guy could leap over and block the kick. That's legal as long as the leaping guy doesn't touch the offensive lineman. It worked perfectly as Justin Simmons cleared the Saints' snapper and smothered the kick. It went straight to Will Parks, who ran it 84 yards for the 2 points and the victory (after the Broncos then recovered a New Orleans onside kick). It was the first time in league history the winning points were scored via the new PAT rule. Did Parks step out of bounds on his way down the sideline? I sure thought so, but Parks had white shoes on against the white sideline, and apparently review was not clear enough to overturn it. What a devastating loss.
Brees had another great game in throwing for 303 yards and three scores but also with two picks. He became the third NFL player to throw 450 career TDs, joining Peyton Manning (539) and Brett Favre (508). I believe Brees gets that record eventually. The Saints defense is usually the weak link of the team but it played fairly well Sunday in holding the Broncos to 103 yards on 37 rushing attempts, forcing two turnovers and sacking Siemian six times. But New Orleans couldn't run the ball itself and gave it away four times.
Carolina lost in equally painful fashion. The Panthers dominated the visiting Chiefs in the first half of Sunday's game, but Kansas City seemed to steal momentum with a field goal right before intermission and a 17-3 deficit. There was no scoring again until the fourth quarter, with the Chiefs tying it on an Eric Berry 42-yard interception return of a Cam Newton pass and then a 33-yard field goal with 4:25. The media in Charlotte call Panthers coach Ron Rivera by the moniker or "Riverboat Ron" because he will take a lot of chances. Carolina had possession at its own 20 with 29 seconds to go and opted to not play conservative and for overtime.
Big mistake.
Newton's first pass was complete to Kelvin Benjamin, but Chiefs Pro Bowl cornerback Marcus Peters brilliantly stripped out the ball. Kansas City recovered and won it on a 37-yard field goal with no time left -- the Chiefs have amazingly won two games this season when trailing by 17.
What a gutting loss for Carolina, which otherwise could have gotten to .500 in this game. Newton threw for 261 yards and a TD, but that costly pick was all his fault. He led the team in rushing with 12 carries for 54 yards and a score. Newton became only player in NFL history to have at least 20,000 passing yards and 3,000 rushing yards in his first six seasons. But he's not playing anywhere near his 2015 MVP level.
To be fair, the Carolina offensive line remains a major issue. Pro Bowl center Ryan Kalil (shoulder) has missed the past two games and left tackle Michael Oher (concussion) the past six. Carolina also lost punter Andy Lee, one of the game's best, to a hamstring injury vs. the Chiefs. He was placed on IR and the team signed punter Michael Palardy.
Saints at Panthers Betting Odds and Trends
At 5Dimes , Carolina is a 3-point favorite (-125) with a total of 52. On the moneyline, the Panthers are -175 and the Saints +155. On the alternate lines, Carolina is -4 (+108), -3.5 (+100) and -2.5 (-150). New Orleans is 6-3 against the spread (4-0 on road) and 5-4 "over/under" (2-2 on road). Carolina is 2-6-1 ATS (2-3 at home) and 5-4 O/U (2-3 at home).
The Saints are 6-1 ATS in their past seven vs. the NFC South. They are 6-2 ATS in their past eight after a loss but have covered just three of their past 16 in November. The Panthers are 2-5 ATS in their past seven on Thursday. They are 4-1-1 in their past six in November. The over is 8-0 in New Orleans' past eight vs. teams with a losing record. The over is 17-6 in Carolina's past 23 vs. the NFC. The over is 4-0 in the past four meetings. The Saints are 4-1 ATS in the past five.
Saints at Panthers Betting Prediction
New Orleans was a 2.5-point home underdog coming out of its bye in Week 6 but beat Carolina 41-38 on a Lutz 52-yard field goal with 11 seconds left. Brees threw for 465 and four scores. Newton went for 322 and two scores and also tied it late on a 2-yard TD run and then 2-point PAT run. The Saints were flagged for pass interference three times at or near the goal line, and the Panthers cashed in all three times with TDs.
I generally don't bet on the Saints away from home as Brees usually is much less effective, that perfect road ATS record aside this year. I like Carolina here in mega-desperation mode at home. But give the 2.5-point alternate line. Over the total.
Doc's Sports has been successfully handicapping the NFL for years - more than four decades in the business - and wants to give new clients a chance to try our service for free. Click here for the hassle-free sign up and get $60 in free NFL picks today .
Read more articles by Alan Matthews