NFC Championship Betting: Keys and Distractions Arizona vs. Carolina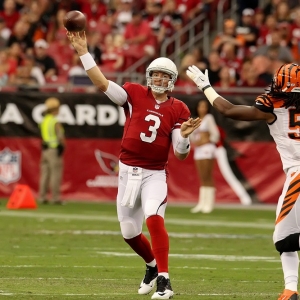 The NFC Championship is a rematch. Last year the Carolina Panthers beat the Arizona Cardinals 27-16 in the wild-card round of the playoffs. This is a much higher stakes game. You can't read too much into that last game - Ryan Lindley was under center for the Cards, so Carolina only did what they absolutely should have done. It won't be nearly as easy this year - for either team. As bettors try to get to the bottom of this game, there are all sorts of distractions out there - stories that the media grabs onto because they sound good, not because they actually matter. The important task, then, is to figure out what are actually the keys to the outcome of the game and what are distractions to avoid.
Keys
Carolina's mindset: The Panthers were as good as any team has been at any point in the season in the first half against the Seahawks. They were fierce and relentless. They were so dialed in that it seemed like they were in Seattle's huddle. It seemed like the game was going to become a sick joke. Then the second half happened. Fans in the stadium used the halftime break to grab a hot dog and swallow a beer or two. It seems like the Panthers players did the same. They were an entirely different team in the second half. Tentative instead of decisive. Soft on defense and underwhelming offensively. They had a historically insurmountable lead and tried their hardest to throw it away. It would be easy to dismiss it as an isolated event except they have done the same basic thing a couple of other times this season. We can only blame one thing for the regular second-half collapses - the mindset of the team. It's not their fitness or anything more tangible. In order to have faith in the Panthers, then, we need to be able to have reasonable trust of the minds of Carolina this time around. To do that we need in part to decide how much of the problem is the ability to make adjustments - mental and tactical - for the second half, and how much of it is just a lack of a sustained killer instinct. Unfortunately, neither is particularly comforting.
Palmer's game: Carson Palmer had a mostly good game last time out with two very regrettable passes that were intercepted and could have been very costly. That is pretty much Palmer in a nutshell - mostly very strong player with a few moments that are very tough to love. Do you have faith in Palmer to avoid the issues and perform at the high level he is capable of? That's a huge question for the handicapping of this game.
Coaching contest: Both of these quarterbacks are talented and obviously successful - they have averaged 15 games each this year. Neither guy is perfect, though - and that's what makes this matchup so compelling. Ron Rivera has struggled to play a full 60-minute game as we have discussed earlier. Bruce Arians is very aggressive, and that can come back to haunt him when the gambles don't pay off. He does have two Super Bowl wins as an assistant to his credit, though. The coach you prefer in this spot likely comes down to personal preference since both are a good fit with their respective teams. Which one you like better could be the deciding factor in a close game like this one.
Distractions
Experience: In contrast to the teams in the AFC, the story of this game is that neither team has a lot of experience playing high-stakes games at the highest level of the league. It's a meaningless storyline. For one thing, a lack of experience doesn't matter if both teams have the same issue. Beyond that, both teams have strong leadership at their core, and they have the support they need to hold up under the pressure they are facing. Besides, it's not like either of these teams have come from nowhere to get to this point. They have been improving and building to this spot for the last few years. They don't need to learn how to win because they have already been spending years doing that.
Quarterback showdown talk: The media is fixated on the latest chapter of the Brady-Manning duel. As a parallel, many are trying to paint some sort of a showdown story between Palmer and Cam Newton here. Ridiculous. Both guys are very good players who should be capable of strong days. Neither guy is likely to be particularly impacted by what the other does, though. They are as different in almost every way as two guys can be who play the same position. Handicap them based on what you expect of them, but don't let any sense of a rivalry, or of mutual impact, weigh on your decisions.
Doc's Sports has been successfully handicapping the NFL for years - more than four decades in the business - and wants to give new clients a chance to try our service for free. Click here for the hassle-free sign up and get $60 in free NFL picks today . Also, get three handicappers for the price of one when you sign up for a full-season football package! Click Here for details.
Read more articles by Trevor Whenham