NFL Betting Advice: Teams with a Great Chance to Improve ATS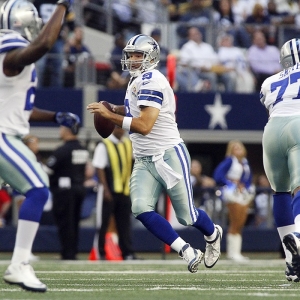 With the NFL Preseason underway, and the regular season now just around the corner, it is a good time to look to the past to imagine what could happen in the future. We know which teams were consistently good performers against the spread last year and which ones really struggled to covers spreads and deliver profits to bettors. Some of those teams - both the good and the bad - will be quite similar from a betting perspective this year. Others, though, will be very different than they were last year for bettors. Having a sense of which teams that really struggled against the spread last year could be much improved this year could really help you focus in on profit heading into the season.
Here are five poor ATS performers last year that could be much improved here:
Dallas Cowboys (4-11-1 ATS): Tony Romo may or may not be your favorite quarterback, but there is no denying that he is a very solid starter and that his team is better with him than without him. Last year, then, the team clearly wasn't in an ideal situation when Romo missed 12 of 16 regular-season games to injury. Few teams have a strong backup QB situation, and the Cowboys really weren't an exception to that last year. The team was 2-2 ATS in the games that Romo played, leaving them 2-9-1 ATS when he was missing. He was far from the only injured player the team had to deal with, too. It's no guarantee that Romo will be healthier this year, and their backup situation is still far from the most guaranteed in the league, but if the starter can play more than a quarter of the games this year then there is a strong chance that the team can cover more spreads. They are far from the best, or best-run or coached, team in this league, but they are certainly better than a four-win ATS squad if they get some breaks.
Miami Dolphins (5-11 ATS): Miami is where solid and promising head coaches have been finding ways to underachieve and disappoint for the last 15 years or so. So, I don't know how to feel about the fact that I think Adam Gase is a great hire. He may be, but I thought the same of Joe Philbin. And Nick Saban. Gase should be able to improve the environment over the mess that last year was, though, and he does have a fair bit of talent to work with. This is not a team that is good enough to frighten the Patriots in the AFC East, but they should be able to win more than the six games they did last year, and that should result in more covered spreads, too - unless Gase underwhelms and disappoints like everyone else does on that sideline.
Baltimore Ravens (5-9-2 ATS): You would think the narrative would be straightforward here. Joe Flacco was hurt for six games, leaving the team to rely on Ryan Mallett, Jimmy Clausen, and Matt Schaub to each start two games. That's hardly an inspiring group, and it wouldn't be surprising if they had caused the season to go so badly for bettors. The truth is, though, that it wasn't their fault. They were actually a combined 4-2 ATS. That means that Flacco, the highly-paid superstar, was at the root of the betting disaster - the team was 1-7-2 ATS in his starts. Flacco can be much better, and he has a better team around him than he did last year. We should reasonably expect more from him and the Ravens this year.
Jacksonville Jaguars (7-8-1 ATS): The Jaguars had the top offense in the league by passing yards last year, and it's reasonable to think they should be better this year with a more mature quarterback and improved chemistry all around. They have a potentially excellent defensive line, and they have added talent in key spots. I'm more than a little concerned about Gus Bradley - he has underachieved badly for three years as head coach, so it's tough to love him now when many thought he wouldn't be back for this season. There is a lot of talent, though, and lots of opportunities to win in this division. I look for strong improvement - finally - from Jacksonville.
Oakland Raiders (8-8 ATS): This is the team on this list I have the least faith in. It's not that they aren't much improved - they have a young core that 25 or more teams would envy. They play in a manageable division, too. My problem is that there are a lot of people who would really like to be on this team's bandwagon - they are still a public team despite their years of struggles, and the betting public will quickly renew their obsession with the first sign of real success. So, while this team has a real chance to win well over the seven games they won last year, they may or may not be able to cover a lot of spreads while doing it. Still, it's worth a look.
Read more articles by Trevor Whenham