NFL Betting Advice: What to Expect from Top 5 ATS Teams Last Season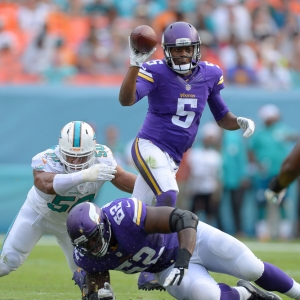 There's consistency in the NFL when it comes to strong betting teams. Of the six best teams against the spread last season, five of the six were also among the 14 profitable squads the year before, and the sixth was essentially a break-even team at 8-8 ATS. It isn't easy to cover spreads, but it makes sense that consistent, quality organizations are more likely to do it more often. It only makes sense, then, to look at the teams that were the most successful last year as an indicator of which teams could be betting successes this year, too. Will these teams deliver the cash again? Or will they take a step back?
These are the six best ATS teams in the league last year - Top 5 plus a tie:
Minnesota Vikings (13-3 ATS): The Vikings were the top betting team last year. It was a strong season for them, but the betting success shouldn't come as a surprise - they were 10-6 ATS two years back and a profitable 9-7 ATS the year before. Solid coaching, decent talent, and a lack of serious national attention - a good formula for betting success. It will be interesting to see if they can cover spreads as well this year as they have recently because the talent is the best it has been lately, and the team seems to be getting more national attention. After their success last year, some people think they can win the division, and most think they are a playoff team. They aren't under the radar anymore.
Cincinnati Bengals (12-3-1 ATS): The Bengals are a consistently excellent team - in the regular season, that is. They are a disaster in the playoffs, but until then they have won an average of 11 games a year the last three years. Last year was their best year against the spread, but they have been profitable all three years. There have been some changes for the team, but they are still largely what they have been in recent years, and it seems reasonable that we would expect largely what we have seen from them recently. There are definitely worse teams to bet on.
Carolina Panthers (11-5 ATS): Be honest - how many wins did the Panthers have last year before you admitted that they were legitimate contenders? The team went 15-1, and yet all year most people were just waiting for the other shoe to drop. They covered a lot of spreads in part because they won a lot of games, but also because the public didn't truly jump on the bandwagon until late. Things are different this year. They are coming out of the Super Bowl, they have the MVP at QB, they are very heavily favored to win their division, and everyone is out to beat them. Winning games won't come quite as easy, and the public will bet them much heavier. It is quite possible they'll cover a lot of spreads, but it won't be as easy as it was before.
Pittsburgh Steelers (9-6-1 ATS): Last year Ben Roethlisberger missed a quarter of the season, and a lot of other key players were banged up. Yet the team still won 10 games and made bettors good money. This year they are entering the season healthy and hoping to stay that way. They are a solid bet to have the top passing game in the league, and they have a solid running game to go with it. They are going to score points. That's good and bad from this perspective. You need to score to cover spreads, so that makes things easier. On the other hand, everyone expects them to score a lot of points, and many expect them to win the division, so they are going to be a popular team to bet on. That will make it tougher to cover spreads. I wouldn't be surprised to see them in the same range this year as they were last year.
Arizona Cardinals (9-7 ATS): This is nothing new for the Cardinals - they were 11-5 ATS the last two seasons. They are a talented team with exceptional coaching, so their competence shouldn't come as a surprise to anyone. Not much has changed this year. They are again talented, they are again well coached, and they are again in a battle with Seattle for supremacy in the division. If these things haven't changed then it seems reasonable that they could again be a solid team to bet on.
Green Bay Packers (9-7 ATS): The story here is much the same as for Arizona - well coached, talented, capable of winning the division, and fairly consistent as long as their QB is healthy. They are a public team usually, and they should especially be so this year. That will hurt their betting value to an extent, but it would seem like they are at least going to be a break-even betting team and quite likely better than that.
Want free NFL picks? Doc's has you covered. New clients can take advantage of this great offer of $60 in free Doc's Sports members' picks for any handicapper on Doc's Advisory Board. Just check out these guys' pages and see what great work they have done making money for themselves and their clients over the years. Click here for this exclusive $60 picks offer. Also, get three handicappers for the price of one when you sign up for a full-season football package! Click Here for details.
Read more articles by Trevor Whenham