NFL Betting and Handicapping: Possible ATS Disappointments for 2016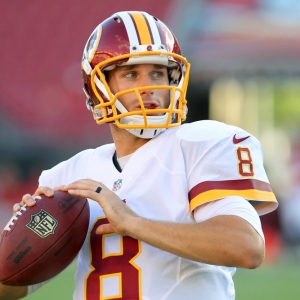 Bettors love NFL teams that cover a lot of spreads. That isn't exactly rocket science. The challenge is, though, that it isn't always easy to figure out in advance which teams are going to be good against the spread. Too often, teams that look like they have it going on heading into the season find ways to disappoint once things get rolling. We are only one game into this new season, but already we can start to have an inkling of teams that might not be able to live up to the expectations that a lot of bettors seemed to have for them.
Here are four potential ATS underachievers:
Seattle Seahawks: All offseason I have had a feeling that this could be the year that the Seahawks would take a bit of a step back. I'm not talking about cratering, or suddenly forgetting how to play or anything. They will very likely be in the playoff mix. With the exception of the beginning of last season, though, this is a team that has performed at a very high level for a long time - at least a long time in NFL terms. It is hard to sustain that - unless you are a robot like Bill Belichick is.
This offseason for the Seahawks has been about retirements, celebrity weddings and more. I'm not saying that they don't care about football and winning anymore. It's just quite possible that the hunger might not be quite as intense. We saw some evidence of this - or at least potentially - in the opener against the Dolphins. They won it, but it was far from pretty and far from easy for them. I expect to see that kind of effort several times this year, and they won't get as lucky if and when they face better teams than Miami.
This has been a decent-but-not-elite ATS team the last couple of years as it is. If the public expectations stay high for the team then they could easily disappoint at the betting window.
Atlanta Falcons: You would think at some point the Falcons would get things on track. They have a franchise QB, one of the best receivers in football, decent talent in several spots, a coach with a strong pedigree, and an owner with bottomless pockets. They should be a perennial contender. Instead, they are a perennial disappointment. There have been different issues in recent years, but in the end it has come down to the same thing every year -- there is just something not mentally right with this team. They just aren't tough enough to win in the NFL.
I heard a fair bit of talk heading into this season that things were going to be different this year. I was skeptical, but I have to admit that part of me thinks that at some point they should get things figured out at least a little bit. That first game, though, was a decent indication that my tiny bit of faith was misdirected. They lost to a decent Tampa Bay team, but they ultimately didn't seem to have enough fight for that war. It was more of the same, and more of the same isn't going to cover a lot of spreads this year.
They were a dismal 6-10 ATS last year, and I wouldn't be surprised if they were in the same neighborhood this year as well.
Carolina Panthers: It's almost certain that the team won't be quite what they were last year - they already have a loss, so they would need to run the table to match their 15-1 record of last year. They were strong for bettors, too - 11-5 ATS.
Now this year, they are pretty much universally expected to win their division. They absolutely should. The concern, though, is the approach that the Broncos took in the opener. They openly and shamelessly attacked Cam Newton physically. The league theoretically frowns on that approach, but not in a way that has any teeth. It worked to limit the Carolina offense, and you can be sure that other teams will steal that page from the playbook. Newton is big and strong, but no one can stand up to that kind of beating for too long. If he is banged up it will tough for this team to match bettors' expectations.
Washington Redskins: They won their division last year and were a respectable 9-7 ATS. The NFC East is wide open this year, and it seems like a lot of people are into the idea that the Redskins could step up and claim the division for a second straight year. It's still very possible that that could happen - it's not like anyone else in the division looks unstoppable, either.
It certainly wasn't an inspiring start, though - they lost by 22 to the Steelers, and that score was somewhat flattering. The offense was woeful. The defense was porous. It was ugly. As with the other teams on this list, it was only one game. But one game like that leaves a bad taste in the mouth and has to make you wonder if the team can indeed build on their success of last year.
Read more articles by Trevor Whenham