NFL Betting and Handicapping: Teams Having Very Strong Camps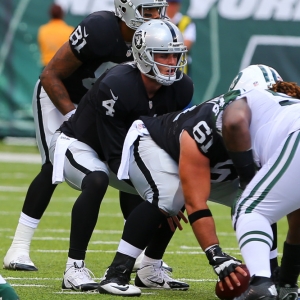 There are some NFL franchises that we know are always going to run very competent, almost dull training camps. They know how to run a team, and it leads to a lack of headlines but strong results on the field. Unless it is due to a commissioner's vendetta, the Patriots always run a dull camp. So do the Packers and the Seahawks. From a handicapping perspective, then, the training camp activities of those teams aren't particularly useful or interesting.
What is far more interesting from a handicapping perspective are the teams that don't typically run such tight ships but which are having solid camps this year. The preseason doesn't mean too much, but a team that looks better than usual in training camp and the preseason could easily become a team that is better than expected in the regular season.
Here are two teams that, to this point anyway, have looked better than we might expect them to look in August. Really, they have both looked so bad for so long that any sign of competence is a welcome, but shocking, surprise.
Oakland Raiders: The Raiders have been so pathetic for so long that it is tough to have faith that they will be any different. That last trip to the Super Bowl was 14 years ago, and they haven't had a winning season since. Coming into this season the hype surrounding the team is more intense than it has been since Bill Callahan was in charge. That's a scary thought, but so far they have done a decent job of living up to expectations.
Most significantly, the team has been free of drama. New coach Jack Del Rio has been competent and has stayed out of the headlines. The Davis family hasn't been making news, either, and the relocation talk doesn't seem to be front and center. The team's young core is looking good and saying the right things. Most significantly, the team seems to be having a lot of fun. When was the last time that it was fun to play for Oakland?
The preseason doesn't mean much in the scheme of things, but the first game for the Raiders had far more positives than negatives. They traveled to Arizona and left with a 31-10 victory. David Carr only played a bit, but he looked fine. Most significantly, the team showed off more depth than they have had lately, and that is going to be a big help heading into the season. For the first time in a long time the Raiders have done a pretty strong impersonation of a legitimate NFL franchise.
But can it last? This is going to be an interesting situation to keep an eye on. The team has been so lousy for so long that public faith in them has long since evaporated. They have a strong history, though, and deep down people are aching to make this a public team again. If they leap out of the gate looking very good - and with games against the Saints, Falcons, Titans, Ravens and Chargers in their first five weeks they could easily rack up the wins early on - then the bandwagon could quickly get crowded, and this could become a very public team in a hurry.
Tennessee Titans: The Titans have had some rough times lately. They have just five wins in their last two seasons, and management raised some eyebrows when they retained Mike Mularkey as head coach despite his dismal 2-7 run as an interim coach last year. It was easy to be down on this team, and at +6600 to win the Super Bowl oddsmakers aren't exactly optimistic.
It probably isn't going to be a great season for the team, but at least they are having a strong camp. DeMarco Murray has behaved himself so far, and he, Derrick Henry and Bishop Sankey were very good in the first preseason game, hinting at what could be possible from the running game this year. The three combined for 219 yards on just 19 carries. It was against the lowly Chargers, and not largely the starters, so you need a grain of salt here, but it was still very solid. Also solid in that game was Marcus Mariota's brief appearance - he went 5-for-5 for 45 yards.
The front office made a decisive move that restored confidence in them after the Mularkey decision, too. Dorial Green-Beckham is a very talented receiver, and the Titans picked him in the second round last year. He got kicked out of Missouri due to legal issues, though, and spent a year sitting out at Oklahoma before entering the draft. He's got character issues, in other words. He also really struggled to adapt to the NFL game at Tennessee. Instead of spending their time trying to make the situation work the Titans delivered a strong message by shipping him to Philadelphia in a trade. It got rid of a big issue and set the tone for the remaining players. Good move, and a big element of a promising camp. This team isn't going to be great, but maybe they won't be completely awful.
Read more articles by Trevor Whenham