NFL Betting Predictions: Week 16 Opening Line Report and Picks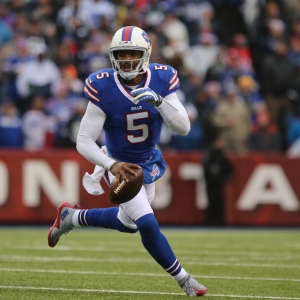 Just from a personal standpoint, the game I was least interested in Week 15 was Sunday's Jacksonville at Houston matchup. Two of the NFL's lowest-rated quarterbacks in Blake Bortles vs. Brock Osweiler. No thanks! Yet that's the beauty of the NFL in that even the worst games on paper can end up being interesting.
That was certainly the case in Houston as Coach Bill O'Brien finally did what Texans backers have been begging him to do for weeks: bench the free-agent bust Osweiler. I can't remember a division leader benching its starting QB this late in a season, although I'm sure it has happened. And this was truly deserved. The Texans were losing 13-0 to the pitiful Jaguars and Osweiler was 6-for-11 for 48 yards and two interceptions in five drives. He had a passer rating of 26.1 when O'Brien turned to 2014 fourth-round pick Tom Savage. And he led a 21-20 comeback win by completing 23 of 36 for 260 yards and no picks. By the way, that yardage total was more than Osweiler had in all but two games this season. Texans Pro Bowl receiver DeAndre Hopkins also benefited from the quarterback switch, finishing with eight catches for 87 yards, his highest-yardage game since Week 2 this season. Hopkins had more than 60 receiving yards in just one of the Texans' previous seven games entering Sunday.
Some coaches might have felt pressure to keep playing the guy who got $37 million guaranteed from the club less than a year ago. So kudos to O'Brien for making the smart decision over financial considerations. He wouldn't commit to Savage starting this week, saying that he would let the guys compete in practice and pick whichever gave his team the best shot to win. That's total coachspeak -- the players would absolutely mutiny if O'Brien doesn't go with Savage. The Texans host the Bengals on Saturday night -- most games are on Christmas Eve this week -- and areopening 2.5-point favorites at BetOnline.
Meanwhile, Jacksonville blowing 13-0 and 20-8 leads was the final straw for ownership as it finally put Coach Gus Bradley out of his misery. This was long overdue as the Jags have lost nine straight this season to make Bradley 14-48 over almost four full seasons. That makes him the head coach with the lowest winning percentage in the Super Bowl era (.226) with a minimum of 50 games coached. Poor Bradley had to fly home with the team after being fired.
To no surprise, GM Dave Caldwell, who apparently is safe, named offensive line and assistant head coach Doug Marrone the interim guy. He of course was Buffalo's head coach from 2013-14 before stupidly opting out of his contract. I think he has a legit shot at the full-time job, although one name you keep hearing is Tom Coughlin returning to Jacksonville. It will be a fairly coveted job. Not as good as the Rams' gig, but there's a ton of young talent on the Jaguars and you get to live in tax-free Florida. I'm presuming the next head coach will be an offensive guy to work with Blake Bortles, who has regressed to his rookie year self in his third season. The Jaguars are +4.5 this week in their home finale vs. Tennessee. If the Texans and Titans win, they will have a winner-take-all AFC South matchup in Nashville in Week 17. I suppose they also would if they both lose too and if the Colts also do this week in Oakland.
Here are some Week 16 early lines that caught my eye. I won't touch on the season's final Thursday night game (Giants-Eagles), Sunday's marquee matchup (Ravens-Steelers, one of only two games Sunday) or the final Monday night game (Lions-Cowboys). All games listed below are Saturday.
Miami Dolphins at Buffalo Bills (-3.5, 42): Presumably this will be the final home game for Buffalo head coach Rex Ryan, as he's expected to be fired on "Black Monday" unless his team miraculously reaches the playoffs. The Bills did stay alive with Sunday's 31-13 win over Cleveland, but they only have a one percent chance of snagging a wild-card spot. I'm not even going to go through how it can happen because it would take a lot of things but at a minimum the Bills have to win out. I thought the Dolphins might lose at the Jets last Saturday because I had no idea what to expect from Miami backup QB Matt Moore in his first start in five years, but he looked great in completing 12 of 18 for 236 yards and a career-high four TDs in a 34-13 victory. Moore will start again here with Ryan Tannehill hurt. The Fins currently hold down the final AFC wild-card spot and would be in by winning out. Miami beat visiting Buffalo 28-25 in Week 7. Jay Ajayi rushed for 214 yards and a TD on 28 carries. The pick: Bills & "under."
New York Jets at New England Patriots (-16.5, 43.5): This line, by far the biggest of Week 16, shocks me. Yes, the Jets are terrible, but they almost always play the Patriots tough and nearly beat them in Week 12. Tom Brady threw an 8-yard TD pass to Malcolm Mitchell with 1:56 to go for a 22-17 victory after the Patriots defense forced a Ryan Fitzpatrick fumble on the Jets' next possession. He has since been replaced as the starter by second-year Bryce Petty. He struggled in last Saturday's loss to the Dolphins and didn't make it through the full game as he was smashed by the Dolphins' Ndamukong Suh and Cameron Wake. Neither was blocked as the Jets' offensive line stood still, its timing thrown off by an early snap. Typical Jets. Petty was cleared of any major injuries but does have a chest contusion so we will have to see if Fitzpatrick gets the call here. The Patriots won in Denver 16-3 on Sunday to clinch their NFL record eighth consecutive division title and no worse than the AFC's No. 2 seed. They can clinch home-field throughout with a victory here and Raiders loss at home to Indianapolis. The pick: Jets and under.
San Diego Chargers at Cleveland Browns (+6, 43.5): Well, this it for the winless Browns. They are not winning Week 17 in Pittsburgh unless the Steelers are locked into their playoff seeding (which is possible) and rest their key guys. So it's beat the warm-weather Chargers playing in the cold and in one of those 10 a.m. Pacific time kickoffs to avoid 0-16 infamy with the 2008 Detroit Lions. The forecast for Saturday afternoon in Cleveland is high 30s with rain showers. Here's hoping the temperatures drop a little so we can have some sleet because that's what this game deserves. Browns coach Hue Jackson didn't give QB Robert Griffin III a ringing endorsement after Sunday's loss in Buffalo but also didn't say for sure he was making a change. The Browns have changed quarterbacks seven times between games due to injury or performance this season. Cleveland top receiver Terrelle Pryor suffered a torn ligament in his finger but plans to play and have surgery after the season. The Chargers lost another close game Sunday, this time to Oakland. Running back Melvin Gordon sat it out with knee and hip injuries but could return here, although I don't know why you would even risk it. This seems like a mega-trap game for the Bolts ahead of their expected finale in San Diego next week with a pending move to L.A. The pick: Browns and under.
Sometimes, the best picks are free picks. Doc's Sports will give new clients $60 worth of free NFL picks with absolutely no obligation. You don't even need a credit card to sign up. Just click here and get started today.
Read more articles by Alan Matthews