NFL Handicapping: Best-Case Scenarios for all 32 Teams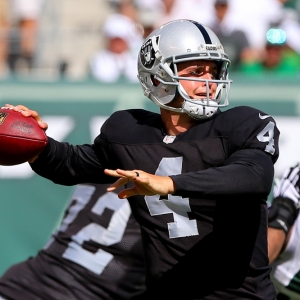 Success is a tough thing to define in the NFL. For some teams this season will be deemed a failure unless they win the Super Bowl. Other teams would have to be seen as successful if they won more than five games. As we head into the new season, here is a look at the best-case scenario for each of the 32 teams in the league. Needless to say, fans of some teams will be happier with these than other.
The season would be a total success if...
Arizona: Carson Palmer figures out that football in January is played just like football in October, and the team doesn't waste another good season with a dismal playoff disappointment.
Atlanta: Matt Ryan and his teammates show some character and avoid underachieving for yet another year. At some point they are going to get things together and win a bunch of games. Maybe?
Baltimore: Joe Flacco looks like the player of old, and the team erases all memories of last year's disappointing season.
Buffalo: The Ryan brothers don't completely run the team into the ground, they get healthy and out of trouble, and get things together enough to win seven or eight games. Not much of an upside, I know, but what can you expect with these two ringmasters running your circus?
Carolina: They avoid a post-Super Bowl appearance letdown and get right back to the big game, taking one step up the podium.
Chicago: Someone gets desperate for a QB and offers too much for Jay Cutler. Too much at this point, though, would be anything more than a large bag of properly inflated used balls. This team is going nowhere, and Cutler is no part of the recovery.
Cincinnati: Marvin Lewis runs out of lives, he is replaced, and the team can move on to a future in which criminal charges don't exceed playoff wins by a factor of 50.
Cleveland: Somehow they seriously overachieve and find a way to finish 31st overall. It would require a miracle, but I guess it could happen.
Dallas: Dak Prescott shines as the unheralded starter pressed into action due to injury, just like Romo did way back when he replaced Drew Bledsoe, and the Cowboys win their division and have their QB situation sorted for the next decade.
Denver: Trevor Siemian shows the rest of us what has made the Broncos' front office have such faith in him, and he is good enough to support the defense and win a lot of games.
Detroit: Matthew Stafford finally breaks out of the multi-year funk that has kept him and this team from reaching their potential even when the team was much more talented than it is now. His success is enough to make the team respectable - and give them hope for the future.
Green Bay: Everything comes together as is planned, Jordy Nelson looks like he didn't skip a beat, Aaron Rodgers is all-World, and the team clinches the top seed in the NFC - and rides that advantage all the way to glory.
Houston: Brock Osweiler erases all doubts surrounding the Texans' decision to make him very rich, and he leads the team to a division title.
Indianapolis: Andrew Luck stays healthy and earns his massive contract, and it's as if last year never happened as the team wins the division and makes some real noise in the playoffs.
Jacksonville: Blake Bortles to Allen Robinson becomes one of the top connections in the league, the defensive investments reap big dividends, and the team wins the division comfortably.
Kansas City: Alex Smith looks the best he has ever looked, the team stays healthy, and they have the division clinched in November.
Los Angeles: The team is able to be patient with Jared Goff, only playing him when he is ready, and he rewards their patience with a strong career. It's not like the upside is high for this team this year, anyway.
Miami: Adam Gase is finally the coach the team needs, Ryan Tannehill has his best season as a pro, and the team shocks everyone to finish second in the AFC East and claim a wild-card spot.
Minnesota: Sam Bradford makes everyone forget, temporarily, about Teddy Bridgewater. He has a career year, the team responds to his play, and they upset the Packers to win the NFC North.
New England: Jimmy Garoppolo wins three games - and secures himself a big deal as a free agent in the process - and Brady is able to lead them to the first seed in the AFC upon his return.
New Orleans: The wheels don't fall off of this team. They feel like they have the potential to really self-destruct this year. The upside is only a mediocre team, but the downside is significant.
New York Giants: Odell Beckham Jr. exceeds the considerable hype around him heading into the season, Eli Manning has an all-Pro season, and the team again comes from the wings to win a Super Bowl.
New York Jets: Someone - it could be anyone at this point - steps up and shows that they want to be, and are capable of being, the franchise QB in New York for the next decade.
Oakland: They shake the legacy of patheticness that has defined them for a decade, the young talent continues to shine, and the team wins the division and does some postseason damage.
Philadelphia: They don't break Carson Wentz' spirit with this bizarre decision to start him out of the gate. He has talent, but he won't accomplish much this year. If he can build to the future through the struggles like Peyton Manning and others did then that's positive. For every rookie who is thrown to the wolves and succeeds, though, there are more guys who play too early and never recover - Tim Couch, Akili Smith, and Cade McNown from the first round in 1999 alone, for example. ,
Pittsburgh: Ben Roethlisberger has his best year yet (which is saying something), the defense is much improved from last year, and the Steelers add another Lombardi Trophy to their trophy case.
San Diego: Some help magically appears for Philip Rivers on offense, his talented isn't wasted as much as seems likely, and the team wins nine or 10 games.
San Francisco: Chip Kelly learns to calm down and respect his players, decent quarterback play emerges from the crowd, and the team wins seven games. Really, though, the best-case scenario is that they get a Top 2 pick and get a real quarterback for the future in the draft next year.
Seattle: They look like the Seahawks, avoiding a slow start, winning at least a dozen games, and going deep in the playoffs yet again.
Tampa Bay: Jameis Winston takes a massive step forward, the coaching shuffles prove successful, and this team shows they are poised to be a major force in the coming couple of years.
Tennessee: Same as Tampa Bay, except replace Jameis Winston with Marcus Mariota. These two guys should get used to having their careers linked and compared to each other. Hopefully that works out better for them than it did for Ryan Leaf of RGIII.
Washington: Kirk Cousins puts the contract issues behind him, has his best year yet, and the team wins the wide-open NFC East and maybe even a playoff game before falling to a better team.
Read more articles by Trevor Whenham