NFL Odds: Analyzing Denver Broncos 2016 Home Schedule
by Alan Matthews - 7/14/2016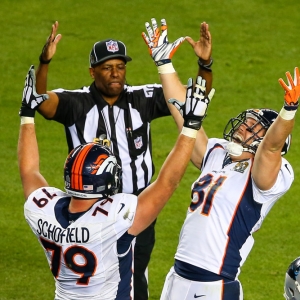 I'm not going to bury the lede when it comes to the 2016 Denver Broncos: They are not going to be the first team since the New England Patriots in the 2003-2004 seasons to repeat as Super Bowl champions. I actually believe the Broncos were only the third- or fourth-best team in the NFL last year. But that defense - specifically Super Bowl MVP Von Miller - got hot at the right time.
Do I think the Broncos will miss Peyton Manning all that much? Yes and no. Yes in terms of leadership and that Manning obviously knew how to win big games. His presence in the huddle and locker room, I'm sure, is something you can't replace. But Manning was simply not a good quarterback in his final season, so from a statistical standpoint he won't be missed.
It wouldn't surprise me for Mark Sanchez to finish with significantly better numbers than Manning did in 2015. I would have made sure to keep Brock Osweiler, but by some accounts he wasn't going to stay even if Denver would have offered as much as Houston did. Osweiler wasn't happy about his Week 17 benching in favor of Manning. I do expect Denver to run more this year than last. If OTAs are any indication, expect plenty of two-back sets (yes, the Broncos will actually use a fullback). The team used two-back sets only 25 times all of last year.
I also don't think that defense will be near as dominant. Will Miller be as legendary once he gets that mammoth new contract? That unit also lost key players such as linebacker Danny Trevathan and end Malik Jackson, among a few others. Cornerback Aqib Talib shot himself this offseason and while that injury wasn't overly serious, he could be facing NFL discipline. DeMarcus Ware is having back issues, which caused him to miss five games in 2015.
There may not be a better home-field advantage in the NFL than what Denver enjoys, not just because of its rabid fan base but also the altitude that can wear opposing teams down. The Broncos were 6-2 at home last regular season, 3-5 against the spread and 2-5-1 "over/under." They face four 2015 playoff teams at home this season in perhaps the toughest home slate in the league. I project a 5-3 record. At BetOnline, the Broncos have a wins total of 9.5, with the under a -150 favorite. And I think they win nine games. Might be enough for a wild-card spot but not the division. The Broncos are +185 to repeat in the AFC West. Odds listed below for the home team.
Sept. 8 vs. Panthers (+2.5, 43): Terrific way to kick off the season with the Super Bowl winner, as usual, hosting the Thursday Night Kickoff Game. The defending champion is 10-2 straight-up in those games. One of the losses was when Baltimore was forced to visit Denver to open the 2013 season. The Ravens couldn't host the game due to a conflict with MLB's Orioles. Manning led a 49-27 thrashing of Baltimore with 462 yards and a record-tying seven TD passes. This is the first Super Bowl rematch to open the following season since 1970, when Minnesota beat champion Kansas City 27-10. Key trend: Broncos 6-4 ATS in past 10 as home dog.
Sept. 18 vs. Colts (-5): Indianapolis should be 1-0 as it hosts Detroit in Week 1. This will be the second straight game that Denver's defense faces a quarterback taken No. 1 overall in the draft. First versus Cam Newton and then here with Andrew Luck. The Broncos lost in Indianapolis 27-24 in Week 9 last season but ended Luck's year due to injury in it, although he finished the game. Manning was 21-for-36 with 281 yards, two TDs and two interceptions. It was Denver's first loss of the year. Key trend: Broncos 0-4 ATS in past four at home vs. Indy (including playoffs).
Oct. 9 vs. Falcons (-6.5): Denver off a trip to Tampa Bay in Week 4. Atlanta is home to Carolina the previous Sunday. I remember so clearly the last time these teams played: Sept. 17, 2012, at the Georgia Dome. Manning looked awful with four interceptions in the loss, his second game as a Bronco. You had people asking then if he was already washed up. He wasn't. Key trend: Broncos 2-4 ATS all time at home vs. NFC South clubs.
Oct. 24 vs. Texans (-6.5): Monday night game and Denver will have a ton of time to prepare for Osweiler's return as the Broncos are in San Diego on a Thursday in Week 6. Houston is off a Sunday night home game vs. the Colts. This is certainly one of the marquee matchups of the season all because of Osweiler. He will be booed mercifully, and I know for a fact the Broncos defenders want to break him in half for leaving and not exactly staying quiet on his way out. Key trend: Broncos 3-7 ATS in past 10 at home vs. AFC South teams.
Oct. 30 vs. Chargers (-7): Second game in 17 days between the teams and it's interesting that the Broncos finish the season series with San Diego before facing Kansas City or Oakland once. The Bolts are off a trip to Atlanta in Week 7. Denver clinched the AFC's top seed with a 27-20 Week 17 home win over San Diego last year. Manning replaced a struggling Osweiler in the third quarter. The Broncos turned it over five times under Osweiler, although some weren't his fault. Manning led Denver to 20 points in 1.5 quarters despite going just 5-for-9 for 69 yards. Key trend: Broncos 4-5-1 ATS in past 10 at home as at least a 7-point favorite in series.
Nov. 27 vs. Chiefs (-3): Denver off its bye week. Kansas City is home to Tampa Bay in Week 11. Denver's worst game last year was a 29-13 home loss to Kansas City in Week 10. Manning had the worst game of his career, going 5-for-20 for 35 yards, four picks and a rating of zero. He was pulled and then missed the next seven starts due to a foot injury. Key trend: Broncos 4-6 ATS in past 10 as home favorite in series.
Dec. 18 vs. Patriots (+1): Denver off a trip to Tennessee in Week 14. New England is on a short week, hosting Baltimore the previous Monday. This is still a great matchup but won't be the same without Manning vs. Tom Brady. Denver beat the visiting Patriots 30-24 in OT in Week 12 last year as Osweiler led a comeback, capped by C.J. Anderson's 48-yard TD run in overtime. And then of course the Broncos beat the visiting Patriots 20-18 in the AFC title game. Bradley Roby picked off Brady's pass on a two-point attempt that would have tied the game with 12 seconds left. Miller was amazing with 2.5 sacks and a pick. Key trend: Broncos 7-3 ATS in past 10 at home in series (including playoffs).
Jan. 1 vs. Raiders (TBA): Again, no Week 17 lines with too much potentially up in the air on the final Sunday. Broncos enter off a big trip to Kansas City in Week 16. Oakland is off a Christmas Eve game vs. the Colts, and this could the team's final game with Oakland in its name. The Raiders won in Denver 15-12 in Week 14 last year. Osweiler threw for 308 yards but it took him 51 attempts and he was sacked five times. Denver allowed only 126 total yards on defense. Key trend: Broncos 2-8 ATS in past 10 at home in series.
Read more articles by Alan Matthews