NFL Odds: Analyzing Oakland Raiders' 2016 Road Schedule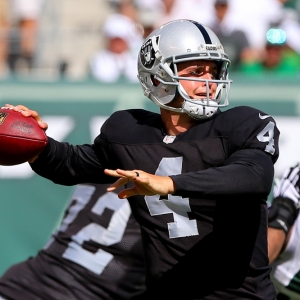 The Oakland Raiders were the Cleveland Browns of the West Coast. I say were instead of are because while the Browns appear to have the least amount of talent in the NFL this season and are a lock -- I'm not supposed to use that word at Doc's, but it's a fact -- to finish with another losing record, the Raiders finally seem to have their act together, and might be the "it" sleeper team in the AFC in 2016.
Has any team had a better draft in recent memory than Oakland did in 2014? The Raiders took small-school linebacker Khalil Mack at No. 5 overall, and he might be the second-best defensive player in football at this point behind J.J. Watt. The Raiders didn't panic with that pick and take someone like Johnny Manziel even though they had a huge need at quarterback. Instead, they grabbed QB David Carr with the 36th overall pick, and he's one of the rising stars in the NFL. Last year's first-round pick, Alabama receiver Amari Cooper, also looks like a home run.
The Raiders haven't had a winning record since 2002 -- even Cleveland has one -- but they finished an intriguing 7-9 last year under first-year head coach Jack Del Rio. Pretty good considering the franchise had 11 total wins the previous three years. The 2015 team could have easily won 10 games as it had several close losses: by 2 in Chicago, by 6 to Denver, by 3 in Pittsburgh, by 5 in Detroit and by 6 in Kansas City. That's the next and sometimes hardest step for a young team to make: winning those close games. I believe this could be a Super Bowl team in 2017 with another great draft next spring -- especially if the Raiders can get a franchise running back (can you imagine Leonard Fournette on this team?).
Oakland was 4-4 on the road last season, 6-2 against the spread and 3-4-1 "over/under." The Raiders play only two teams away from home that made the playoffs in 2015, and both of those are in the division. I project another 4-4 road mark. The home schedule looks much tougher. The Raiders have a wins total of 8.5 at BetOnline, with the over a -135 favorite. Odds listed below for the home team.
Sept. 11 at Saints (-1, 50.5): This is huge, I believe, for the Raiders to win if they are legitimate playoff contenders. The Saints were pathetic on defense last year, and if Oakland can win this it should be 3-0 entering a Week 4 trip to Baltimore. Then the schedule is very friendly for a while after that Ravens game. But a loss to the Saints could knock things off course immediately. Oakland has lost three straight in series, most recently 38-17 at home in 2012. Key trend: Raiders 3-3 ATS all-time at NFC South teams.
Sept. 25 at Titans (+2.5): Oakland off perhaps its final home opener ever in the city vs. Atlanta. Tennessee is in Detroit the previous Sunday. The Raiders won in Nashville 24-21 in Week 12 last year. Carr threw for 330 yards and three scores, including a 12-yard touchdown pass to Seth Roberts with 1:21 left. A defensive holding call on fourth down extended that game-winning drive. It was only the Raiders' second win in seven all-time trips to Tennessee. Key trend: Raiders 3-7 ATS in their past 10 as a road favorite anywhere.
Oct. 2 at Ravens (-2): Baltimore is off a Week 3 trip to Jacksonville. Don't laugh this early, but this could have important wild-card ramifications. The Raiders beat visiting Baltimore 37-33 in Week 2 last year. Carr threw for 351 yards and three scores, including the 12-yard winner to Roberts (yep, same yardage and same guy) with 26 seconds to go. The Raiders had blown a 30-20 fourth-quarter lead. Key trend: Raiders 3-7 ATS in past 10 at AFC North teams.
Oct. 23 at Jaguars (pick'em): Oakland is home to Kansas City the previous week. Jacksonville is in Chicago. The Jags are the other "it" team in the AFC team entering 2016. Perhaps this is a preview of the AFC title game following the 2017 season? I'm high on the Jags, too. This might be a trap game for Oakland with the 1 p.m. ET start time and off that big Chiefs matchup. The Raiders have won two straight in series, last in 2013. Key trend: Raiders 6-4 ATS in past 10 at AFC South teams.
Oct. 30 at Bucs (pick'em): I wonder if the Raiders stay in Florida following the Jaguars game and with another 1 p.m. ET start the next week in Tampa Bay? It would seem to make sense with the cross-country travel and getting used to the Florida weather. Oakland lost the most recent meeting with the Bucs 42-32 at home in 2012. Key trend: Raiders 3-2 ATS in past five in a pick'em game (any location).
Dec. 8 at Chiefs (-4.5): Thursday night game. Huge gap between road games with four at home and a bye week sandwiched in there for the Raiders. They come off a Week 13 matchup vs. Buffalo. Kansas City is in Atlanta the previous Sunday. This should be Oakland's first potential wintry weather game. The Raiders ended their season with a 23-17 loss in K.C. last year. Carr had only 194 yards passing and the Raiders 205 total yards of offense. Key trend: Raiders 7-3 ATS in past 10 as at least a 4-point road dog in series.
Dec. 18 at Chargers (+1): The L.A. Bowl? Either the Raiders or Bolts could be the tenant of the Rams in the City of Angels next year. San Diego is off a Week 14 trip to Carolina. Oakland won 37-29 in San Diego in Week 7 last season. That score is misleading as it was 37-6 entering the fourth quarter. Carr threw for 289 yards and three scores. Cooper caught five for 133 and a TD. Key trend: Raiders 4-6 ATS in past 10 as road favorite in series.
Jan. 1 at Broncos (TBA): Again, no Week 17 odds with too much up in the air potentially in Week 17. Oakland off a Christmas Eve home game vs. Indianapolis. This is pretty clearly the worst possible division finish for the Raiders. And it's probably going to be ugly weather-wise in Denver, which comes off a Christmas night game in Kansas City. Oakland's final road win of last year was 15-12 in Denver in Week 14. Carr threw for only 135 yards -- Oakland totaled 126 yards on offense and had minus-12 at halftime -- but had two scores. Mack was ridiculous with five sacks, all in the second half, and a safety. Key trend: Raiders 8-2 ATS in past 10 in Denver.
Want free sports betting picks? Doc's Sports has you covered - get $60 worth of picks free from any of Doc's Sports expert handicappers. Click here for free picks (new clients only).
Read more articles by Alan Matthews