NFL Odds: Week 14 Line Movements & Last-Minute News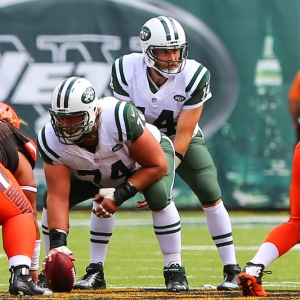 With just four games left in the regular season, it looks like we will have a rare year where no NFL head coach was fired during the season. It wouldn't make much sense for a team to banish its coach at this point, although that didn't stop the Philadelphia Eagles from dumping Chip Kelly following a Week 16 loss last year that eliminated the Eagles from playoff contention.
Before the season, Jacksonville's Gus Bradley was the favorite at every sportsbook listed at Doc's. He's definitely a goner, but it won't be until Black Monday. San Diego's Mike McCoy was right there with Bradley, and he's probably gone too -- the Bolts might as well start completely fresh when they move to Los Angeles next year, which apparently is now a done deal. I think the Jets' Todd Bowles, Bengals' Marvin Lewis and Rams' Jeff Fisher (despite a recent extension) are all on shaky ground as well. I thought the Bears might dump John Fox, but reports this week are he will return for 2017.
Bovada offers three head-coaching special props this week . The first is whether former Jaguars and Giants coach Tom Coughlin returns as the Jacksonville coach next year: "yes" is even money and "no" -140. That would be the exact type of unimaginative hire I would expect the Jaguars to make. They are reportedly going to reach out to the 70-year-old Coughlin, who still wants to coach after taking this year off. He was the first coach of the expansion Jaguars in 1995 and guided the team to a 68-60 record in eight years. Coughlin in a front office role? That would make some sense. Not as a coach.
Whether Rex Ryan will be Buffalo's head coach Week 1 next year: yes is -300 and no +200. I won't go into deep detail on Ryan as I wrote about him in my Steelers-Bills game preview you can check out here at the site . I think Ryan could survive if the Bills continue the NFL's longest playoff drought but only if they win out to finish 10-6 and miss on a wild-card tiebreaker. That would at least be a two-game improvement on last year, and the 2016 Bills have been gutted by injuries. But if Buffalo (6-6) finishes 8-8 or worse then he's surely gone.
The other interesting prop, somewhat out of nowhere, was whether Eagles head coach Doug Pederson would return for a second season. Yes is -650 and no +375. Barring Pederson being doing something embarrassing this offseason Bobby Petrino-style, he's going to be back. Yes, the Eagles and rookie QB Carson Wentz have regressed in a big way since starting 3-0. But the cupboard was pretty bare in Philly, and Pederson was forced to throw Wentz into the fire immediately after Pederson's GM traded the team's starting quarterback, Sam Bradford, to Minnesota less than two weeks before the season. Should the Eagles have hired Pederson in the first place? Perhaps not, as Pederson's previous head coaching experience was on the high-school level. But that's another argument. If you have an extra $650 lying around to make $100, that's easy money.
Here are some line moves or potential game-changing injury notes for Week 14.
Jets at 49ers (-2.5, 44): San Francisco opened as a 1-point favorite. I tried to find this out but couldn't: When was the last time a team on a double-digit losing streak (49ers have dropped 11 straight) has been a betting favorite? It has to have been a while because it's not that easy to lose at least 10 games in a season first off, and then get an equally terrible opponent late in the season. The winless 2008 Detroit Lions were at least touchdown underdogs in every game once they started 0-10, for example. The Jets looked totally lifeless in Monday night's home loss to Indianapolis, and the fans want Bowles gone. At least the coach finally decided to let second-year QB Bryce Petty start the rest of the way, barring injury. Petty was great at Baylor, but plenty of QBs have put up numbers in the Baylor spread offense and showed nothing in the NFL other than Robert Griffin III for one year. Meanwhile, you can bet a prop at Bovada on whether the 49ers end the season at 1-15 and on a 15-game skid: Yes is +300 and no -500. I'd lean no because I think the Niners win this game. They also could win Week 16 at the Rams or Week 17 at home vs. Seattle if the Seahawks are locked into the NFC's No. 2 seed as they might well be.
Cardinals at Dolphins (+2, 43.5): This line has moved the most as Miami opened at -2.5. No real injury reason why. The Fins are a little banged up on the offensive line, and middle linebacker Kiko Alonso might miss the game following surgery to repair a broken thumb, but that's no huge deal. I think bettors simply believe the Dolphins were totally exposed in last week's blowout loss in Baltimore. The status of star Cardinals safety Tyrann Mathieu for Sunday's game in doubt again after he missed practice this week because of a lingering shoulder injury. It's not looking good for the "Honey Badger" after also sitting out last week. We could see some history here with spectacular Arizona second-year running back David Johnson. With 100 scrimmage yards on Sunday, he would tie former Colts great Edgerrin James (13 in 2005) for the longest streak of consecutive games with 100 scrimmage yards to begin a season in NFL history. Johnson is also a rushing TD from joining the great Gale Sayers as the only players in league annals with 20+ rushing touchdowns, 5+ receiving touchdowns and a kickoff-return touchdown in their first two seasons. Arizona is 0-3 in the Eastern time zone this year, by the way.
Texans at Colts (-6.5, 46.5): Short week for Indy after winning at the Jets on Monday, and the Colts got some bad news Tuesday (well, they surely knew about it before but it became public Tuesday): linebacker D'Qwell Jackson was suspended four games for using performance enhancing substances. The Colts will have to make the playoffs in order for Jackson, the team's leading tackler the past three seasons, to play again this season. Something has to give here between co-leaders (with Tennessee) of the AFC South. Houston has won eight consecutive division games, including the past two meetings against the Colts. In Week 6, the Texans staged a ridiculous rally in the final three minutes of regulation to force OT and then won it 26-23. Meanwhile, Andrew Luck has won nine consecutive starts at home against division opponents, including a 3-0 mark against Houston. Somehow the Texans are in first place despite a point differential of minus-50 this year.
Doc's Sports has been successfully handicapping the NFL for years - more than four decades in the business - and wants to give new clients a chance to try our service for free. Click here for the hassle-free sign up and get $60 in free NFL picks today .
Read more articles by Alan Matthews