NFL Odds: Week 16 Line Movements & Last-Minute News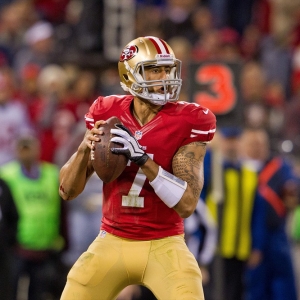 We have had a head coach fired in each of the past two weeks. Who is the next to go? If you follow my NFL stories during the year, you know that I love coach firing props. And I'm usually pretty accurate on them. But I was wrong this season for the first one to be fired as I went with Buffalo's Rex Ryan, but it was the Rams' Jeff Fisher. Then Jacksonville's Gus Bradley followed him out the door last Sunday.
BetOnline offers a prop on the next coach fired. I assume no coach will be canned after Week 16 because there's really no point having an interim guy just for Week 17. But then I thought the same thing last season and the Eagles dumped Chip Kelly following a Week 16 loss that eliminated the team from the playoffs.
So I suppose the same thing could happen to Ryan, who is the +200 leader to be next. I'm assuming this prop will pay off regarding which guy is officially fired first on "Black Monday," the day after the regular season. The Bills are playing their home finale vs. Miami on Saturday and would be eliminated from the playoffs -- they are huge long shots to get in even by winning out -- with a loss. I don't think it's fair for a team to fire its coach and then leave the club unprepared heading into Week 17 if the opponent has something important to play for. But that wouldn't be the case for Buffalo as it visits the Jets in Week 17.
And speaking of Gang Green, New York's Todd Bowles is the +400 second-favorite. There's little question New York loses Saturday as a huge underdog at New England. The Jets will start QB Bryce Petty as he was cleared this week from a chest injury in last week's blowout loss to Miami. It will be his fourth career start. He's 1-2, with three touchdown passes, six interceptions and a 64.6 passer rating.
Cincinnati's Marvin Lewis (+500), San Francisco's Chip Kelly (+600), San Diego's Mike McCoy (+600) and Indianapolis' Chuck Pagano (+650) round out the favorites. McCoy's a sure goner as the Chargers will start over anew with their move to L.A. Incidentally, Bovada offers a prop on if the team moves to L.A. for next season and "yes" is a -300 favorite with "no" at +200. Bet that big time. It's a done deal. I think Lewis is out with the Bengals missing the playoffs for the first time in six seasons. Pagano is probably 50-50 since he just got a big new extension after last season. I believe Kelly actually gets a second year. He could have had the Oregon job if he wanted it and I'm sure asked about his future with the 49ers before saying no thanks. I'd go with Bowles as the Jets could get destroyed this week and leave ownership no choice. I believe Ryan's Bills beat the Dolphins and he won't get fired immediately after a win.
Here are some line moves or potential game-changing injury notes for Week 16. Games on Saturday.
Bengals at Texans (pick'em, 42): This opened as big as Houston -3.5. The key injury news here is that Cincinnati star receiver A.J. Green will play after missing the past four games with a strained hamstring. Kudos to Lewis as he says he believes he owes it to the NFL to play all his healthy guys and try to win even though his team is eliminated. But why risk Green's long-term health? To be fair, Green might be pushing for this for personal reasons. He has 964 yards receiving and is looking to join Randy Moss as the only players with six straight 1,000-yard seasons to open a career. I would have assumed Jerry Rice did that, but he had 927 as a rookie. Why do I have a feeling that Green comes out once he tops 1,000 and doesn't play Week 17? Of course the Texans are going with former backup Tom Savage this week at QB. Bovada gives him an "over/under" of 230.5 passing yards. He topped that in less than three quarters last week vs. the Jags. Cincinnati allows 242 per game. I'd go over at -120 as it's not like there are weather concerns at NRG Stadium.
Falcons at Panthers (+3, 41.5): This opened at +1.5. Sticking with star receivers returning from injury, Atlanta's Julio Jones has been cleared to play after missing the past two games with a toe injury. I have a sneaking feeling that Jones could have been on the field if those games were vitally important, but the Falcons probably figured they would easily beat the Rams and 49ers without him (they did) and preferred Jones fully healthy for the stretch drive and playoffs. Jones had 300 yards receiving against Carolina in Week 4. The Falcons can win the NFC South with a victory and a Tampa Bay loss in New Orleans. If both the Falcons and Bucs win, Atlanta can still secure a playoff berth with a Detroit loss in Dallas on Monday or a Green Bay loss at home vs. Minnesota. Meanwhile, Carolina star linebacker Luke Kuechly has been cleared from a concussion that cost him four games, but it sounds like the Panthers are going to sit him regardless the rest of the season. Cam Newton says he agrees with that. Kuechly has a history with concussions that predates this season. He wants to play.
49ers at Rams (-4, 39.5): Opened at -3 and 41. I really didn't want to have to write about this unwatchable game, but, hey, sometimes it's the worst matchups where you can get the best betting value. Just don't ask me what it is here because I truly have tried to avoid much information on this game like the plague this week. Alas, I feel obligated to tell you that Rams rookie QB Jared Goff will start. He suffered a concussion in last week's loss in Seattle but has been cleared. What's actually fascinating here is that Goff and 49ers quarterback Colin Kaepernick have not won a game yet as a starter this season. San Francisco has lost 13 in a row and the Rams nine of 10. The last time the 49ers played in Los Angeles was 1994, when San Francisco went on to win its fifth and last Super Bowl championship. When the 49ers utterly dominated the Rams 28-0 in Week 1, it was Blaine Gabbert vs. Case Keenum. Incidentally, on BetOnline's updated odds for next Rams coach, Jon Gruden is now the +150 favorite despite Gruden saying this week he wasn't interested in returning to coaching "at this time."
Great offer! Doc's Sports has been a leader in NFL handicapping for more than four decades, and we are offering new clients $60 in free picks for any NFL handicapper on Doc's Sports Web site. You cannot afford to miss out on this great offer - click here.
Read more articles by Alan Matthews