NFL Office Pool Picks Week 14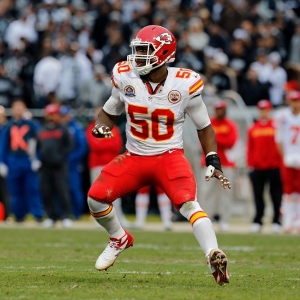 This is when things really get interesting. All teams have played 12 games. It's a downhill sprint to the playoffs. Lots of games have no meaning at all, of course, but there are several games each week in which the stakes couldn't be any higher. Playoffs dreams are intensifying - and for many teams they will be crushed in the coming weeks. The games just mean more, and that makes picking straight up winners all the more fun. Here are my Office Pool picks for all 16 games on the glorious schedule this week:
Oakland at Kansas City: There are games on the remaining schedule potentially as important as this one - like Baltimore and Pittsburgh on Christmas day, for example - but none are bigger. An Oakland win all but clinches the division. A Chiefs victory creates chaos. I really like Oakland, but the travel on a short week and the Chiefs' ability to win no matter how bizarre things get gives me no choice. Take the Chiefs.
Pittsburgh at Buffalo: The Steelers have been playing pretty well of late and look like they are tuning up for the playoffs. They have to get there first, though, and they know that that means winning games like this. They will. Take the Steelers.
Denver at Tennessee: The Titans are coming off a bye week, and they have been dangerous at times this year. Tempting. Denver knows that they have to keep winning to maintain any shot at winning the division, though, so they should be hungry. Take the Broncos.
Washington at Philadelphia: The Eagles looked so good early on, but the realities of starting a rookie QB - albeit one who is going to be very good - are setting in. They just aren't any good right now, and Washington is good enough to exploit that as they look to keep their playoff hopes alive. Take the Redskins.
Arizona at Miami: Last week I would have said that Miami was a total no-brainer. But then the team that had looked so good for six weeks looked as bad as a team can look last week. Annoying. I still have to go with them, though, because I don't trust the Cardinals at all right now. Take the Dolphins.
San Diego at Carolina: The Panthers are self-destructing right before our eyes. Cam Newton was suspended for the first series of the last game for not wearing a tie - a development that is stupid on every level. They are a mess. Take the Chargers.
Cincinnati at Cleveland: I wrote about the Browns this morning. I really want them to go 0-16, but I fear they won't. This game really scares me. Cincinnati was good last week, though - for once. Take the Bengals, but brace for a potential upset. I'd probably take the Browns here if Kessler was starting instead of RGIII.
Chicago at Detroit: Detroit is cruising and is going to win their division by a distance. Who would have guessed? The Bears are a mess unless they are playing a team worse than them - and there are precious few of those. Take the Lions.
Houston at Indianapolis: The Colts are coming off a short week and still can't protect their QB. Houston isn't exactly burning things up of late, but they should be the better team here. Take the Texans.
Minnesota at Jacksonville: What a dog of a game. Neither team can win right now. The Vikings played their best game in a long while in a loss to the Cowboys last week, though, and they have had a long week since to get ready for this one. I fear a letdown from them, but still have to pick them because Jacksonville is so hopelessly lousy right now. Take the Vikings.
New York Jets at San Francisco: What a terrible game. I hate the Jets, but I can't pick the Niners to beat anyone right now. I'd even favor the Browns by a touchdown against this horrible team. Take the Jets.
New Orleans at Tampa Bay: Tampa Bay is very much in the playoff picture - both as a wild-card squad and, potentially, as a division winner. To stay there they need to be winning games like this without too much effort. I'm not totally convinced by them, but they have to be the pick. Take the Bucs.
Atlanta at Los Angeles: The Rams are pretty lousy right now, but they are doing exactly the right thing by essentially writing off the season to get Jared Goff the playing time he needs. It will pay off in the long run. They aren't going to win much in the meantime, though. Take the Falcons.
Seattle at Green Bay: Green Bay has been a little better lately but is still a long way from where they were supposed to be. Injuries are a factor yet again in Seattle, but they were great last week and should carry that momentum forward. Take the Seahawks.
Dallas at New York Giants: The Giants have always felt like they were overachieving in my eyes. I liked nothing about their loss last week, and I really don't like them in this spot. They are a 6-6 team that somehow has eight wins. Take the Cowboys.
Baltimore at New England: The Ravens are playing really well right now, and the Patriots are dealing with injuries. It won't matter, though. This is exactly the kind of game that New England doesn't lose. Take the Patriots.
Are you ready for some football winners? Doc's Sports has you covered! We are offering new clients $60 in free picks - these are actually members' picks from expert handicappers who live, breathe and eat college football and have years of successful betting/handicapping experience. Click here for the no-hassle sign up page (no credit card required).
Read more articles by Trevor Whenham
---
Most Recent NFL Office Pool Picks