NFL Office Pool Picks Week 4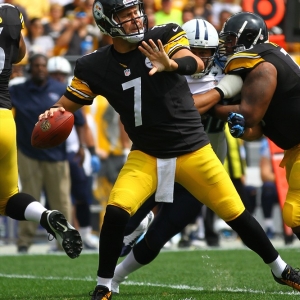 Well, that week that just was… something. Mostly, I'm just glad it's over. Buffalo goes from looking like they were on track to the No. 1 pick to beating one of the best teams in the NFC badly in one week - after firing the only coach on staff who seems competent. Carolina quickly opens up a 10-point lead at home - and then never scores again. Pittsburgh plays as badly as a team possibly could. The Giants and Bucs lose home games they had no business losing. Just thinking about it all makes my head hurt all over again. That's the past now. I only care about the future. And here is how that future is going to play out for all you office pool players:
Miami at Cincinnati: Miami needed overtime to beat Cleveland. Cincinnati made Trevor Siemian, playing his first ever road game, look like Peyton Manning in his prime… only better. Not a lot of momentum coming into this one, in other words. Cincinnati gets the nod because they are at home. Take the Bengals, but don`t feel great about it.
Indianapolis at Jacksonville: I was high on the Jaguars heading into the season. They are 0-3, though, and have played like that is exactly the record they deserve. Unimpressive in every way. The Colts have had issues in several areas this year, but they have the edge here regardless. We`ll have to see what the impact of playing in London will be on both teams, but you have to take the Colts.
Tennessee at Houston: Houston's loss to New England was one of the most humiliating in the history of the NFL. It was that bad. They are reeling, but they are also playing a troubled team. I hate this game. Take the Texans at home, but don't rest easy.
Cleveland at Washington: The Redskins finally found a way to win. The Browns are really just a lousy team. It's an ugly game, but the pick is clear. Take the Redskins.
Seattle at New York Jets: As I write this we don't know what Russell Wilson's status is. I'm not sure I care, though. The Jets were just awful last week. They showed us how much of a mess their QB situation is, and Seattle has a defense to cause issues. Take the Seahawks.
Buffalo at New England: I have no idea what happened last week when the Bills emasculated the Cardinals. It makes no sense at all. And it isn't going to happen again. New England is not going to let themselves be beat by Rex Ryan. Take the Patriots.
Carolina at Atlanta: Carolina's second loss last year came in the Super Bowl. This year it came in Week 3. And it was ugly. I have plenty of lingering issues about the Falcons, but they are coming off an excellent offensive effort. Combine the struggles of the Panthers the last two weeks offensively with the momentum of the Falcons, and I have to make a pick I don't love. Take the Falcons.
Oakland at Baltimore: The Raiders have played one strong game, one horrible game, and last week's was somewhere in the middle. The Ravens are 3-0, but they have beaten underwhelming teams each time and aren't as good as their record. The Raiders should be the better team right now, and we have to pick them. Again, though, it's not a comfortable pick - the recurring theme of this week. Take Oakland.
Detroit at Chicago: Detroit hasn't been great - they are 1-2 - but they are better than it seemed reasonable to expect. The Bears are really, really bad. If Detroit doesn't win this one then they need to look long and hard in their mirrors. Take the Lions.
Denver at Tampa Bay: There is something broken with the Bucs. They were crushed by the Cardinals. That loss is okay, though I wish it had been closer. Losing at home to the Rams, though, and getting pushed around by Case Keenum in the process, is not okay. I don't know how Trevor Siemian is doing it, but he's winning and playing well doing it. Take the Broncos.
L.A. at Arizona: It's bizarro world - the Rams have won two in a row, while the Cardinals just got manhandled by the Bills for their second loss. You couldn't have seen that coming - neither thing. That makes this game very hard to call. Arizona is the better team - even if they haven't shown it - and they are at home. That makes them the clear pick. Take the Cardinals.
New Orleans at San Diego: I don't like much about either team right now. They just aren't good. The Chargers have scored the most points in the AFC, though, while the Saints, a franchise that hasn't believed in defense in a decade, has allowed the second most points in all of football. That's enough for me. Take the Chargers.
Dallas at San Francisco: Dak Prescott can play. Blaine Gabbert can't. Prescott has a good team behind him. Gabbert doesn't. There was a time when this matchup would have been the game of the year. Now it's a likely blowout. Take the Cowboys.
Kansas City at Pittsburgh: I picked the Steelers to win the Super Bowl. So they go out and get absolutely crushed by a Philadelphia team that waved the white flag days before the season started. Ugh. I'd love to pick the Chiefs, and their dismantling of the Jets last week was very impressive, but Kansas City was lousy in their first road game, and this is a much tougher test. Take the Steelers.
New York Giants at Minnesota: At this point you can't doubt Sam Bradford. A week after a near-perfect debut he engineers a convincing comeback against the defending NFC champs. On the road. This is Minnesota's game to lose. And they won't. Take the Vikings.
Doc's Sports has been successfully handicapping the NFL for years - more than four decades in the business - and wants to give new clients a chance to try our service for free. Click here for the hassle-free sign up and get $60 in free NFL picks today . Also, get three handicappers for the price of one when you sign up for a full-season football package! Click Here for details.
Read more articles by Trevor Whenham