NFL Power Rankings Week 11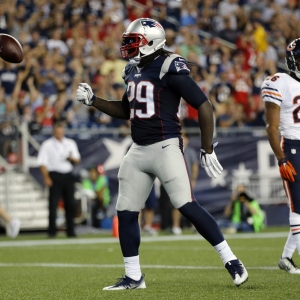 Before we get into this week's NFL Power Rankings I want to point out that next week these will be posted early on Wednesday. Also, all of Doc's handicappers will have their football selections for next week posted at 6 p.m. on Wednesday to accommodate the Thanksgiving holiday.
November is separation month in the NFL. This is the time of the year when teams really define their seasons. Some clubs, like the Arizona's and Pittsburgh's, have bumbled their way through the first half of the year and have put themselves into do-or-die spots late in the fall. Others, like Atlanta, Oakland and the Giants, have positioned themselves for surprise postseason berths by collecting wins where they could find them in the season's first three months.
It is important for bettors to remember that, on average, half of the teams that made the postseason the previous year don't return to the playoffs. So if you are waiting for clubs like Cincinnati and Carolina to suddenly turn it on - stop. November is about momentum more than it is about statistics. And the teams that are inviting Uncle Mo over for the holidays are the clubs that you want to latch onto down the stretch.
Finally, bettors need to start asking themselves one very important question as we head into the final seven weeks of the season: is this team for real. This year's underachievers aren't hard to spot. But there are several teams whose gaudy win-loss records in the standings don't reflect the statistical or practical realities of what we are seeing on Sundays. Being able to spot which teams are primed to collapse in these final weeks will be crucial for against the spread survival.
Over the last 10 years just five of the last 120 teams to make the NFL playoffs were below .500 after Week 11. That means that teams, whether they know it or not, are playing de facto elimination games this season.
Here is Doc's Sports NFL Power Rankings for Week 11:
1. New England Patriots (7-2) - I'm not going to kill the Patriots for losing at home to Seattle. Especially because I'm one of those people that thought the final play of the game was clearly pass interference (or at least illegal contact). I guess I'm OK with the refs swallowing their whistles there. I wish more refs would do that more often. But I'm also not going to penalize the Patriots in these rankings after losing a game in somewhat subjective fashion. Bill Belichick won't be floored by Chip Kelly's offense. The Pats and Eagles held joint practices two years in a row (both times prior to preseason games) when Kelly was at the helm. New England also lost to the Eagles last year in Foxboro in one of the bigger upsets of the season.
2. Dallas Cowboys (8-1) - Hahahaha! What the hell was that press conference, Tony Romo? My first thought was, "does Tony Romo have HIV?" That was pathetic. You got benched for the hot hand. Get over it. That's not soul-crushing. And compared to the genuinely upsetting and disorienting issues that have faced the country in the last week, for Romo to go on TV and lament his lot in life was just bizarre. And ridiculous. That guy is a loser. Always has been, always will be, and the Cowboys are better off without him under center. He shouldn't get credit in the media for accepting reality. Dallas is just 5-12 ATS in its last 17 home games but is on a savage 8-0 ATS rush.
3. Seattle Seahawks (6-2-1) - Some very sharp people I know are banking on a Seattle letdown this week after two hard-fought, emotionally draining, nationally televised wins in a six-day stretch last week. They are just 1-3 ATS in their four home games this year, and this is only the fourth time in three years - including the playoffs - in which they were favored by less than a touchdown at home. Going back further, though, they are 12-2 ATS in their last 14 games as a home favorite (or underdog) of less than a touchdown. That includes their win, but no cover, last Monday against the Bills.
4. Denver Broncos (7-3) - The Broncos will be able to rest and recover and prepare for a stretch run during their bye week. I also think that this time will be crucial for the Broncos coaching staff to work with Trevor Siemian and get him more comfortable in this sagging lineup. DeMarcus Ware has been a non-factor in his three games since returning from injury, logging just one tackle. Denver will need to see more from him in the final month of the season if they will want to emerge from a stacked AFC West.
5. Kansas City Chiefs (7-2) - I have to give the Chiefs credit for continuing to win (five straight and 17-2 SU in last 19 regular-season games) and for occasionally beating a number (4-3 ATS in last seven). However, the red flags continue with this group as they scored a second win this year after trailing by 17 points. They have been outgained in regulation in seven of their nine games this season. That is unsustainable. Kansas City has converted only 23.8 percent of its third downs over the last three weeks. I know they've had issues at quarterback, but if they don't start sustaining some drives they are going to burn out that defense by December.
6. Arizona Cardinals (4-4-1) - I saw another power rankings that had the Cardinals rated in the 20s. And you know what: I can't really argue with that. I know that ranking the Cardinals (and the Steelers) where I have them this year I am running counter to everything I have said in my opening. However, I still think that the Cardinals can make a late-season push. They beat the Vikings at home last December, 23-20, but weren't close to covering as 10-point favorites. Also, the road team is just 1-9 SU in this series dating back to 1999.
7. Pittsburgh Steelers (4-5) - Time to put up or shut up for the Steelers. And if there were ever a team to "get right" against it would be the Cleveland Browns. The Steelers actually lost in Cleveland in 2014 (and in 2012). But Pittsburgh won by 21 and 16 points in the meetings last year and have dominated this series for two decades. The Steelers are 4-0 ATS the last four times they have faced the Browns as a favorite of a touchdown or more. And if this team is as good as everyone thinks it is - which they haven't been to this point - they will deliver an early knockout blow.
8. Atlanta Falcons (6-4) - Much-needed bye week for the Falcons. They host Arizona next Sunday in what will be one of their three biggest games of the season. Atlanta has a 1.5-game lead in the NFC South. But if they lose next week they will be 2-4 SU in their last six, and all of the demons of last season's epic collapse are going to come creeping to the surface again.
9. Oakland Raiders (7-2) - I'm a little worried about this team mentally this week. I think the Raiders spent their bye week listening to everyone telling them how good they are. And now they have to come back and lose a home game, traveling to Mexico to play in a Monday Night Football national broadcast. There are a lot of red flags shooting up for a team that is young and isn't used to dealing with success. The good news is they are only playing the Texans. The bad news is the Raiders are 2-9 ATS in their last 11 MNF games.
10. Washington Redskins (5-3-1) - Very quietly this team has positioned itself as a solid NFC sleeper. I like the Redskins a little more than most people do because they are solid in the trenches and this team can score points against anyone. The Redskins have revenge against the Packers this week for their 35-18 bludgeoning in the playoffs last January. Washington actually outgained the Packers in that one, but they simply couldn't stop a red-hot Rodgers. The Redskins are now 6-1 ATS in their last seven games overall, but they are just 1-6 ATS in their last seven games against the Packers.
11. New York Giants (6-3) - The Giants have been outscored on the season, they have been outgained on the season, and they have a minus-8 turnover differential (third-worst in football) while also hosting one of the worst rushing games in football. Yet despite all that this team is 6-3. Much like Kansas City, it doesn't make any sense. And while I know a lot of people are jumping on the Giants bandwagon this week, I would be careful buying into this team's long-term prospects. The Giants are 6-2 ATS in their last eight Sunday games after a Monday Night Football contest. But the road team has won seven of the past nine meetings between the Giants and Bears dating back to 1992.
12. New Orleans Saints (4-5) - Much like the Chargers, the Saints have just been a hard-luck team this year, losing games in the final seconds on all manner of fluke play. Besides that, a quick scan of the Saints schedule shows that they have played one of the most difficult slates in the entire NFL. If you throw out the San Francisco game, New Orleans' only game against teams currently under .500 were at San Diego and at home against the defending NFC champion Panthers. New Orleans has outgained five straight opponents, and despite last week's setback they are still 5-1 ATS in their last six games. The road team in the Panthers series is 21-9 ATS in the last 30 meetings, and the underdog has covered four straight.
13. Baltimore Ravens (5-4) - The secret to Baltimore's success, such as it were, has been a resurgent defense that is in the Top 5 in every major category. But one overlooked stat is that the Ravens are No. 1 in the NFL in third down defense, stopping opponents 68.5 percent of the time. Over the last three weeks Baltimore has gotten off the field on third down an outstanding 71.4 percent of the time. The Ravens aren't going to be scared of the Cowboys this week down in Big D. They boast the No. 1 rushing defense in football and will stand up to the Cowboys attack. However, Joe Flacco has to stop giving the ball away. Their blowout win over the Browns masked the fact that he threw two picks in the end zone.
14. Buffalo Bills (4-5) - I feel like this is a season-defining game for the Bills. If they lose they will be 4-6 and on a four-game losing streak. They are coming out of a bye week and are facing a Bengals team that is on a short week after a MNF loss. The time is right for the Bills to strike. LeSean McCoy is healthy. But it will be interesting to see how the Bills offensive line recovers from the loss of star center Eric Wood. The Bills are No. 2 in rushing offense right now, but Wood is a Pro Bowler and his leadership will be tough to replace.
15. San Diego Chargers (4-6) - For as much as I have praised Phil Rivers this year - and I truly believe he was the MVP of the first half of the season - the Chargers offense has simply turned the ball over way too much for this team to remain competitive. The Chargers defense has forced 19 turnovers this year (No. 3). But the offense has turned it over 22 times, worst in football, and that has likely relegated this squad to the role of spoiler for the final few weeks of the year.
16. Houston Texans (6-3) - Brock Osweiler misses too many easy throws to ever be considered a legit NFL quarterback. I actually think I've seen enough of him this year to say definitively that he shouldn't be starting and will never be anything better than backup quality. In a league full of fraudulent teams and misleading records, the Texans might be the biggest frauds of them all. They've been outscored by 27 points on the season. Three of their wins have come against other pathetic AFC South teams. Two other wins have come against the putrid Bears and Lions, both at home. These guys aren't nearly as good as their record might suggest, and they are 1-8 ATS in their last nine MNF games.
17. Minnesota Vikings (5-4) - Finally! I understand loyalty in football. But Blair Walsh should've been cut over a month ago. You could tell that his confidence was completely shot and that the black cloud that hung over him every time he took the field wasn't going away. Minnesota's struggles on the offensive line have still had too much of an impact on this team to be overcome. The ripples have spread too far, and this team is a mess right now. You can also see the ATS regression (0-4 ATS slide) happening for a team that had cashed in nearly 80 percent of its previous 47 games (36-11 ATS). Minnesota is still 19-7 ATS at home and will have to force Carson Palmer into some turnovers if they want to add another 'W'.
18. Detroit Lions (5-4) - Matthew Stafford's 277.8 career passing yards per game is the second-highest career mark of any quarterback of the last 20 years. (Drew Brees is No. 1 with 282.7 yards per game.) But it is very difficult to trust Stafford, who has a career 47-55 record, in the role of favorite. The Lions are 4-0 ATS after a bye week and 4-1 ATS in their last five home games. But the Lions are 1-2 ATS as a favorite, losing outright at Chicago and to Tennessee, and 9-16 ATS as a favorite dating back to November of 2013.
19. Philadelphia Eagles (5-4) - Despite the worst third-down offense in football (33 percent), the Eagles are in the Top 10 in the NFL in scoring. Their 13.7 yards per point is No. 6 in football and is better than teams like New England and Dallas. A lot of that has been fluke luck, and a lot of credit also has to go to the Eagles special teams. Philadelphia is just 2-8 SU and 1-9 ATS in their last 10 games against teams from the NFC West, and they have struggled in trips out to the West Coast. They will need to shorten the game against the weary Seahawks, and I would look hard at the total in this one.
20. Carolina Panthers (3-6) - Both Carolina and New Orleans have quick turnarounds after demoralizing losses on Sunday. Whomever can mentally rebound the quickest will likely take this game. Home teams in Thursday Night Football this year have gone 6-3 SU, but the Panthers are just 2-5 ATS in their last seven Thursday games. Carolina is also 1-4 ATS in its last five divisional games. They are 8-3 ATS in their last 11 home games.
21. Indianapolis Colts (4-5) - It certainly was a quiet bye week for the Colts. Indianapolis is facing Tennessee for the second time in four weeks, beating the Titans 34-26 in Nashville back on Oct. 23. The Colts have completely and total dominated this series, winning 10 straight (9-1 ATS) over the Titans. The Colts are 7-2 ATS after a bye and 27-13 ATS at home. Indianapolis has gone 19-7 ATS in its last 26 divisional games. The Colts have covered five straight at home against the Titans.
22. Tennessee Titans (5-5) - I love everything that Mike Mularkey is doing right now. His, "Screw It!" approach - with onsides kicks, flea flickers, and all manner of trick play - is having a clear impact on this team and it is instilling confidence. Tennessee is still overmatched by most opponents. But they finally have more respect for themselves than what they are getting from their opponents, and that has turned things around for this group, which is suddenly on a 4-0 ATS run. Tennessee has the No. 3 third-down offense in football, converting a healthy 48.1 percent of their third down attempts this year after just a 31.8 percent rate last year.
23. Green Bay Packers (4-5) - Quick, name me four starters on the Packers defense. (No, Clay Matthews doesn't count. He's hurt.) OK, name me three starters on the Packers defense. Alright, Ha-Ha Clinton-Dix is one. How about one more? No? Nothing? OK, Morgan Burnett and Julius Peppers, but those two are past their primes. The Packers defense is No. 10 overall. But it is No. 26 in points allowed, an ugly 13.0 yards per point allowed. That, more than anything else, is the reason this team has slunk to the league's third tier. The Packers are 7-3 ATS in their last 10 road games. But they've allowed an average of 36 points per game in their last three and have allowed 27 or more points to five of their last seven opponents.
24. Miami Dolphins (5-4) - The Dolphins decided to stay in California this week rather than fly back and forth in between games at San Diego and at Los Angeles. I do not have statistics to back this up, but my anecdotal analysis is that I have never seen this work out to a team's advantage. Miami lost starting left tackle Branden Albert for the season. You can expect the Rams to challenge that side of the line all day on Sunday. Miami is definitely a "buzz" team after four straight up and ATS wins, and they are taking nearly 70 percent of the action in this game. How much do you really trust this group? Miami is 2-9 ATS against a team with a losing record and 1-6 ATS after scoring 30 or more points.
25. Cincinnati Bengals (3-5-1) - This might be a little harsh on the Bengals. They definitely should've beaten the Giants on Monday. But there is just too much about this team that is extremely mediocre. And their three wins have come against the Jets (by 1), Dolphins and Cleveland. It looks like Marvin Lewis won't have to worry about questions about getting his first playoff win this year. The Bengals have allowed the third-most sacks in football this year (28) and are facing a Buffalo front season with the most sacks in the NFL (30). That is the key stat to watch this week. Cincinnati has beaten Buffalo three times since 2011, including a 34-21 win last year, but the favorite in this series is just 1-5 ATS.
26. Los Angeles Rams (4-5) - It's Goff Time, baby! Here's what I expect from Jared Goff this weekend: more big throws down the field and a lot more turnovers. I remember watching and betting against Goff in his freshman year at Cal. He was a train wreck as he learned the offense, and the Golden Bears went 1-11. The market has responded to the news by making the Rams home underdogs this week against the Dolphins, and over 80 percent of the action in this game is coming down against Goff and Los Angeles.
27. Tampa Bay Buccaneers (4-5) - Jameis Winston has committed 15 turnovers in nine games this season and is now facing a Chiefs defense that leads the league in turnovers forced (22). I don't expect Winston to rein in his aggressive downfield tendencies. But the key for him will be sensing the rush from a powerful Chiefs front seven and getting rid of the ball early. The Bucs are basically taking 50-50 action as 7.5-point underdogs against the Chiefs, and the assumption is that the backdoor will be wide open all game. However, don't bet Tampa Bay unless you think they can win outright. The Bucs are just 4-9 ATS in their last 13 games overall and 1-4 ATS after a win. They are 0-4 ATS against teams above .500. However, they are 23-11 ATS on the road against a team with a winning record.
28. New York Jets (3-7) - It's over. This season has gone pretty much exactly as I predicted. It doesn't matter who the Jets have at quarterback. This roster is too old and too banged up after their brutal early-season schedule. I think that these guys are packing it in, and I don't expect any late season resurgence, even back to respectability, out of this group.
29. Jacksonville Jaguars (2-7) - The Jaguars are now minus-14 in turnover differential on the season, the worst in football. These guys are the kings of garbage time and did it again last week, making their 24-21 loss to the Texans look a lot closer than it really was. However, their penchant for garbage time points have some bettors trolling for value with this team in the underdog role. Six of their nine games have been decided by five points or less, and going back to the end of 2014 the Jaguars are actually 6-2 ATS when they are underdogs of more than four points. I think the Jaguars either win this game outright or they get absolutely rolled by 30 in Motown this weekend.
30. Chicago Bears (2-7) - I know everyone is lamenting Alshon Jeffery's four-game suspension as a death knell for the Bears offense. But Jeffery has been overrated and overvalued within this offense the past two years, and he isn't the same guy since losing Brandon Marshall on the opposite side of the field. It was fitting that Jay Cutler threw a pick-six to Chris Conte, who was one of the worst defensive players in Bears history during his time in Chicago. That seven points, plus the points that Cutler gave away with a fumble inside the 15-yard-line, completely changed that game last week.
31. San Francisco (1-8) - The 49ers snapped a seven-game ATS losing streak last week in a tight one at Arizona. And now this week the spread on their game with the Patriots dropped from 14.0 to 13.0 despite 83 percent of the action coming down against San Francisco. That's a serious reverse line movement. Yes, San Francisco's losses have come by an average of 15.5 points per game. But they have hung within two touchdowns with Arizona (twice) and Dallas. And their quirky style can still be a bit much for opposing teams to prepare for.
32. Cleveland Browns (0-10) - What the hell was Hue Jackson doing? Look, I don't pin this whole season on him. This roster is one of the worst I've ever seen. I have been saying that for three months. But his quarterback swap on Thursday was just bizarre. Good news though: it was reported that the Browns are attempting to get Robert Griffin ready to return at the end of this season! That's fantastic! The game he returns will be the easiest wager I make all season.
Throughout the season I will have my NFL Power Rankings every Wednesday. My next ones will be released on Wednesday, Nov. 23.
Robert Ferringo is one of the top football handicappers in the country and tallied an unrivaled $20,800 in football profit between 2011 and 2015, including his amazing 2013 NFL season in which he hit 62.1 percent (95-58). Robert has produced 15 of 23 winning football months and an amazing 38 of 58 winning football months over the past decade. Robert has hit nearly 60 percent winners over his last 750 totals picks and is the most prolific big play football handicapper in the nation, going 110-69 (62%) on all football plays rated 5.0 or higher since 2010. Also, Robert's proprietary KING College Football Betting System has posted three of four winning seasons and is 122-92 over the last three years (57.0 percent).
We are offering new clients $60 in free college football picks for Robert's picks or any Advisory Board handicapper of your choosing. Get your free college football picks now!
Read more articles by Robert Ferringo