NFL Power Rankings Week 13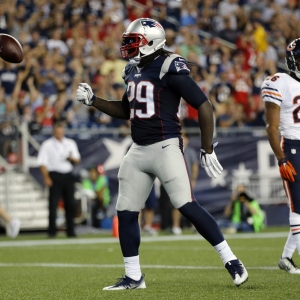 In lieu of a snappy opening to this week's power rankings, I wanted to have you help me by taking part in a little experiment.
Below are stats for 12 of the top quarterbacks in the NFL over the last 10 (or so) years. What I would like you to do - on a piece of paper, in a Word document, in your head - is to rank these quarterbacks based on the stats you see before you.
The stats, in order are: Completion Percentage, Avg. Pass Yards Per Game, Avg. TD Per Game to Avg. INT Per Game, QB Rating, and Team Winning Percentage.
A. 66.5%, 282.7; 2.0 to 1.3; 96.3, (.569)
B. 64.7%, 254.8; 1.7 to 1.2; 95.3, (.564)
C. 63.8%, 259.4; 1.9 to 0.9; 97.0, (.772)
D. 64.6%, 264.7; 1.7 to 1.1; 92.6, (.588)
E. 61.0%, 234.3; 1.3 to 1.2; 84.1, (.611)
F. 64.1%, 253.4; 1.6 to 1.2; 94.2, (.661)
G. 59.6%, 240.6; 1.6 to 1.5; 83.7, (.536)
H. 62.0%, 233.4; 1.5 to 1.4; 85.7, (.493)
I. 64.9%, 257.8; 2.1 to 0.9; 103.3, (.656)
J. 65.3%, 229.2; 1.7 to 1.0; 97.1, (.614)
K. 61.4%, 277.8; 1.8 to 1.3; 87.0 (.460)
L. 65.3%; 270.5; 2.0 to 1.1; 96.5 (.702)
In next week's open I will reveal who each of the quarterbacks are - along with the rankings that I had when I came up with this - and I think that your own order will surprise you.
Here is Doc's Sports NFL Power Rankings for Week 13:
1. New England Patriots (9-2) - December lulls are really nothing new to the Patriots. Over the last five years they are just 10-13 ATS in the season's final month and just 17-18 ATS in their last seven games of the season during that span. Those numbers may not seem that bad, but when you consider how good the Pats have been against the number in the first half of the season during that same stretch and the money burning really stands out. Since 2010 the Patriots are just 5-10 ATS as favorites of 8.0 or higher after Thanksgiving.
2. Dallas Cowboys (10-1) - According to published sources, teams playing in nondivisional games after a Thanksgiving appearance are just 21-35 SU and ATS over the last 25 years and 9-21 ATS on the road in that role. Dallas continues to rumble along. I think that post-Turkey Day hangover, more than anything the Vikings have done, has helped to hold the Cowboys spread down this week. Dallas is just 1-6 ATS on Thursday games, but they have covered five straight on the road and are 9-1 ATS overall.
3. Seattle Seahawks (7-3-1) - The Panthers-Seahawks rivalry has quietly become one of the best non-divisional rivalries in football. This is the seventh meeting between these two teams since the start of the 2012 season, and it is a rematch of their playoff game last January out in Carolina. That loss (along with Carolina's upset win in Seattle last October) gives Seattle double-revenge. However, only one of those six recent meetings has been decided by more than the touchdown that Seattle is laying this week.
4. Pittsburgh Steelers (6-5) - Considering the opponent, the situation, and the desperation that I expected the Steelers to play with, I have to say that Pittsburgh scored about the least-inspiring 28-7 win that I can remember. I know Pittsburgh's defense - which is starting three rookies for the first time since 1974 - seems like it has turned the corner, giving up just 16 points the past two games. But they have faced Cody Kessler, Josh McCown and Scott Tolzien, so let's temper our enthusiasm. The Steelers are 9-2 ATS in their last 11 December games, and with back-to-back road games on deck the Steelers absolutely need this game.
5. Atlanta Falcons (7-4) - Losing Marcus Trufant for the year is a crippling blow to an already-shaky defense. He is the third key contributor to that defense that the Falcons have lost for the year in the past two weeks (Adrien Clayborn's loss was huge as well.) I know it doesn't seem like a big deal with the Falcons ringing up 35 points per game. But eventually this team is going to have to get a stop. And it becomes a lot harder to lay points with a fat favorite when you know that team can't slow opposing teams down.
6. Oakland Raiders (9-2) - That is now five straight wins for Derek Carr and his band of merry men. The Raiders had their four-game ATS winning streak snapped, though, when they blew a 24-7 lead and then needed a comeback in the fourth quarter (again) to beat Carolina. The Raiders are just 6-23 ATS in their last 29 games as a home favorite, dating back to 2005. I know they didn't have Carr under center for most of those games, though, so those numbers should go out the window. But it might be time to start moneyline betting against this squad because I feel like when they do eventually fall they are going to fall hard.
7. Kansas City Chiefs (8-3) - Good god. Yet again the Chiefs managed to steal a victory while being outgained by a comical amount, this time winning despite a 191-yard deficit at Denver. That's ridiculous. The Chiefs are awful on third down (No. 27) and they are terrible in the red zone (No. 31). Also, half of their NFL-leading plus-14 turnover margin came in one game (against the Jets). There are red flags shooting up all over this team. They keep winning regular-season games, though, and we might have to wait and cash in on their inevitable playoff collapse.
8. Denver Broncos (7-4) - I think that criticizing Bennie Fowler for not going down or Gary Kubiak for his field goal attempt is just Monday morning quarterbacking. The field goal was questionable, but he was playing to win and you gotta respect that. But here is the thing: if Kubiak wanted to "play to win" he should've gone for two after Fowler's touchdown. A conversion would've put them up nine and ended the game. A failure would've still left the Broncos up seven. So even if K.C. did march the length of the field and score they likely would've just kicked the extra point. And if the Chiefs had gone for two in that situation then Denver basically would've had two opportunities to win the game on two-point conversions.
9. Washington Redskins (6-3-1) - I wouldn't expect Jordan "Mr. Glass" Reed to play for the Redskins this week in Arizona. But it might not slow down this group of grinders, which got back two key offensive linemen from injury. Washington has covered the spread in four straight and eight of nine games overall. The Redskins are 5-1 ATS on the road this year, but this is just their second true road game since Oct. 24, and they have lost - to Detroit and Dallas - their last two trips as a visitor.
10. New York Giants (8-3) - I thought for sure that the Giants were going to let the Browns sneak in the back door last week after letting Cleveland hang around longer than they should have. Count me among those select few that aren't as impressed with the Giants defense right now. They have posted an 18.8 defensive yards per point over the last month and they have the fifth-best DYPP in the NFL right now. But the Giants haven't played a team above .500 in over two months. And their two wins the last two weeks have come against two of the three worst teams in football.
11. New Orleans Saints (5-6) - I can't say enough bad things about New Orleans' defense. I know everyone is focusing on Drew Brees and the Saints' fantastic blowout win over the Rams last week. But as I watched that game I couldn't get past how soft the Saints are on defense. They are what I refer to as an "accidental defense" because it seems as if the only stops they ever generate are done so purely by accident or by the opposing team's miscues. I would still be very wary laying points with these guys. The Saints are 35-16 ATS against teams with a winning record but just 2-7 ATS in their last nine games after winning by 14 or more points.
12. San Diego Chargers (5-6) - Joey Bosa has only been credited for 15 tackles and 4.5 sacks this year. But it seems like he is in on every other play. Bosa is one of those players, much like Clay Matthews and several others, that are simply playing at a different speed than everyone else on the field. The Chargers have still given up an average of 26.3 points per game and have gone 'over' in five of seven with Bosa in the lineup. But there is no doubting that he is a keeper.
13. Buffalo Bills (6-5) - Rex Ryan teams are always very dangerous in the underdog role. The Bills are only garnering about 20 percent of the betting action in their game with Oakland this week, but the books actually dropped the spread on this game from 3.5 to 3.0. Moving onto a key number like that is a bit of a red flag. The Bills are 6-2 ATS in their last eight games against a team with a winning record. They are also 4-2 ATS as an underdog this year with upset wins at Cincinnati and at New England.
14. Baltimore Ravens (6-5) - The Ravens have revenge for a loss at Miami last year. Baltimore did cover the spread in that 15-13 grinder, though, and the Ravens are 6-0 ATS in their last six meetings with the Dolphins going back to 2008. I like that the Ravens have re-dedicated themselves to their ground-and-pound attack. But these guys absolutely have to stop throwing the ball short of the first down marker on third down! There were three times last week where Joe Flacco came up short on third down because of a check down.
15. Minnesota Vikings (6-5) - Minnesota's free fall continues. After an unrivaled three-year run of ATS success the Vikings have gone just 1-5 SU and ATS in their last six games. They simply cannot block anyone, so everything they have to throw is short and quick. Teams have pressed up their corners and started using zone blitzes more effectively to bait Sam Bradford into mistakes and it has been working. The Vikings are 8-1 ATS in their last nine games against the Cowboys, and the home team has won seven of the last eight meetings.
16. Arizona Cardinals (4-6-1) - Do the Cardinals have one last stand in them? Is this team, which entered the year with Super Bowl aspirations, going to mail it in through December or are they going to play with pride and make one last futile run? Any last stand begins at home this week, and that makes Arizona dangerous. Remember: this team is one of the only ones in football to be in the Top 10 in total offense (No. 9) and total defense (No. 1).
17. Detroit Lions (7-4) - Don't look now, but are the Lions a "defensive team"? The Lions haven't allowed more than 20 points in five straight games, something that they haven't done in 25 years. Detroit also has scored more than 22 points just once in its last five games. Detroit has played 'under' in five straight games, and yet they are facing a total over 53.0 this week down in New Orleans.
18. Miami Dolphins (7-4) - That is now six straight wins for the Dolphins and a sweet 5-1 ATS run. However, just one of Miami's wins during that stretch (Pittsburgh) has come against a likely playoff team, and just two (Bills) have come against teams above .500. I'm not trying to disparage the Fins. They are playing their best football in years. But they have been outgained in three of their last four victories. And as last week's win/no cover shows, the Dolphins may be getting priced out of the market.
19. Houston Texans (6-5) - There is literally nothing to write about the Texans. This is simply a replacement-level team. They are the computer-generated team in a video game. They are the cantaloupe of the fruit that you buy in the airport. They are Piston Honda, of Mike Tyson's Punch Out fame. Houston's wins all seem to be by default, beating hapless opponents mostly just by standing there and not making mistakes, and their losses seem to come in any game of consequence. Houston is 1-4 ATS in its last four road games. And that completely nondescript statistic about them pretty much sums it up.
20. Tennessee Titans (6-6) - The Titans are converting an eye-popping 75 percent of their red zone appearances into touchdowns this season. Teams either can't stop Tennessee's power running game - which can almost rival Dallas' - or they can't stop the Titans' variant pass plays out of their jumbo sets. Give the Titans two good receivers and about four upgraded defenders and this team would be the AFC's version of the Cowboys. These guys desperately need to work on their defense with a lead, though, if they really want to make a run at a division title.
21. Green Bay Packers (5-6) - That was some vintage Aaron Rodgers stuff right there on Monday Night Football. And the public is right back on the bandwagon, with 80 percent of the action in the Texans game coming down on The Pack. My old adage is, "Win on Monday, lose on Sunday" in the NFL. However, the Packers are the lone exception to the rule, going 17-3 SU and ATS in their last 20 Sunday games after a Monday Night Football win.
22. Tampa Bay Buccaneers (6-5) - The Bucs defense has been putting up ridiculous numbers over the last month, and that has led to their resurgence. But these stats are unsustainable. Tampa Bay had a 49.0 defensive yards per point against Seattle while allowing the Seahawks one net passing yard in the first half and a comical 9.1 percent third-down conversion rate. Tampa Bay has averaged an insane 27.2 DYPP over their last three games. Gerald McCoy is wrecking people, and rookie Noah Spence looks like a keeper, leading the surge on the front four. Tampa Bay leads the NFL in turnovers since Week 5 (+18) and turnover ratio (+11) and the Bucs have allowed the fewest second half points (7) in the NFL over the last three weeks.
23. Philadelphia Eagles (5-6) - If the Eagles couldn't slow down Green Bay's pass rush I'm not sure whose pass rush they can slow down. The Eagles offensive line has been abused by injury, and they have several players out of position at the moment. I thought it was really telling that Doug Pederson - who, again, made some ridiculous game strategy decisions last Monday - started talking about next season and three or four years down the road in his press conference after the Green Bay game. If these guys are already looking ahead toward next year that doesn't bode well for a big December push. The Eagles are 1-9 ATS in their last 10 games after a double-digit home loss.
24. Carolina Panthers (4-7) - Add Ron Rivera (and Bruce Arians) to the list of coaches that have no idea when to go for a two-point conversion. Rivera's call to go for two - twice - definitely cost Carolina last Sunday. (Graham Gano missing the first extra point certainly didn't help, but still.) The Panthers are also the latest team to attempt a two-week stay on the opposite coast in between road games. As I have pointed out repeatedly in this column, that never seems to work or to help the opponent, and by my unofficial count teams are 2-5 ATS the last seven times they have attempted it.
25. Indianapolis Colts (5-6) - Between the Colts desperately clinging to playoff dreams and the NFL league office desperately trying to stop leaking MNF viewership numbers, I feel like there is about a 1000 percent chance that Andrew Luck plays on Monday. The Colts are 23-7 ATS against below-.500 opponent and 25-9 ATS after a loss. Indianapolis is also 10-4 ATS in its last 14 Monday Night Football games, though most of those wins were with Peyton Manning under center.
26. Cincinnati Bengals (3-7-1) - I have to give Andy Dalton a ton of credit for how he played in Baltimore. I thought that game was going to be a bloodbath, but Dalton was accurate and decisive and he kept Cincinnati in the game all afternoon. Dating back to 1988 the Bengals are 8-0 ATS in their series with the Eagles. In what is an indicator of teams on decline, the Bengals have lost their home-field advantage. Cincinnati is 2-6 ATS in its last eight home games after a dominating run at home through the first part of this decade.
27. Los Angeles Rams (4-7) - Yeah, you shouldn't be commending Jared Goff for his "flashes" against the Saints. First, New Orleans' defense is comically bad and Goff missed a ton of very easy reads. Second, his turnover was awful and came at a point in the game where the Rams couldn't claw back in it. Third, one of his touchdown passes was set up at the six-yard line after a fumble. It was a nice pass, sure. But it was a gift. We will see how Goff handles temperatures just above freezing and the Patriots defense this Sunday.
28. New York Jets (3-8) - If NFL brass was worried about its flailing television ratings then they have to be cringing at the thought of this week's Jets-Colts matchup. Not only is it a relatively meaningless game in the standings but also it is two terrible teams. The Jets are a mess and are ready to quit on this season. I think the Jets will be completely lacking fire down the stretch and will get rolled. The Jets have beaten the Colts three straight times, including last September's 20-7 road win, and New York is 1-6 ATS in this series.
29. Jacksonville Jaguars (2-9) - This week's spread against the Broncos is an absolute red flag. And despite the low number - and the fact that the Jags suck - only 14 percent of the public is backing Jacksonville. At those rates this spread should've shot up to at least 5.0 or 5.5, and I would expect this game to close at 6.0. Jacksonville is just 5-10 ATS in their last 15 games. That's awful but not odd. What is odd is that none of those covers have come by more than a field goal, meaning Jacksonville is only beating numbers sliding through the backdoor or by fluke line value luck.
30. Chicago Bears (2-9) - Remember: Josh Bellamy didn't just drop the game-winning touchdown when he was wide open in the final seconds. He also had two other drops in the game, giving him three on the day. Also, I wouldn't get too carried away with Matt Barkley's fourth quarter. He was awful the other three quarters of that game and was able to move the ball against a weak Tennessee prevent defense. I can't believe the Bears are favored this week, even if it is against San Francisco.
31. San Francisco (1-10) - Don't look now, but the 49ers have actually covered the spread (or 'pushed') the last three weeks. They stayed within the number against Arizona and Miami and they took a 'push' against the opening line against the Patriots. I wouldn't necessarily say their play is improving - San Francisco has been outgained by at least 145 yards in four of their last six - but they did outgain Miami by 117 yards and they were just two yards away from typing it up against the Fins last week. The 49ers are just 4-11 ATS in their last 15 road games and are playing a second straight early starter.
32. Cleveland Browns (0-12) - The way I see it, Cleveland's only hope for a win this year is next week, coming out of their bye, facing a Bengals team that has been torn up by injuries. However, if Cleveland actually turns back to Robert Griffin III to quarterback them for the last month I guarantee you they won't win a single game. So, frankly, that's exactly what I hope they do.
Throughout the season I will have my NFL Power Rankings every Wednesday. My next ones will be released on December, Dec. 7.
Robert Ferringo is one of the top football handicappers in the country and tallied an unrivaled $20,800 in football profit between 2011 and 2015, including his amazing 2013 NFL season in which he hit 62.1 percent (95-58). Robert has produced 15 of 23 winning football months and an amazing 38 of 58 winning football months over the past decade. Robert has hit nearly 60 percent winners over his last 750 totals picks and is the most prolific big play football handicapper in the nation, going 110-69 (62%) on all football plays rated 5.0 or higher since 2010. Also, Robert's proprietary KING College Football Betting System has posted three of four winning seasons and is 122-92 over the last three years (57.0 percent).
We are offering new clients $60 in free college football picks for Robert's picks or any Advisory Board handicapper of your choosing. Get your free college football picks now!
Read more articles by Robert Ferringo