NFL Power Rankings Week 15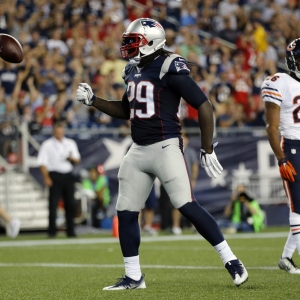 Vox populi is NOT vox dei.
Mob rule is rarely a good thing. It is especially damaging when NFL franchises - multibillion dollar entities - become too sensitive to the will of its fan base. When ownership and front offices start making decisions based more on kowtowing to the public rather than maintaining a long-term plan then things can go awry quickly.
This week three storylines have dominated the NFL water cooler. And each one involves, in some way, a public bloodlust and management in some way trying to bend to outside influence. Check these out:
No, the Cowboys shouldn't bench Dak Prescott.
No, the Bills shouldn't bench Tyrod Taylor or fire Rex Ryan.
No, the Rams shouldn't have fired Jeff Fisher with three games to play.
The idea of benching Dak Prescott has been stupidity for a long time now. Yet Jerry Jones, a papier-mâché vampire come to life, can't keep his mouth shut about potentially scuttling Prescott for rusty Tony Romo. Even if Jason Garrett, who has never shown an ability to stand up to Jones and his stupidity, does the right thing and stays with Prescott, come hell or high water, just the public perception of a potential quarterback controversy serves to undermine the rookie quarterback's confidence and standing.
I have been one of the biggest Rex Ryan critics there is. And I was ahead of the curve in tabbing him - and his brother - as two of the bigger losers in the league. However, anyone that thought Buffalo was going to the playoffs this year was delusional . Not with that schedule. However, firing a coach that completely overhauled your roster and schemes just two seasons into his tenure is something that low-bottom dreg franchises do. They danced with the devil in Ryan. They have to at least give him a third year before cutting bait.
And not only should the Bills not cut Taylor, but if they don't sign him to a long-term contract this offseason, something in the neighborhood of seven years and $135 million, then they are even dumber than I thought.
And no, I don't even think that the Rams should've fired Fisher. Obviously he deserved to be canned after the season. But what is the point of a December coaching change like this? That wasn't the decisive move of a stable franchise. Instead it looked like a reactionary move from an amateurish management group. If the Rams brass thought that the team had quit before Fisher was ousted then what happens these last three games? I have been saying for years, you can think what you want about Fisher's coaching. But the fact is that the Rams roster is - and has been - one of the worst in football. Firing the man now and setting yourself up for an ugly December finish could just expose that further.
Here is Doc's Sports NFL Power Rankings for Week 15:
1. New England Patriots (11-2) - Perhaps the most impressive thing about the Patriots this year is their 10-3 ATS mark against the closing line. New England is one of the most public teams in the sport and routinely one of the most heavily bet. That said, the closing line has actually dropped from the open in three of the last four weeks despite a plurality of action on them. Sharps betting against the Patriots - who, to be fair, are about a 50/50 ATS team in December the last 10 years - are getting beaten down.
2. Dallas Cowboys (11-2) - The Cowboys are No. 2 in the NFL with a +102 point differential on the season, second only to New England's +119 scoring differential. I am just baffled by the panic, then, when this team drops a game. The Cowboys weren't going to go 15-1. They just weren't. In the last 32 years there had only been seven teams that went 15-1 (or better) during the regular season. The Cowboys are in the midst of their sixth straight game against a team that is currently over .500. Next week Detroit will be the seventh. Again, Dallas wasn't going to go unbeaten during that stretch, and anyone that was expecting them do is either a homer or a fool.
3. Seattle Seahawks (8-4-1) - The Seahawks have gone 19-7 ATS in their last 26 games after a loss. They are also a perfect 6-0 ATS in their last six Thursday night games. The Seahawks have been regaining their massive ATS home advantage as well, going 4-1 ATS in their last five home games and winning the last two by 33 and 11 points, respectively. And as if Seattle needed any more motivation they have revenge for three straight losses to the Rams.
4. Pittsburgh Steelers (8-5) - I will continue to ride or die with the Steelers. They have another short number this week on the road in Cincinnati. It certainly won't be easy. But the Steelers have won four straight overall and three straight against teams that were fighting for the playoffs. The Steelers really dominated the first meeting with the Bengals this year, winning 24-16 (they led 24-9 late in the fourth) in a game that they played without LeVeon Bell. Pittsburgh has won three straight and six of seven against the Bengals. Pittsburgh is a dominating 14-3 ATS in their last 17 games in Cincinnati and 19-8 ATS in their last 27 games against the Steelers overall.
5. Kansas City Chiefs (10-3) - Interestingly, there is a reverse line movement in Kansas City's game this Sunday. The Chiefs are taking over 60 percent of the action in their home game against Tennessee but the line has dropped from 6.0 to 5.0. The Chiefs are on a 3-0 SU and ATS run and they are 5-2 ATS in their last seven games. The Chiefs have still been winning despite the statistical anomaly of being outgained in five of their past six contests. Kansas City is 8-1 SU in their last nine overall and have only let two teams, the Jaguars and the Saints, get in the backdoor during wins. The Chiefs are 20-3 SU in their last 23 regular season games and 14-6 ATS in those wins, so if you think Kansas City takes out the Titans this week you shouldn't have a problem laying points.
6. Oakland Raiders (10-3) - I'm really interested to see how the Raiders bounce back this week. This team had been riding a fat wave of momentum before their loss at Kansas City. This is still a young team and I want to see how they handle adversity. Oakland has beaten San Diego three straight times and they are a hearty 5-3 ATS in the last eight meetings. But the home team has taken six of eight in this series and the favorite is just 2-14 ATS when these two meet up. Oakland has gone 6-1 ATS in its last seven games in San Diego.
7. Denver Broncos (8-5) - I think it is funny that for all of the second-guessing that the bobblehead media and NFL fans do that no one has brought up this question: would Denver's season have gone differently if they had kept Brock Osweiler? The Brock Lobster has been a train wreck in Houston. But his familiarity and experience in the Broncos offense could've been a positive factor for this group. The home team has won six straight and nine of 10 in the Patriots-Broncos series. Denver is 3-1 ATS in the last four meetings since the 2013-14 playoffs, winning all three games in Mile High.
8. Atlanta Falcons (8-5) - I think I will be surprised if Julio Jones plays this week. Atlanta's star receiver has turf toe, which is a notoriously tricky injury to shake. The Falcons actually lost to the 49ers last year in San Francisco - in a game in which Dan Quinn made the jaw-dropping decision to kick a field goal, down four, from the two-yard line with 2:56 to play. The Falcons are 0-3 ATS after covering a spread and they are just 3-9 ATS in their last 12 home games. Atlanta is 1-5 ATS in the game following a win by 14 or more points.
9. Baltimore Ravens (7-6) - I know Baltimore was trailing most of the game against New England, but I still felt like they should've run the ball more. Baltimore has thrown 74 passes to just 34 runs the last two weeks. And over the last five weeks they are facing a 134-80 pass-run discrepancy. The Ravens are still just No. 28 in the league in rushing attempts this year, and that is very un-Raven-like football. Ken Dixon is a beast. Keep working that guy. Baltimore is just 6-16 ATS in its last 22 December games and 5-12 ATS in their last 17 games after a loss. They need to be sure they don't get caught looking ahead to Pittsburgh next week.
10. Washington Redskins (7-5-1) - The Redskins definitely have a revenge motivation this week against the Panthers. Washington has lost to Carolina four straight times, including a bloody 44-16 thrashing last November. Washington is playing its first home game after its last three - and five of its last seven - have come on the road. The Redskins are 4-0 SU and ATS in their last four home games.
11. New York Giants (9-4) - Anyone that is surprised by the predictability of New York's offense - the Giants have used their base "11" package on over 80 percent of their offensive snaps this year - obviously forgot that Ben McAdoo studied under Mike McCarthy in Green Bay. The Packers are one of only two teams (Philadelphia is the other) that has used base packaging more that the Giants this year. Eli Manning has thrown for fewer than 200 yards in three straight games and the Giants are 0-5 against the total in their last five games. New York is just 3-10 against the total on the season.
12. Detroit Lions (9-4) - Like the Giants, the Lions have been an 'under' machine, playing 'under' in seven straight games and going just 4-9 against the total so far this season. It is bizarre that the last offense to score over 20 points against the Lions was the Rams. Detroit is on an 8-1 SU run this season and they are 11-2 SU in the second half of the regular season the past two years.
13. Tampa Bay Buccaneers (8-5) - In what I think is a pretty stunning turn, the Bucs are taking the overwhelming majority of the action in this week's game in Dallas. The Bucs are taking nearly 70 percent of the action. I will be stunned if the number on that game doesn't drop off the 7.0 by Saturday. If you like Tampa Bay get on it now. But if you are going with the home team I would wait as close to kickoff as possible. Tampa Bay beat Dallas 10-6 at home last November. The Bucs are just 12-25 ATS in their last 37 December games, but they are 21-10 ATS in their last 31 games in a dome.
14. Miami Dolphins (8-5) - It is firmly on the record that I like Matt Moore. I think he is one of the best backup quarterbacks in the NFL. He can make throws, although he isn't supremely talented. But Moore's hidden value is intangibles. He has a ton of heart, is a natural leader, and the players on the Dolphins all seem to like him and will fight hard for him. Miami is a horrific 1-12 ATS in its last 13 December games, and there is rain and temperatures in the low 40s forecast for Sunday.
15. Tennessee Titans (7-6) - Don't expect the Titans to change up their plan this week in Arrowhead. Tennessee is No. 2 in the NFL in rushing attempts and they will be facing the No. 27 rushing defense in the league this Sunday. It is still tough to trust this team, though, considering their years-long futility at the window. Tennessee is 13-35 ATS in its last 48 conference games, 15-36 ATS in its last 51 games against a team over .500, 7-19 ATS in its last 26 road games, and 13-37 ATS in its last 50 games overall.
16. Green Bay Packers (7-6) - The hammer vs. nail rivalry between the Packers and Bears will continue this week. The Packers are 24-9 ATS in their last 33 meetings with Chicago and a gaudy 17-5 ATS in their last 22 trips to Soldier Field. The favorite is 10-2 ATS in the last 12 meetings between these two and the road team has covered the spread in six of eight. The Packers are one of the squarest bets on the board, taking in 88 percent of the action this weekend.
17. Arizona Cardinals (5-7-1) - The Cardinals cut Michael Floyd after his DUI arrest. They also dumped their punter (although they should probably have fired their special teams coordinator as well) and Bruce Arians is already sending messages to his team. It's too late to listen for this season. But Arizona will be a prime bounce-back candidate - assuming that they find a way to clean up their quarterback situation - for next year. I know that the only stat that matters is wins. But to make this point again: Arizona is No. 1 in total defense and No. 10 in total offense and they have a losing record. Kansas City is No. 24 in total offense and No. 27 in total defense and they are considered one of the best teams in football. "Deserves got nothin' to do with it."
18. Buffalo Bills (6-7) - Tyrod Taylor has been sacked 39 times this year, the most in the NFL. And last week Robert Woods dropped at least two big throws, one of which would've been a touchdown. Taylor is doing what he can with a weak deck. This week's game with the Browns is the fifth meeting this decade between two of the worst franchises in the sport. Buffalo has won three of the last four meetings and the favorite is 4-0 ATS in those games.
19. Minnesota Vikings (7-6) - You have to give the Vikings a ton of credit for fighting to overcome their glaring deficiencies on special teams and the offensive line this year. They've played well and had a chance to win in each of their past four games. (They are 2-2 SU.) The Vikings are on a 3-1 ATS push after an 0-4 ATS slide, and this team isn't going quietly.
20. San Diego Chargers (5-8) - Melvin Gordon is out this week, finally depriving Phil Rivers of his last reliable offensive weapon. Rivers obviously isn't going to win the MVP this year. But I don't know that any quarterback in the NFL has done more with less and the fact that Rivers has kept the Chargers competitive is a minor miracle. Joey Bosa (neck) will likely play against the Raiders after leaving the game last week. However, I would expect the Chargers to be cautious with their star defensive rookie.
21. Houston Texans (7-6) - It isn't exactly a fresh take, but could you imagine what this defense would be about if J.J. Watt wasn't injured and out for the year? They have faced, in order, Derek Carr, Phil Rivers, Aaron Rodgers and Andrew Luck over the past month and allowed an average of just 21.5 points per game. The Texans are banged up along the offensive line and front seven right now and they are running fumes. But Houston is 5-0 SU (4-1 ATS) in its last five games against the Jaguars and they are an outstanding 12-3 ATS in their last 15 divisional games.
22. New Orleans Saints (5-8) - All of a sudden the Saints offense is playing as poorly as its defense. I have to wonder what is going on behind the scenes with this group. Maybe it is a coincidence, but ever since Brandin Cooks spoke out about not getting enough looks the New Orleans offense has come off the rails. New Orleans is still a healthy 7-3 ATS in its last 10 games, 4-1 ATS after a loss, 7-1 ATS on the road, and 6-0 ATS against a team with a losing record, though. And there is no doubt that I would rather be rolling with Drew Brees over Carson Palmer right about now.
23. Indianapolis Colts (6-7) - And just when it looked like the seas were parting for a Colts run reality came crashing back down on this inconsistent group. You have to wonder where the Colts are, mentally, after getting pushed around last week by the Texans in a must-win situation. But they've actually been better on the road than at home, winning three straight road games and going 4-0 ATS in their last four away from home. Indianapolis is 26-9 ATS in its last 35 games after a loss and 17-8 ATS in their last 25 in December. But those were clearly different caliber teams.
24. Carolina Panthers (5-8) - I think it is ridiculous that Carolina would even suggest bringing Luke Kuechly back. This is a franchise player with a history of concussions and the Panthers are out of the postseason picture. Let the man rest and give that needed experience to A.J. Klein and Shaq Thompson.
25. Cincinnati Bengals (5-7-1) - I know that Cincinnati's last two wins have come against weak sisters Cleveland and Philadelphia, but much like the Vikings I can say that I am impressed at how these teams keep fighting despite A) a brutal schedule, B) crippling injuries, and C) extremely long odds to make the playoffs. The Bengals are 2-4 ATS in their last six games. But they those four ATS losses came in games that were decided by a total of 10 points and include that tie against the Redskins.
26. Philadelphia Eagles (5-8) - I don't think that the Eagles will have Darren Sproles this week. And I am on record as having said earlier in the year that if they lost the explosive running back that their struggling offense would go in the toilet. The Eagles have scored an average of just 16 points per game over the last month, and that was with Sproles. I think it will only be worse this week in their final road game, which is sandwiched between three divisional rivalry games. Philadelphia has lost six straight road games both SU and ATS and have been outscored by an average of eight points per game.
27. Los Angeles Rams (4-9) - Not to go all conspiracy theory on you, but maybe the Rams fired Jeff Fisher with three games left as a favor. By releasing him now they are saving Fisher the indignity of becoming the coach with the most losses in NFL history. Regardless, Fisher's situation is proving another NFL truism: nothing good comes from appearing on HBO's "Hard Knocks". The Rams are 2-5 ATS in their last seven Thursday night games and 2-7 ATS in their last nine games overall. However, they have had Seattle's number, winning three straight and four of the last five games outright while going 7-2 ATS in the meetings over the last five years.
28. New York Jets (4-9) - Jets-Dolphins is really one of the craziest division rivalries in the NFL. It lacks the cachet of most other rivalries, but this matchup has provided us with more than its share of bizarre games. The home team is just 6-14 ATS in the last 10 meetings. However, the Jets are 5-1 ATS in their last six and an outstanding 25-10 ATS in the last 35 meetings against the Dolphins.
29. Chicago Bears (3-10) - I would love to see the Bears go out and get Colt McCoy - who I think is the most starter-ready backup in the NFL right now - this offseason. However, the more I see Matt Barkley the more I think that the Bears might be onto something. Barkley is throwing a really good ball, he isn't turning it over or getting rattled (even though the Bears offensive line and receivers both stink), and he is just a couple of Josh Bellamy drops away from potentially being 3-0 as a starter. At one point last week, nine of Chicago's 11 defensive players were in either their first or second year.
30. Jacksonville Jaguars (2-11) - We've had mid-season firings. But after the Jaguars took a delay of game penalty on a kickoff I was half-expecting for an in-game firing of Gus Bradley. I mean - a delay of game on a kickoff! And Bradley admitted that there was coaching confusion on whether to squib the kick or kick long that led to the delay! Are you kidding me?!?!? That is literally the height of incompetence. So when everyone is writing post mortems on the Jaguars season and wondering how they could underachieve so badly despite having the chance to win so many games, I think that answer is obvious.
31. San Francisco (1-12) - The 49ers defense is on pace to be one of the worst in NFL history. They are on pace to allow 484 points (eighth-worst all-time), 6,645 yards (fourth-worst all-time), and 2,732 rushing yards (22nd-worst all-time. According to SFGate.com, all three numbers would represent franchise lows. Considering the draft resources that San Francisco has invested on that side of the ball, that's a damning indictment of the 49ers front office. Then again, Chip Kelly's idiotic approach - sorry, but it will never, ever work in the NFL, Chipper - isn't exactly compatible with defensive success.
32. Cleveland Browns (0-13) - It has been one year and one day since the last time the Browns won a football game.
Throughout the season I will have my NFL Power Rankings every Wednesday. My next ones will be released on December, Dec. 21.
Robert Ferringo is one of the top football handicappers in the country and tallied an unrivaled $20,800 in football profit between 2011 and 2015, including his amazing 2013 NFL season in which he hit 62.1 percent (95-58). Robert has produced 15 of 23 winning football months and an amazing 38 of 58 winning football months over the past decade. Robert has hit nearly 60 percent winners over his last 750 totals picks and is the most prolific big play football handicapper in the nation, going 110-69 (62%) on all football plays rated 5.0 or higher since 2010. Also, Robert's proprietary KING College Football Betting System has posted three of four winning seasons and is 122-92 over the last three years (57.0 percent).
We are offering new clients $60 in free college football picks for Robert's picks or any Advisory Board handicapper of your choosing. Get your free college football picks now!
Read more articles by Robert Ferringo