NFL Power Rankings Week 7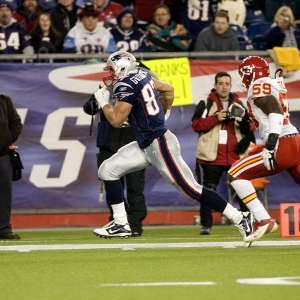 "Who have you played and who have you beaten?"
A certain college basketball analyst is fond of using this phrase to help simplify the sometimes mystifying process of selecting at-large teams to the NCAA Tournament. It seems like a simple mantra. But the point of the question is to say that teams aren't always what their records - and public perceptions - purport them to be.
Right now the worst thing that a bettor could do when breaking down an NFL game is to look at each team's record. The wins and losses are in no way representative of relative strength. We've had too small of a sample size to really make too many definitive conclusions about 30 of the 32 teams in the NFL. (There has been enough time to determine the Patriots are awesome and the Browns are putrid.) And things like strength of schedule lead to clubs like the Jets and Panthers sporting a significantly weaker record than lightweights like the Lions and Titans.
The counter to my own argument is Bill Parcells' belief: you are what your record says you are. And that will be the case by the time we roll into December and January. But for right now the general betting public would be doing itself a disservice by putting too much stock into simple wins and losses without considering the competition and circumstances from which those wins and losses were drawn.
Here is Doc's Sports NFL Power Rankings for Week 7:
1. New England Patriots (5-1) - This week's trip to Pittsburgh looked like one of only two "losable" games on the Patriots schedule once they got Tom Brady back. But now that Ben Roethlisberger is out it should be a romp for the resurgent Pats. This is New England's fifth meeting with the Steelers since 2010. The road team has won only once and the favorite is just 1-3 ATS in those four meetings. In fact, the underdog is 8-2 ATS in this series dating back to 2002 and the spread on this game has actually dropped from 7.5 to 7.0 despite the Patriots taking around 85 percent of the action.
2. Minnesota Vikings (5-0) - Can the Eagles be the team to stop the Minnesota Money Machine? The Vikings are an astounding 37-14 ATS in their last 51 games overall and 24-8 ATS in their last 32 conference games. Minnesota is 5-0 ATS so far this season and is taking heavy action leading into this week's game. They are off a bye and are 18-8 ATS in their last 26 road games. Mike Zimmer is a defensive mastermind, and I am also interested to see what he has cooked up to confuse and turn over Carson Wentz.
3. Seattle Seahawks (4-1) - The Seahawks have won three straight trips to Arizona both SU and ATS and they are 8-4 SU and ATS in their last 12 games against the Cardinals. They could be without Michael Bennett, though, who left the Atlanta game after a chop block. Russell Wilson's brand of backyard football worked against a young, undisciplined defense like Atlanta's. But I don't see Seattle moving the ball consistently against Arizona's No. 4 ranked defense. That said, one of these two teams has scored at least 35 points in each of the last three meetings while they have gone 2-1 against the total.
4. Dallas Cowboys (5-1) - Since the Cowboys are on a bye I am just going to reiterate what I said last week: "I don't think there is any doubt that the correct decision is to bench Tony Romo and ride Dak Prescott as long and as far as you can. The Cowboys are winning. Period. It doesn't matter if they have simplified their playbook to accommodate Prescott; it is working and they are winning. That is the end of the discussion. Romo is a good player. But he has always made a lot of crippling mistakes and turnovers. Prescott is not doing that. So ride the hot hand and if Prescott falters you have a Plan B.
5. Denver Broncos (4-2) - I'm not sure why Denver isn't using more of the boot action in the Kubiak offense. I have always felt that is one of the most effective segments of that attack and it features a lot of easy reads and simple throws for the young quarterbacks. Trevor Siemian was really inefficient last Thursday against the Chargers. But the silver lining could be that all of those throws (50 total) got Siemian back into the flow after missing the previous game-and-a-half. The Broncos will have Gary Kubiak back on the sidelines this week and Denver is 12-5 ATS in its last 17 games after a loss. Denver is just 1-7 ATS in its last eight games on Monday Night Football.
6. Atlanta Falcons (4-2) - Atlanta's offense is scoring the most points in the NFL right now (33.2) despite the fact that they have been horrendous on third down, converting just 37 percent so far this season. Robert Alford, who is in a contract year, has also been horrendous this season. He already has eight penalties (including five pass interferences) in his six games this season. You can expect Alford to be targeted downfield by Phil Rivers this week. The Falcons do have the advantage of facing a West Coast team in a 1 p.m. EST start. But they are just 3-7 ATS in their last 10 games against a team below .500 and 2-6 ATS in their last eight home games.
7. Pittsburgh Steelers (4-2) - Landry Jones is not an NFL-caliber quarterback. Last year the Steelers were able to steal some wins with Mike Vick filling in for Roethlisberger. But Jones is in way over his head. He threw four interceptions in just 59 attempts this preseason and almost tossed one on his first pass last week. Pittsburgh, which has a bye next week, is being smart by resting Big Ben this Sunday. But if they have to roll with Jones for any appreciable time their season is going to tank. Pittsburgh is 5-1 ATS at home and 15-6 ATS in its last 21 games against a team with a winning record. They are 4-0 ATS after an upset loss.
8. Arizona Cardinals (3-3) - I always say that the media disgustingly overrates NFL rookies. Especially compared to proven veteran additions in the offseason. D.J. Swearinger is a perfect example. That was a fantastic pickup by the Cards this offseason. He is a monster hitter and an animal in the secondary. He earned a reputation as a dirty player who could go off-script a bit when he was in Houston. But he's been around the block and can make plays, including the big hit and interception that changed the game for the Cards last Monday. Carson Palmer is 20-37 ATS in his last 57 games as a favorite.
9. Green Bay Packers (3-2) - You can just see the noose tightening around Aaron Rodgers. He is definitely pressing. And every missed throw is just a self-fulfilling prophecy for the next miss. These guys are a mess offensively and I don't expect it to sort itself out any time soon. I still think this team will be OK because the defense is playing well enough to carry them. The Packers are 9-2 ATS in their last 11 games against Chicago and the favorite is 9-2 ATS in those meetings.
10. Kansas City Chiefs (3-2) - Andy Reid's bye week magic struck again! Now we will see if Reid can maneuver for some momentum similar to last year's big second-half run. Marcus Peters, by the way, is amazing. He has 13 interceptions just five games into his second season. Peters is expected to be fine and ready to go this Sunday and he will likely draw the tough Brandin Cooks assignment. Kansas City is starting to get its mojo back in Arrowhead, going 8-2 SU in its last 10 home games. However, they are just 1-4 ATS in their last five home games and 0-5 ATS after a win against the spread.
11. Cincinnati Bengals (2-4) - The Bengals will have a chance to go up against former offensive coordinator Hue Jackson this week. Some point to Jackson's departure as a main contributor toward the Bengals' offensive woes. But the anchor around this team's neck has been its shoddy defense. They've held just one of their last four opponents below 28 points and the Bengals have been outgained in three of their last four games. They should be able to get right against the Bengals, but Cincinnati has actually lost to Cleveland in three of the past four seasons.
12. Washington Redskins (4-2) - I'm not sure why the Redskins are hell-bent on not running the ball. Their rushing game was what propelled them to the playoffs last year and they are just No. 25 in rush attempts per game. The Redskins have gone 16-5 SU in their last 21 games against the Lions, but they have lost to Detroit three straight times. Washington is 5-0 ATS in its last five road games and I know that I, for one, was really surprised to see them installed as underdogs this week.
13. Buffalo Bills (4-2) - That was a peak effort last week for the Bills, who have now won four straight both SU and ATS. They have won those four games by an average of 17.8 points per game and all four victories have come by double-digits. However, have still be outgained in four of their six games. LeSean McCoy is fully recovered from last year's injury-plagued campaign and he again looks like one of the few running backs that can dominate a game by himself. The Bills are 3-10 ATS as a road favorite against a divisional opponent.
14. Oakland Raiders (4-2) - Even I will admit that this is way too high to rank the Raiders. The problem is that I really dislike most of the teams immediately behind them so I really don't know what to do with this squad. Oakland has the worst defense in football and I would say the odds are strong that Ken Norton Jr. doesn't make it through the year with a job. The Raiders are just 2-16 straight up in their last 18 games in the Eastern Time Zone.
15. Houston Texans (4-2) - Gross. There's really nothing much more to say about this team. Houston is a complete and total fraud. They are mediocre, or worse, in just about every facet of the game and to this point their biggest strength has been facing a crop of opponents more incompetent than they are. Heading into last week I read articles talking about getting DeAndre Hopkins more involved. He turned 15 targets into just 71 yards and he is among the most targeted receivers in the league. The problem is that everyone else on that offense not named Hopkins is replacement level. The Texans are 1-7 ATS in their last eight games on Monday Night Football.
16. New York Giants (3-3) - Odell Beckham is an impressive a-hole. Dude, enough with the kicking net shenanigans. It wasn't that funny the first time he did it and I was really, really hoping that his 15-yard penalty would've eventually cost the Giants the game. New York finally listened to me and started moving Beckham around in formations and attacking with quick passes and forcing the ball in the middle of the field. Beckham's game winning touchdown - which was set up by two Ravens running into one another, not anything special that Beckham did - was an inside slant and exactly the type of play that they hadn't been running. The Giants are 7-0 ATS in their last seven games against the Rams.
17. San Diego Chargers (2-4) - In my opinion Phil Rivers is the MVP to this point in the season. No one is doing more with less. I know San Diego's record is unimpressive, but this team is CFL-caliber at a lot of positions. Rivers is not attacking much down the field. Instead the Chargers are doing a lot of clear-out and pick plays with receivers pushing down the field and then Rivers checking down to exploit mismatches among his second and third options. The Chargers are 8-1 ATS in their last nine road games and 4-0 ATS against teams with a winning record.
18. Baltimore Ravens (3-3) - For the second straight year the Ravens are getting hammered by injuries. Joe Flacco didn't practice Wednesday and his status has to be monitored this week. Shockingly, Flacco has thrown the most passes in the NFL this year. He looked terrible on that final drive, missing several open throws in and near the end zone that could've won the game for the Ravens. Baltimore seems confident that he will play this week, though, as the Ravens make back-to-back trips to New York after last week's disappointment. The Ravens have won seven straight over the Jets since 2000.
19. Carolina Panthers (1-5) - Wow is this defense pathetic. The Panthers secondary simply cannot stop anyone and there is absolutely no way that is going to change. Their corners are a horror show. Also, Cam Newton is back to showing his true colors and that's a problem both for this franchise and for the league.
20. Philadelphia Eagles (3-2) - We knew a rookie regression was coming for Carson Wentz. But what has happened to Philadelphia's defense? Their rush defense was horrendous against the Redskins. And it is a bad sign that the Eagles could put up a game with an 11.9 offensive yards per point (thanks to a pick-six and a kickoff return for a touchdown) and still lose the game. That Redskins game wasn't nearly as competitive as the final score suggested. The Eagles are now 9-19 ATS in their last 28 games against a team with a winning record and just 2-6 ATS in their last eight conference games.
21. Los Angeles Rams (3-3) - Let's not get carried away with the praise for Case Keenum and the Rams offense. Detroit's defense is what I like to refer to as an "accidental defense" in that any stops that they get are purely by accident. The Rams will be foolish to try to repeat their pass-heavy attack this week against a boom-or-bust Giants secondary. Though it will be interesting to see how much they test former starter Janoris Jenkins, who left the Rams in free agency this offseason.
22. New Orleans Saints (2-3) - The Saints will be playing off-surface this week when they head to Kansas City. But New Orleans is a sharp 4-0 ATS in its last four road games, and four of its five games this season have been decided by three points or less, making it tough to lay against Drew Brees and Co. I do think that they are in a letdown spot after that emotional win over the rival Panthers. And their No. 7 rush defense is going to get tested early and often by Kansas City's versatile running attack. The Saints are 37-17 ATS in their last 54 games against a team with a winning record and 5-2 ATS in their last seven games overall.
23. Detroit Lions (3-3) - The Lions are wrapping up a rare three-game homestand and are playing for an even more rare three-game sweep. Their home loss to Tennessee in Week 2, by just one point, has to be killing these guys right as they could be 4-2. However, Detroit has been outgained in each of its last three games by a combined 286 yards. Eventually that luck will run out. The Lions are just 8-21 ATS in their last 29 games after scoring 30 or more points.
24. Tennessee Titans (3-3) - I released the Titans 'Over' to my clients as one of my NFL futures this year. So far, so good. These guys are gaining confidence and momentum and they are a true sleeper in the AFC South. They play two division home games - Colts and Jags - in a five-day stretch (the Titans play next Thursday night) and this could be a season-defining week for the young Titans. They will have to turn around some truly harrowing numbers, though. Tennessee is 15-35 ATS in its last 50 home games, 16-33 ATS in its last 49 divisional games, 13-36 ATS in its last 49 games overall, 7-20 ATS against a team with a losing record and 8-24 ATS after a win. Wowza.
25. New York Jets (1-5) - Wow was that an awful night for Buster Skrine. The Cardinals exposed him and I think that people are just now realizing what has been obvious for awhile: he's actually a really bad corner. I agree that the officiating didn't help Skrine out. But he was overrated in Cleveland and is a below-average corner, at best. Eric Decker's absence is glaring in the passing game and that, as much as Ryan Fitzpatrick's grotesque interception numbers, is the reason for the Jets' offensive futility. The other reason, though, is exactly what I touched on in my 2016 New York Jets season preview: the Jets have had the most difficult schedule, by far, in the NFL to this point.
26. Indianapolis Colts (2-4) - I mean, that had to be the final nail in Chuck Pagano's coffin, right? I understand that it wasn't entirely his fault for blowing a two-touchdown lead in the final four minutes. He didn't make any egregious mistakes (this week). But that loss is still on his record and right now the Colts look rudderless. Fortunately for them they get to tangle with the Titans this week, a team that Andrew Luck has absolutely owned. The Colts are 8-0 SU and 7-1 ATS in their last eight games against the Titans. Despite an 0-2 start in the division this year, Indianapolis has absolutely owned the AFC South the past three seasons. They are 23-9 ATS after a loss, and it is hard - just out of muscle memory - not to put money down on them against the Titans. Indy is 9-2 SU and ATS in its last 11 divisional road games.
27. Jacksonville Jaguars (2-3) - The Jaguars are the public's least-favorite team to bet on this week. Jacksonville is taking between 12-15 percent of the action in their game with the Raiders and they are believed to be this week's "false favorite". The public may have a point, as Jacksonville is an ugly 7-16 ATS after a straight up win. But the Jaguars are 13-5 ATS in their last 18 conference games and 5-2 ATS against teams that are above .500. I would be surprised if the Jaguars didn't come out and start the game in the no-huddle offense. The Jags have mustered just 14 first quarter points and their attack has been a major disappointment to this point in the season. Jacksonville is 5-1 ATS in its last six against the Raiders, and the favorite is 6-1 ATS in the last seven meetings.
28. Miami Dolphins (2-4) - Let's not get too excited about that Miami win over Pittsburgh. The Eagles did the same thing to the Steelers and it was just as big of a fluke. Pittsburgh was obviously looking ahead to its game with New England and Big Ben's injury threw that one out of whack. If Miami is pinning its offensive hopes on a rookie running back to carry them the rest of the season then they are in big trouble. Miami's offensive line was finally healthy last week and it showed. But it will be a different matter going up against the Bills' powerful rush defense.
29. Tampa Bay Buccaneers (2-3) - I'm sorry, but how the hell are the Buccaneers favored this week? Do you really think that this team got any better over its bye week? They finally put Vincent Jackson out to pasture and, much like the Jets, the Bucs offense simply isn't the same without both of its star receivers working at full force. Tampa Bay has lost 10 straight games against teams from the NFC West (1-9 ATS) and they are 2-7 ATS in their last nine games overall. They are also 1-6 SU after a bye week.
30. San Francisco (1-5) - Jesus Chip, just go back to Oregon already. I know that roster is a dumpster fire. But is it even worth it for this franchise to spend the next two or three years building a team to fit Kelly's schemes just in time to see him bolt for another job at the end of his four-year deal? The 49ers defense is absolutely pathetic right now and, much like Kelly's teams in Philadelphia, is being hung out to dry by an offense that just is one of the worst in football (No. 31 at 26:10 per game). San Francisco is on an 0-5 ATS slide and they are just 1-4 ATS when facing fellow teams with losing records.
31. Chicago Bears (1-5) - The Bears offense has been much better than its scoring numbers suggest. But that's the knock on Brian Hoyer: he can move the ball and manage a game but he is too conservative and doesn't make a lot of plays. I know it is tough to complain about that after years of bashing a mistake-prone "gunslinger" like Jay Cutler. But the Bears have turned five red zone trips into five field goals of less than 40 yards the last two weeks and their 22.3 offensive yards per point is the worst in football. The road team is 6-1 ATS in the last seven games in the Packers series, but the Bears are just 2-9 ATS in their last 11 against Green Bay.
32. Cleveland Browns (0-6) - In last week's NFL Power Rankings I pointed out that there are a lot of coaches in the NFL right now that just don't know what they are doing when it comes to game management. Well, Hue Jackson proved his own stupidity last week in the final minutes against the Titans. I have said this time, and time, and time again: teams that are behind should never go for a two-point conversion until they absolutely have to in the final minutes. The Browns were down 15 and scored with under three minutes left. They went for two and missed, effectively ending the game (they would've had to recover two onsides kicks). If Jackson had just kicked the extra point the Browns would've been down eight when they recovered the onsides kick and would've had a chance to tie the game after their next touchdown. But that's what losers do and that is why these clowns are headed for a season that ends win 0-2 wins.
Throughout the season I will have my NFL Power Rankings every Wednesday. My next ones will be released on Wednesday, Oct. 26.
Robert Ferringo is one of the top football handicappers in the country and tallied an unrivaled $20,800 in football profit between 2011 and 2015, including his amazing 2013 NFL season in which he hit 62.1 percent (95-58). Robert has produced 15 of 23 winning football months and an amazing 38 of 58 winning football months over the past decade. Robert has hit nearly 60 percent winners over his last 750 totals picks and is the most prolific big play football handicapper in the nation, going 110-69 (62%) on all football plays rated 5.0 or higher since 2010. Also, Robert's proprietary KING College Football Betting System has posted three of four winning seasons and is 122-92 over the last three years (57.0 percent).
We are offering new clients $60 in free college football picks for Robert's picks or any Advisory Board handicapper of your choosing. Get your free college football picks now!
Read more articles by Robert Ferringo