NFL Power Rankings Week 8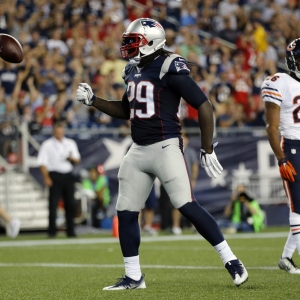 That…was…awful.
I know it seems like piling on right now, but NFL football is a mess. Last weekend was a cavalcade of all the problems that bobblehead media members have been pointing to as to why the league is suffering a serious ratings decline. The primetime games were boring and poorly played. (And this week's lineup - featuring the Jags-Titans and Vikings-Bears games - doesn't look any more appealing.) The Sunday games weren't much better, with a clown car of stupidity dominating the proceedings.
This ugly brand of football is more than a passing fad; the sport has been in decline for several years for a variety of codependent reasons. And the inverse relationship between the quality of the product and the saturation level has led directly to this tipping point for the NFL.
Me? I'm not going anywhere. I make a living betting on football. But I can't fault anyone that is losing interest. This stuff is just brutal to watch.
The mediocrity has resulted in parity, if you're into that sort of thing. At this point it is New England, a large gap, and then everyone else. I've been doing these NFL power rankings for over a decade and I can honestly say that I've never seen a shakier Top 10. Usually by this point in the season we can say definitively whom the five or six best teams in football are followed by the six or eight teams that make up the second tier. But this season is unique in that the teams ranked from No. 3 to No. 23 are all separated by nothing more than the slight variations in their own incompetence.
We are nearly halfway through the regular season. And chaos reigns.
Here is Doc's Sports NFL Power Rankings for Week 8:
1. New England Patriots (6-1) - This is definitely a revenge game for the Patriots, who will want to avenge a 16-0 loss to the Bills back in Week 3. That was the only game that they lost when Tom Brady was serving his suspension. New England hasn't lost both games to the Bills since 1999. The road team has won four of the last five meetings in this series, but the underdog has gone just 3-6-1 ATS in the last 10 meetings. The Patriots are 10-2 ATS in their last 12 trips to Orchard Park, though, and currently on a sweet 6-1 ATS run.
2. Seattle Seahawks (4-1-1) - A trip to New Orleans puts Seattle in a really tough spot this weekend. They are road favorites coming off a primetime tie. The Seahawks will be playing a 10 a.m. PST kickoff in a different time zone, and Seattle is just 10-18 ATS in their last 28 road games the week after a road game. The Seahawks are just 3-13 ATS in Week 8, which is kind of arbitrary. They are also just 1-4 ATS in their last five games following a game where they covered the spread. The Seahawks have been outgained by an average 108 yards in each of their last two games. They haven't lost in four games, but there are some troubling trends pointing downward for this group.
3. Dallas Cowboys (5-1) - I know, I can't believe it either. But as I look around the rest of the Top 10 I have a hard time picturing any team that is currently ranked lower than the Cowboys as better than they are. Dallas got Tyron Smith and Dez Bryant back and healthy during the bye week and we'll see how much they work Bryant into an offense that's been just fine without him. Dallas is just 4-11 ATS in their last 15 home games. But they are an outstanding 11-5 ATS in their last 16 games after a bye week. Dallas is on a 5-0 ATS run, but they are just 1-6 ATS in their last seven games against a team with a winning record.
4. Minnesota Vikings (5-1) - I know that defensive touchdowns are bonuses, but I really can't believe the Vikings didn't turn one of Philadelphia's first two turnovers into six points. Instead, the Vikings got zero points out of two gift-wrapped opportunities to start the game against the Eagles. Had they been up 10-0 or 14-0 that would've been a completely different game. All of the teams not named "New England" have a fatal flaw that would keep them from winning a title. Minnesota's was front and center on Sunday. Their tackles are horrendous, and this team won't be able to throw the ball down the field at all this season. Now I understand why they have been overly conservative with the offense the first two months of the year.
5. Denver Broncos (5-2) - The Broncos need to do whatever they can to get Devontae Booker the ball more. Fast and powerful, Booker looks like a cross between Doug Martin and Devontae Freeman. That guy can move and they will start to feature him more with C.J. Anderson out. That's a positive thing for this erratic offense. Denver will go for the quick revenge against San Diego this week after losing to them on Oct. 13. The Broncos haven't lost back-to-back games to the Chargers yet this decade and had won five straight before their sloppy 21-13 defeat.
6. Pittsburgh Steelers (4-3) - Ben Roethlisberger was spotted at practice this week throwing to tight ends and receivers. That he is back on his feet so soon after knee surgery is a great sign that he could be ready to play in Pittsburgh's next game after this week's bye.
7. Arizona Cardinals (3-3-1) - There is no doubt that Arizona was the loser of that tie game with Seattle on Sunday night. That tie essentially puts them three games behind Seattle in the divisional race. And Bruce Arians can rail his kicker for missing a chip shot field goal that would've won the game for the Cards. But it is unbelievable that a veteran like Carson Palmer would take a sack like that at the end of the first half, costing Arizona a field goal attempt, and also unbelievable that Arians wouldn't take the points instead of going for it on fourth down at the Seattle 19 to start the second half. If the Cards had been up 9-0 in the third they likely would never have had to worry about overtime.
8. Kansas City Chiefs (4-2) - The Chiefs are now 14-2 in their last 16 regular-season games. They are winning despite not having a single aspect of their team - total, rushing and passing offense or defense - currently ranked in the top half of the league. Kansas City's secret weapon has obviously been turnovers. Their 14 turnovers forced is No. 1 in the league and their plus-seven turnover differential is No. 4 in the NFL. The Chiefs are just 2-5 ATS in their last seven games overall and they haven't handled success well, going 0-5 ATS in their last five games after a win.
9. Atlanta Falcons (4-3) - Well, that's what we get for buying into the Falcons. It is indefensible for Dan Quinn, an alleged "defensive guy", to field such horrific defenses. I would give Quinn the benefit of the doubt for his doomed fourth down call in overtime last week. But I've seen Quinn botch so much in-game strategy that his past history of buffoonery has to be considered when analyzing the call. Bottom line about going for it on his own side of the field in overtime: getting the first down in that spot wouldn't have guaranteed a win (like running out the clock at the end of a game or something) but not getting the first down essentially guarantees a loss. The Falcons are 2-7 ATS in their last nine home games.
10. Green Bay Packers (4-2) - Despite nearly balanced action, in terms of number of bets, the books look like they might be moving the Packers-Falcons spread from 2.5 to 3.0. Aaron Rodgers will have to be patient against Atlanta this week. The Falcons play a lot of Cover-2 and Cover-3, meaning Rodgers is going to have to check down and take the underneath stuff. The good news is that the Falcons don't have much of a pass rush and they have rookie linebackers. So if Rodgers just works methodically Green Bay should move the ball at will. The Packers are 6-2 ATS in their last eight road games.
11. Oakland Raiders (5-2) - The Raiders are the latest coastal team that has chosen a 10-day trip for back-to-back road games rather than back-to-back cross-country flights. I know this approach makes logistical sense. But I swear it never seems to work out. The most recent team to attempt it was Atlanta, which stayed in the Pacific Northwest between its games against Denver and Seattle. Oakland is now 7-0 ATS in their last seven road games, but they are just 17-35 ATS in their last 52 games after covering the spread.
12. Washington Redskins (4-3) - If the Redskins miss the playoffs this year they will have to point to that loss at Detroit as one that got away. They outgained and outplayed the Lions last week but couldn't overcome some key miscues in their last-second loss. Their two fumbles in Detroit territory, as well as a missed field goal, were absolute cripplers. Josh Norman, Trent Williams and Jordan Reed all practiced for Washington this week, but Matt Jones is banged up and limited. Their progress needs to be monitored. Washington has gone 4-1 ATS in its last five games after a loss and they are 5-1 ATS against sub-.500 teams.
13. San Diego Chargers (3-4) - There is no doubt in my mind that Philip Rivers is the NFL MVP through the first half of the season. No one is doing more with less. What is bizarre to me is that no one has figured out what the Chargers are doing on offense. On every key down they simply send all their wideouts down the field and then throw underneath to a receiver running a drag or quick out, or a back or tight end leaking out. It's not super-complicated but it sure is effective. That has been a weak area for the Broncos, and 11 of the Chargers' 19 completions in the first meeting were to tight ends and running backs.
14. Cincinnati Bengals (3-4) - I have said this before this season but I will say it again: the Bengals playbook should only have one play in the passing attack - throw it to A.J. Green. Rushing for 271 yards certainly helps. Cincinnati won't be able to do that against the Redskins in London this week. And it will be interesting what their counter-punch is against a front seven that will actually be able to hold its ground against the Bengals rushing attack. The Bengals are now 16-8 ATS in their last 24 games but just 1-4 ATS in their last four games after a win and 0-5 ATS against teams with a winning record.
15. Buffalo Bills (4-3) - I really don't understand why the Bills played LeSean McCoy at all in Miami. He had been reported out last week after a hamstring injury suffered in practice. But then Buffalo gave him eight carries against Miami? How does that make sense? Buffalo's receiving corps is on life support and McCoy is one of the best backs in the sport. I have no idea why they would jeopardize McCoy in the long term, especially with a game against New England this week. McCoy hasn't practiced at all. (Although the Bills should get Marcel Dareus back this week, bolstering the defense.) If McCoy can't go against the Pats I have no idea how Buffalo is going to score. The Bills are taking just 12 percent of the action this week against the Pats, the least-bet team on the board.
16. Houston Texans (4-3) - Brock Osweiler simply misses way too many throws. Period. End of story. His arm strength is fine. His decision-making doesn't seem too terrible. But he just isn't accurate enough at this point to be a consistent NFL quarterback. He just misses way, way too many throws. Houston is still undefeated at home this year, winning their four games by an average of 6.5 points per game. The Texans are 39-19 ATS in their last 58 games after being held to 15 or fewer points in their previous game.
17. New York Giants (4-3) - This is probably still too high of a ranking for the Giants. A bad Rams team outplayed them, and were it not for Case Keenum's meltdown the Giants wouldn't have left London with a win. The Giants, who are on a bye this week, definitely failed upwards with the ugly Josh Brown fiasco. Robbie Gould has been one of the best kickers in the NFL over the past decade, and he was perfect in his three attempts last week.
18. Philadelphia Eagles (4-2) - I know I sound like a broken record with this team but I am going to say it again: I am not buying these guys at all. They've been outgained by 300 yards the last two weeks and have been outgained in two of their four wins. Philadelphia has scored three touchdowns via defense and special teams the last two weeks compared to just one from the offense. The road team has won six straight in the Dallas series, with Philadelphia winning in overtime last November in their trip to Big D. The underdog is 6-1 ATS in the last seven meetings and 7-3 ATS in the last 10.
19. Baltimore Ravens (3-4) - The Ravens need to get healthy during their bye week. They are missing too many veterans on offense to continue to be effective on that side of the ball. They also need to make some major changes to their secondary. Lardarius Webb cannot play safety, even with Eric Weddle picking up his slack. Regardless, Baltimore gave away too many games in the first half of their season. They have one of the toughest schedules in football down the stretch and I can't see this team turning it around.
20. Carolina Panthers (1-5) - It is season-saving time for the Panthers now. And it is somewhat ironic that they are facing the same team (Arizona) that they topped for their biggest win of last season, in the NFC Championship Game. The home team has won five straight in this series (SU and ATS) and this is actually the eighth meeting since 2009. This is the fourth time Carolina has faced Bruce Arians and the Cardinals, and the Panthers have outgained the Cardinals in all three games, winning twice. All three games have been blowouts decided by an average of 21 points per game. The favorite is 4-1 ATS in the last five meetings, and I think that the team that wins this one is going to win big.
21. Detroit Lions (4-3) - That is a clean sweep for the Lions on their three-game homestand. However, Detroit has been outgained in four straight games and now they have to leave their little Motown bubble and travel down to Houston. All three wins have come by three points or fewer, and six of Detroit's seven games this year have been determined by four points or less. The Lions just cannot get off the field on third down, allowing teams to convert 51.2 percent of their third downs this season. I know the bandwagon is getting awfully full for these guys. But the Lions defense is atrocious, and Detroit has played one of the softest schedules in the league to this point.
22. New Orleans Saints (2-4) - The good news for the Saints is that they outgained the Chiefs by 137 yards last week. The bad news is that they are not nearly talented enough to make as many mistakes as they did - a pick-six, a fumble inside the 10-yard line, and 10 penalties - and beat good teams. Drew Brees is really familiar with this Seattle defense, and this is the fourth time he will face it in the last five years. The home team has won four straight in this series - and eight of 10 going back to 1991 - but the Saints have lost the last three meetings (two in the playoffs) by eight, 27 and five points.
23. New York Jets (2-5) - I actually agree with Todd Bowles 100 percent when he essentially said that if Ryan Fitzpatrick wanted the coaching staff to "believe in him" he should stop turning the ball over. But there's a reason that FitzMagic is on his sixth NFL team: because he isn't very good. Fitzpatrick has 166 interceptions and fumbles to 160 touchdowns in his career, so ball security has always been a major issue for him. Caveat emptor. The Jets are 1-11 ATS in their last 12 games in Week 8, which is really random. They are, however, 8-4 ATS following a win, and the favorite in this series is on a 6-0 ATS run.
24. Los Angeles Rams (3-4) - Those interceptions by Case Keenum were comical. I know that he didn't get any help from his receivers on his final two and the others were off tipped passes. But he's still the one throwing the ball. And why is he throwing jump balls 40 yards down the field for little Tavon Austin? Who is that midget going to out-jump?
25. Indianapolis Colts (3-4) - The Colts are in a favorable spread range this week against the Chiefs. They are NFL underdogs of 2.5 or less, and teams in that range have gone 5-2 ATS the last several weeks. On the whole home dogs of 2.5 or less have gone a healthy 11-7 ATS this season.
26. Miami Dolphins (3-4) - Jay Ajayi is, deservedly, getting all the credit for Miami's resurgence. However, Miami's defense has shown a lot of improvement over the last two weeks. They are No. 1 in the league in third down defense, allowing just 31.3 percent conversions. DC Vance Joseph has started playing all three veteran defensive linemen - Cam Wake, Mario Williams and Andre Branch - all at the same time, and the result has been a noticeable improvement in the pass rush. Miami has a bye week.
27. Tennessee Titans (3-4) - The Titans blew a golden opportunity to throw themselves into the thick of the AFC South race. Now they have a quick turnaround against an equally feeble Jacksonville team, who are also coming off a loss. Tajae Sharpe has a knee sprain and may not play this Thursday. Mike Mularkey-coached teams are now 3-15 straight up in his last 18 home games, which is almost unbelievable. The home team has won four straight, and eight of 10, in this series and the favorite is a solid 4-1-1 ATS the last six times the Titans have faced the Jaguars.
28. Tampa Bay Buccaneers (3-3) - Who knew that the Bucs would have to endure more travel prior to their game with Oakland than the Raiders did? Tampa is flying back from its tilt in San Francisco while the Raiders stayed in Florida after their game with the Jaguars last week. Tampa Bay looks to continue its success against teams from the AFC and NFC West. They are 11-5 ATS in their last 16 games (including 6-2 ATS at home) against teams from the AFC West.
29. Jacksonville Jaguars (2-4) - Mid-season firings rarely have a positive impact on football teams and franchises. But I honestly have no idea how Gus Bradley has kept his job to this point. So far this season five of the seven Thursday night games have gone 'under' the total. They've all been extremely sloppy. Last year the Jags and Titans played their own sloppy Thursday night game, going 'under' in a 19-13 Jaguars win that featured seven field goal attempts (five of which came from within 35 yards).
30. San Francisco (1-6) - Mercifully, the 49ers have a bye week. They traded Joe Staley to the Patriots, though. I don't think any of the guys on this team had any illusions about how this season was going to go. But that move sends a signal that this year is pretty much over. I expect them to be sluggish and disinterested in their first game back.
31. Chicago Bears (1-6) - Oh good, Jay Cutler is back this week. His finger is apparently healed - ironically just in the nick of time after a broken arm has ended Brian Hoyer's season - but I don't think that anything can repair Cutler's standing in the locker room. Cutler is 23-44 ATS as a starting quarterback in home games. Chicago has been a train wreck on Monday Night Football. They lost badly to the Eagles already this season and they are 4-12 ATS in their last 16 games under the bright lights.
32. Cleveland Browns (0-7) - Hopefully all of you have taken my advice about the Browns and used it in your suicide pools. Just bet against this team every week and be done with it! I have seen projected spreads for this week's game against the Jets between +3.5 and +5.5 for the home team. There is no line on this game because the Browns still have no idea who will be quarterbacking the team on Sunday. My question is: does it matter? Can you honestly differentiate between Cody Kessler, Kevin Hogan or Josh McCown? Hogan would be the fourth different starter in eight games, and the Browns have already had six players under center this season.
Throughout the season I will have my NFL Power Rankings every Wednesday. My next ones will be released on Wednesday, Nov. 2.
Robert Ferringo is one of the top football handicappers in the country and tallied an unrivaled $20,800 in football profit between 2011 and 2015, including his amazing 2013 NFL season in which he hit 62.1 percent (95-58). Robert has produced 15 of 23 winning football months and an amazing 38 of 58 winning football months over the past decade. Robert has hit nearly 60 percent winners over his last 750 totals picks and is the most prolific big play football handicapper in the nation, going 110-69 (62%) on all football plays rated 5.0 or higher since 2010. Also, Robert's proprietary KING College Football Betting System has posted three of four winning seasons and is 122-92 over the last three years (57.0 percent).
We are offering new clients $60 in free college football picks for Robert's picks or any Advisory Board handicapper of your choosing. Get your free college football picks now!
Read more articles by Robert Ferringo