NFL Preseason Handicapping: Concerning Camps for Certain Teams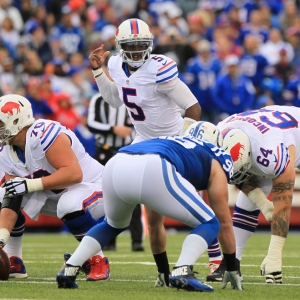 Training camp and the NFL Preseason don't always mean much. Every year we see teams that look great in the preseason falter badly when the games actually matter, and vice versa. You have to take everything you see in the NFL in August with a gigantic grain of salt. There are some teams, though, that shows signs in August of issues that you just can't ignore. I'm not talking about winning or losing preseason games - that's totally irrelevant. I'm talking about teams that don't quite seem to be moving in the right direction. Winning teams are usually extremely competent, and the three teams on this list right now are not looking like that. (Odds to win the Super Bowl are from Bovada):
Buffalo Bills (+6600): Really, the wheels fell off the wagon in Buffalo the second that head coach Rex Ryan decided he wanted to hire his brother Rob as defensive coordinator, and no one stopped him. This was a bad decision for everyone not named Ryan - and it will likely eventually lead to the unemployment of both of them.
The long-suffering fans in Buffalo have a lot more to deal with than just that, though. Injuries have hit the defense very hard so far. First-round draft pick Shaq Lawson has had shoulder surgery and will miss at least the first five weeks of the regular season. Second-round linebacker Reggie Ragland injured his knee and could miss the whole year. Manny Lawson has torn a pectoral muscle and won't be ready until the regular season at the earliest. There are rumors he could be suspended for a game when he returns to action as well. IK Enemkpali, the second-year linebacker best known for punching then-teammate Geno Smith in the mouth last year, tore his ACL and is yet another linebacker out for a significant time. That is a remarkable run of bad luck in the middle of this defense, and it will be tough to overcome.
That's not even the biggest concern, though. Defensive tackle Marcell Dareus is very highly paid and is arguably the best player on the team. He's also a moron. After issues with marijuana last year you think he'd be careful, but instead he missed a drug test and has been suspended for the first four games of the year.
So, the Ryan circus is poised to lose control, and we are only one game into the preseason. It is going to be yet another painfully long year in Buffalo.
Chicago Bears (+5000): The Bears thought they were making a huge splash when they hired John Fox as their coach last season. That may still prove true, but the 6-10 start last year was hardly inspiring.
As I said at the open, preseason doesn't typically mean much. If I was a high-profile coach coming off a disappointing season, though, I would be very focused on setting a positive tone early in the preseason. Instead, the Bears opened their preseason by getting shutout 22-0 by Mark freaking Sanchez and the Denver Broncos - the team that knew they could do better than Fox. It was an ugly, pathetic display in almost every way. The Broncos have massive issues at quarterback, but Chicago made their top two look like Favre and Montana.
There were basically no bright spots - nothing to build on. Jay Cutler was terrible in limited action, and he started his characteristic sulking soon after the first snap. It was just a mess - and a horribly discomforting situation for anyone who is a fan of this team.
San Francisco 49ers (+10000): I don't think anyone can reasonably expect Chip Kelly to turn this team into a contender immediately. He has too much to overcome. After the debacle that was his time in Philadelphia, though, he could sure use some quick wins to re-establish his mojo.
The obvious area of concern was at quarterback - he didn't seem to have one that could work for him, and he struggled badly with the position in Philly. It's early days yet, but things sure haven't been inspiring so far. Third-stringer Thad Lewis was lost for the year to an ACL injury, and Christian Ponder has been brought in to replace him. Christian Ponder!?! Ouch. Colin Kaepernick is dealing with injuries, and he pouted his way through the offseason, so he's tough to trust. That leaves Blaine Gabbert. If your great hope for salvation is Blaine Gabbert then I'm afraid you have no real hope.
The issues at the position seem to be weighing on the team - they didn't look great in their preseason opener against the Texans and have reportedly been quite flat in their own practices and in a joint session with the Broncos since.
Read more articles by Trevor Whenham