NFL Props Odds with Expert Betting Picks and Predictions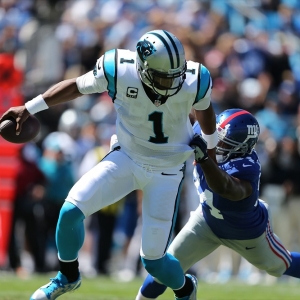 The final four teams left in this season's NFL Playoffs will battle it out this Sunday in the conference championships for a spot in Super Bowl 50.BetOnline has set the New England Patriots as three-point road favorites against the Denver Broncos in the AFC title game, and in the NFC the Carolina Panthers are listed as three-point home favorites against the Arizona Cardinals.
BetOnline has also jumped ahead and set the prop bet odds for which player from one of these four teams will go on to win this year's Super Bowl MVP award. These kinds of special player props can be tricky to handicap given the complexity of the situation, but there is still some tremendous value in the odds even for the favorites. After breaking things down, the following is a look at the betting odds for Super Bowl 50 along with my top-value pick.
Super Bowl 50 MVP Prop Bet Odds
It stands to reason that Patriots' quarterback Tom Brady and Panthers' quarterback Cam Newton are both listed as +250 favorites to win this year's Super Bowl MVP. Going back over the last 12 Super Bowls, the quarterback of the winning team has been named the game's MVP in eight of those games starting with Brady in Super Bowl XXXVIII.
Also adding value to both of these player's odds is the fact that Brady is coming off a MVP performance in last year's Super Bowl when he threw for 328 yards and four touchdowns in New England's 28-24 victory over Seattle, and everything points towards Newton winning the 2015 regular-season MVP award after leading his team to a NFL-best record of 15-1.
BetOnline has set the future odds to win Super Bowl 50 at +180 for New England and at +185 for Carolina, basically making it a dead heat between both of these players for your chance to cash in on those favorable +250 odds.
The futures odds that Arizona wins Super Bowl 50 have been set at +400, and the prop bet odds that Cardinals' starting quarterback Carson Palmer wins the MVP award are listed at +500, which are the next best odds on BetOnline's list.


Palmer has also been mentioned as a possible candidate for the regular-season MVP award in what was arguably the best overall performance of his 13-year NFL career. He ended the regular season with 4,671 passing yards and 35 touchdown passes, so the chances that he lights things up in the Super Bowl are pretty good.
If you are looking for a possible storybook ending to Peyton Manning's career with a Denver victory in Super Bowl 50 led by a MVP performance from the future Hall of Fame quarterback, then there is some solid value in his +800 betting odds as the fourth-favorite to win this season's award.
Manning is coming off one of his worst performances since entering the league all the way back in 1998. He was plagued with injuries all year long, and his results on the field suffered with just nine touchdown throws against 17 interceptions. Despite his struggles in the regular season, however, Manning returned to the starting lineup to help lead the Broncos over Pittsburgh in last Sunday's Divisional Round. His track record against New England over the course of his career has not been all that good with an overall record of 5-11. However, you have to still keep in mind that when these two teams met in the AFC title game two seasons ago, the Broncos did come out on top 26-16.
Moving down the list in search of value at some of the longest odds on the board, you could make a pretty good case for going with Carolina linebacker Luke Kuechly at +4000 to win Super Bowl 50's MVP. He has already made his mark in the playoffs with an interception return for a touchdown this past Sunday in the Panthers' victory against Seattle, and the precedent for a linebacker winning this award has already been set starting with Ray Lewis in Super Bowl XXXV and just two years ago when Malcolm Smith was named the game's top player in Seattle's romp over Denver in Super Bowl XLVIII.
Bottom Line Super Bowl 50 MVP Pick
Making this pick is all about which team you have winning the Super Bowl, and I just so happen to think that it is Carolina's year. The Panthers were the best team all season long. And despite the close call in the second half of last week's win against the Seahawks, they looked as dominant as ever in their only playoff game.
I still might make a small play on Kuechly just to make things interesting. However, love him or hate him, this is Cam Newton's moment in the sun with back-to-back MVP awards for both the regular season and for Super Bowl 50.
Read more articles by Dave Schwab