NFL Totals Betting Picks: Week 3 Over and Under Odds and Expert Predictions
by Victor Ryan - 9/24/2016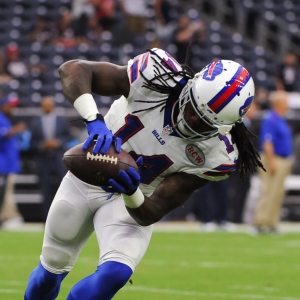 The start of the NFL season has seen the "over" cashing in the majority of matchups. In the maiden voyage of this space last week, the NFL total picks went 2-2 yet still produced a unit of profit. How is this possible, you ask? Doc's unit system. Last week's 5-unit best bet waltzed to victory when Titans-Lions finished 16-15-a full 17 points below the posted total-to put us in the black.
So it was a decent enough start. Let's look to build on that in Week 3.
Arizona Cardinals at Buffalo Bills (47)
The forecast for Sunday in Buffalo is sunny skies and ideal day-time high of 68 degrees. Weather won't be a factor. This is certainly a matchup of teams heading in opposite directions, as the Cardinals have Super Bowl aspirations while the Bills have possibly been the worst team in football through two weeks. But the hunch here is this game could turn into a bit of a slog.
For starters, western teams tend to underperform on Sunday trips to the East Coast. Don't be surprised if the Cardinals come out sleepy for what, by Arizona time, is a 10 a.m. kickoff. Second, the Ryan brothers and their defensive unit have to be embarrassed by last week's 37-31 loss at home to the Jets. With backs now firmly against the wall, it's put up or shut up for the entire organization. An inspired defensive effort wouldn't be a surprise.
The final point to hint that scoring could be tough to come by is the Bills already-pitiful offense will likely also be without its top offensive weapon, Sammy Watkins. The wide out reportedly aggravated a foot injury at practice this week after being stepped on in, wait for it, a walk-through. The head Ryan, Rex, said Friday that Watkins' outlook for playing Sunday was "not real good."
Pick: Under, 3 Units
Oakland Raiders at Tennessee Titans (47)
The talented Raiders have averaged 31.5 PPG during their 1-1 start, third-best in the NFL, while also conceding the league's second-most points at 34.5 per game. Meanwhile, the Titans (1-1) are offensively-challenged with a pretty good defense. The latter unit allowed just one touchdown through two games.
So, where does that leave over/under bettors? The Raiders offense appears capable of scoring on anyone. It also seems unwise to give up on the Titans offensively. DeMarco Murray and Heisman Trophy winner Derrick Henry are coming off a strong week and could still become the best backfield in football, while second-year QB Marcus Mariota is still eligible to progress. This seems especially true against this suspect defense,
Pick: Over, 3 Units
Best Bet
Pittsburgh Steelers at Philadelphia Eagles (46.5)
The fact that this one's in Philly is big. The Steelers, of course, can light up the scoreboard anywhere. But for rookie QB Carson Wentz, not having to face a hostile crowd seems huge. Young signal-callers can get overwhelmed on the road, leading to mistakes, but that shouldn't be a concern here. Another solid effort from Wentz is expected.
The undefeated Steelers have averaged 31.0 points a game, which is the fourth-most in the league, while the unbeaten Eagles rank eighth in scoring with 29.0 points per game. Pittsburgh's offense is also set to receive a big boost this week, as coach Mike Tomlin revealed big-play wide receiver Markus Wheaton (44 rec, 749 YDS, 5 TD's in 2015) is fully recovered and set for his seasonal debut.
Both teams have been stingy on defense through the first two weeks. The Eagles are second in the league with just 12.0 points allowed per game, while opponents have scored just 16.0 PPG against the Steelers. However, while Pittsburgh has managed to limit scoring, teams have been able to move the ball. The 398.0 yard allowed per game by the Steelers ranks 21st in the NFL.
Pick: Over, 5 Units