NFL Win Total Picks: Toughest Odds to Bet On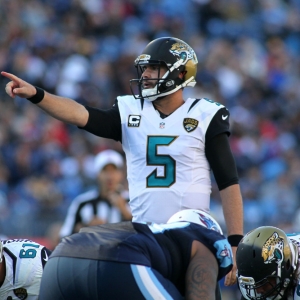 It's a great time of year every NFL offseason when the first NFL season win totals are released. After the overhyped ridiculousness of the draft it's a chance to get back to the real work of analyzing and evaluating teams as a whole. When I look at the win totals for the first time every year there are some that stand out as easy to call - they seem almost obvious. Then there are the ones that are laughable - there is no good reason at all to even consider betting them. The third group, though, is the most challenging - the ones that truly could go either way.
The five teams on this list could all potentially go well over their posted total. It wouldn't be any more surprising, though, if they were to go well under. They are a puzzle - the kind that takes plenty of time to solve. ( all odds are from Bovada):
Jacksonville Jaguars ("over/under" 7.5 wins): The Jaguars have done a lot of things right - strong in free agency and effective in the draft. They have had struggles getting their strong rookies on the field the last two years, but the foundation is good. They have a guy who looks like he is poised to become a franchise quarterback and nice talent all over the field. There are a lot of things going the right way.
They are coming off a season with just five wins, though, and they have not exceeded that total since 2010. It has been a combination of underachievement and inadequacy. They are on the rise - you can't deny that. They are a team that has no recent history of knowing how to win, though, so we can only speculate as to how quickly potential will become accomplishment. Could they win nine or 10 games this year? Sure. Could they win just six? Again, absolutely. It won't help that Gus Bradley isn't the most stable coach in the league right now, so early struggles could really disrupt his stability and have an effect on the whole team. Very tough team to judge.
Oakland Raiders (o/u 8.5 wins): The Raiders have been really bad for a long time. All of a sudden, though, they seem to have gotten out of their own way, and they are rapidly on the rise. They have a great QB and lots of pieces around him to help. People have really been captured by this team - the public wants to live in a world where the Raiders are good again.
This number would require a lot to go right for this team if they were to go over it. It certainly could happen, but it could just as easily not. They are the Raiders after all. They also face the distraction of their future as an organization. After flirting and failing with L.A. they are now hot and heavy with Las Vegas. The long-suffering Raiders fans won't be happy with that, and the players will have to deal with that distraction as well.
Philadelphia Eagles (o/u 7 wins): Three questions emerge with this team, and none are easy to answer. How much was Chip Kelly really to blame for the struggles of this team? How quickly can his culture be changed for the positive? And how soon will they have their quarterback situation sorted out so that everyone is working on the same goal?
The upside for this team is fairly significant, and the division isn't hugely intimidating. I am quite optimistic about the coaching change, too. Whether they can get on track fast enough to finish at .500 or better, though, is far from an easy question.
San Francisco 49ers (o/u 5.5 wins): Chip Kelly is making things difficult here for every team he has touched. He is taking over a team that was a mess last year and which had lousy coaching. The foundation of coaching excellence is just a year removed from Jim Harbaugh, though, so things are not irreparably broken.
Kelly has some real issues to deal with and uncertainty at quarterback to overcome. We also have to hope that Kelly has learned from his failures in Philadelphia, and that he doesn't try to use a sledgehammer to rule with again.
At his best he's good enough to really take a step forward with this team. At his worst, though, he's no better than Jim Tomsula - and that's not a good thing.
Tampa Bay Buccaneers (o/u 7.5 wins): There are some things I like about this team - from the quarterback on up. If I was in charge, though, I never would have fired Lovie Smith, and I certainly wouldn't have hired Dirk Koetter as the replacement. Frankly, I just don't think he is good at coaching. He underwhelmed badly at Arizona State, I hated the job he did as offensive coordinator with Atlanta, and he wasn't my favorite OC last year with Tampa Bay, either. It was about as uninspiring a choice of head coach as a team could make - no better than promoting Tomsula in San Francisco last year.
So, while there is plenty to like about the team, and they have had a solid offseason, I just have no faith in their leadership, and it makes it really tough to decide which way to go on this total.
Want free sports betting picks? Doc's Sports has you covered - get $60 worth of picks free from any of Doc's Sports expert handicappers. Click here for free picks (new clients only).
Read more articles by Trevor Whenham