Basic Strategy Teasers: Best Week 1 NFL Betting Options
by Chris Vasile - 9/6/2017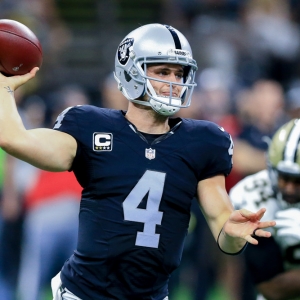 With the NFL set to return tomorrow, bettors will be able to place their wagers on a plethora of betting options. Seasoned bettors tend to stick to sides and totals, while newbies or "square" bettors tend to play more parlays, props and teasers, all of which are options that play right into the house's advantage.
The most common and popular way of betting the NFL is via the point spread. Most bettors find much more joy when betting on a team to cover the spread instead of winning or losing the game outright. The next option the public loves are the parlay bets. They know the odds of winning are already slashed 10-fold for every game they add, but they continue to bet parlay after parlay in hopes of striking it rich one time on a $20 bet. That reason alone is why 99 percent of the public loses over the long term.
For the sake of this weekly piece, I will be focusing in on the "teaser". A teaser bet is similar to a parlay bet in which it is a bet the requires winning two or more games in order to get a payoff. However, the difference between the two is the actual point spread. A straight parlay bet allows you to play only the point spread offered, while a teaser bet allows you to adjust that number for whichever team you favor. There are different types of teasers available, but the most common one is a six-point teaser. For example, if a game has the point spread set at -10 with the total at 51 for the game, your six-point teaser would allow you to tease that spread and get the favorite at -4 or the underdog at +16. This method is also applied to the total as well. Should you like the underdog and the "under", you can add six points to the total, and now you have a readjusted total of 57 with an underdog of +16.
Despite how easy a teaser bet may seem, they are usually a sucker bet for most who play this method. The reason I say that is because those who play teasers seemingly don't understand the value of the key numbers in the NFL. Think about the scoring for a second. The most common margin of victory in the NFL is three points. Since 2002, games ending with a three-point margin occurred 15.67 percent of the time. The next most common number is seven. A seven-point margin of victory occurs 9.67 percent of the time.
With those key numbers in mind, I can now explain basic strategy teasers. Simply put, you must find two favorites where the point-spread is between -7 and -8.5 and tease them down using the six-point teaser to make their adjusted spread between -1 and -2.5. This likens your chances of winning as you have moved the spread under the two most common margins of victory for NFL football. On the contrary, if you like the underdog, make sure to find spreads that hover around the +1.5 - +2.5 range, which would give you an adjusted spread of +7.5 and +8.5 - which also moves the spread through those two key numbers. This is the only teaser we recommend at Doc's Sports because we feel the numbers and percentages are finally in our favor. For example, if a line is reasonably accurate then you can assume about a 50 percent chance of either team covering. If the odds are -110, then you would need to win about 52.4 percent of your bets to break even. To win 52.4 percent of your teasers you need to be able to win the individual game approximately 72.5 percent of the time. Because games end up being decided by three and seven more than 22 percent of the time, teasing through these two numbers increases the chances of covering a spread from about 50 percent to 72 percent or more.
Before you get too excited, you must understand that there are a few issues that have made this teaser strategy harder than it should be. First, books have increased the price of teasers. It used to be that you could grab a two-team teaser for about even-money (+100). Now the most common price is -120, and -130 isn't exactly unheard of, either. After doing some digging , I was able to come across two of the lowest-priced teasers on the market. 5Dimes offers a -110-price tag for a two-team, six-point teaser (ties push), while Bovada comes in at -120. Those are just about the best prices you will find anywhere online.
These extra costs of making these types of bets make it much more difficult to earn a long-term profit. The second hiccup when it comes to betting teasers is finding the right spot. Las Vegas didn't build itself; gamblers built the town. The guys that run the sportsbooks in Las Vegas aren't dumb. They caught on to this betting strategy, and because of that, spreads of -7.5, -8.5, or +1.5, +2.5 are not all that common any more. These lines can still be found, but it means bettors have to jump on the line as soon as they see these key numbers.
It's important to understand two key things about this type of bet. The first is that you need two teams in order to build out a six-point teaser card. The second is that it is vital you shop around in order to get the best possible line. For example, some books have Pittsburgh -9 over Cleveland, while some have them at 8.5. This matters since a three-point Steeler win could be a win instead of a push.
Over the next several months, I will be offering you a "Best Bet" six-point teasers as well as any alternative options to consider playing.
Best Six-Point Teaser for Week 1. Lines courtesy of Bovada
Atlanta -1 & Oakland +7.5 (-120)
Risk: $100 to win $83.33
Since it's Week 1, let me take a second to explain these spreads. Atlanta is currently laying seven points on the road to Chicago and Oakland is getting one and a half as visitors in Tennessee. By combing these two teams and utilizing a six-point teaser, the end result would be a ticket that looks like the above.
But enough about logistics, let's get down to the football business.
As of writing this, the Falcons are currently the fourth-biggest favorite on the betting board behind the Patriots, Steelers, and Bills (yes, the Bills). They are also a viable option in any Survivor pools you may be in. The Falcons will also be the team with the most talent on the field in this Week 1 matchup, but there is one red flag I can't quite get over. What will the Falcons' motivation/psyche be coming into this game on the heels of that epic Super Bowl meltdown? Sure, the Falcons will boast almost an identical team to last year's high-octane version, but they will be breaking in a new offensive coordinator. A slow start wouldn't be surprising given the situation. On the other hand, the Bears are a team that are a few years away from being a few years away. In other words, they have some good pieces and may surprise teams from time to time but are destined to win three or four games this year.
I believe the Falcons will win this game, but I want to wait and see how they play before I think about laying seven points on the road with them - which is why a six-point teaser is perfect.
In the second-game of this two-team, six-point teaser, I like the Raiders to cover the adjusted spread of +7.5. I understand that West Coast teams flying east are generally a bad bet, but this is the first game of the season, which means they have had plenty of time to prep and get acclimated to the time change. The Raiders are going to be a good team this year once again. They also have something to prove after the way last season came to an abrupt end. Derek Carr is healthy again, Amari Cooper and Michael Crabtree are back in the mix, and let's not forget Marshawn Lynch toting the rock out of the backfield. The defense improved in the offseason, and if this game was on a neutral field then the Raiders would likely be 4.5-point favorites.
Many people are predicting the Titans will take the next step and finally claim the AFC South for the first time since 2008. Marcus Mariota is 100 percent healthy, and he has a supporting cast that is reliable and can make plays. If they started the season against any other team besides the Steelers, Patriots or Seahawks (my top three teams for the year), I would be taking them on the spread. Instead, I can get the Raiders - a team who has every chance to win this game outright - by more than a touchdown, sign me up. I expect the Raiders to make one or two more key plays via the passing game and cover the adjusted spread of +7.5.
New to Doc's Sports? We'd like to offer you $60 of free, no obligation picks. Try us out. See why experience matters, and why we have been around for so long while others have come and gone. Click here to sign up today . Also, get three handicappers for the price of one when you sign up for a full-season football package! Click Here for details . Get free NFL betting picks weekly on Doc's Sports free football picks page .