Deshaun Watson Injury Impact on Houston Texans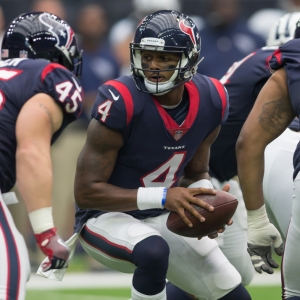 The frustrating but relentless plotline of this NFL season has been the injuries to key players and stars. Few have been more frustrating - at least to me - than the loss of Deshaun Watson. He showed at Clemson that he knows all about winning, and he had transferred that to the NFL with impressive ease. He was one of the most fun things to watch in a season that has lacked for fun things in general, and now he's gone. It wouldn't be quite as frustrating if the Texans had a strong backup to step up and replace him, but these are certainly not the Vikings and their positive QB intrigue.
So, what does the loss of Watson mean for bettors now and for the rest of the season. Here are six factors to consider:
Savage is terrible: Tom Savage is not a good quarterback. And four years into his career I find it tough to believe that he is suddenly going to turn into one. He doesn't see the field particularly well. He makes too many mistakes. And, most significantly, he doesn't seem to command the full respect of his team. It's not like they have any problem with him or anything. But the difference between how tough and willing to sacrifice they are for Watson than for him is very striking. Savage may improve. He may not. But he is never going to become a relevant, strong quarterback in this league, and his upside is somewhere below Watson's floor. This team probably wasn't going anywhere of note with Watson this year, but it's tougher to imagine them going anywhere now.
Kaepernick distraction: This is not going to be the biggest factor of all here, but it is worth discussing. The team has been asked repeatedly why they didn't bring in the best quarterback not on a roster when they needed a quarterback. They said he had been out of action too long, and then hired Josh Johnson, who backed up Kaepernick and hasn't thrown a pass in three years. I don't want to get into the politics of it here, but the more Savage looks like Savage - or if he were to get hurt - the more these questions are going to linger. It's more pressure for Savage, and more of a distraction than the team needs.
Mental game: After seeing the first game the Texans played without Watson you have to question how mentally tough this team is. Actually, I don't question it that much at all - I don't think it's great. Bill O'Brien does some things well, but his teams have not overcome adversity very well, and it's hard to imagine them rallying now and winning one for Watson. They haven't won consistently for J.J. Watt when he has been out.
Schedule: There is good news and bad news here. The bad is that they are likely going to fall to 3-6 after playing at the Rams this week, the Titans and Jaguars are challenging divisional games, and Pittsburgh will be tough to beat. Nine losses seems like the minimum. The other games, though - Arizona, at Baltimore, San Francisco and Indianapolis - are all pretty manageable. This schedule could be a lot worse for them, and that means that there could be some opportunities for value - even for a Savage-led team.
Still a rookie: When a guy goes down with an injury it is easy to overestimate his impact and the loss his team will feel. That's especially true when Watson was rolling to rookie of the year honors and was throwing five TDs in a game like it was nothing. But Watson is still a rookie, and even if he played out the season he was going to hit some rough patches at some points. Rookies do that. So, things would be better for this team if he was there but it wouldn't be perfect.
Betting performance: A sad aspect of this situation - not as sad as losing Watson for half a season, but still sad, is that we have lost a good betting opportunity. Watson was just 3-4 on the season, but they were a strong 5-2 ATS. The team didn't cover last week and will be hard pressed to match their betting performance of the first seven games the rest of the way. Watson also went "over" the total in his last five games, and the team went "under" in Savage's first. This was a very positive betting team early on, but I struggle to imagine the being anything close to that they rest of the way.
Doc's Sports has been handicapping the NFL since before every single player currently in the league was born. That's experience. You can get that experience on your side absolutely free. Doc's wants to give you $60 worth of free NFL picks - the same ones that members get. No obligation. Click here to get started today . Also, get three handicappers for the price of one when you sign up for a full-season football package! Click Here for details . Get free NFL betting picks weekly on Doc's Sports free football picks page .
Read more articles by Trevor Whenham