Free NFL Picks: Peterson vs. Beast Mode Betting Prop Predictions
by Raphael Esparza - 7/31/2017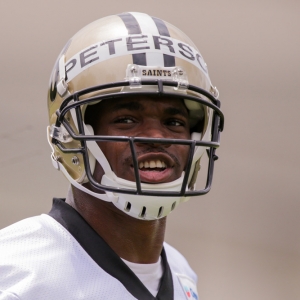 The NFL Hall of Fame Game is this week, and that means we are now football 24/7. And if you know me then you know I want to find those betting odds you haven't heard about! I'm not the biggest NFL regular season proposition player, but since two NFL teams signed interesting running backs I'm sold on a couple props.
In late April the New Orleans Saints and Oakland Raiders both signed interesting running backs, and since these running backs have popular names you have to figure one sportsbook would dig deep and provide some betting propositions. That sports book was BetOnline , and with the Saints signing Adrian Peterson and the Raiders signing Marshawn Lynch you have to figure these props will get some attention.
Free $60 in Member NFL Picks No Obligation Click Here
Below is a quick break down of all nine betting propositions involving Peterson and Lynch, and I also provided some good betting insight on a couple of props. Should be a very interesting season for both running backs, and it wouldn't shock me if one of these guys plays their last season in the league. You can't outrun Father Time, and these two players are not getting any younger.
2017 NFL Player Prop Bets - Odds Provided by BetOnline

Adrian Peterson vs. Marshawn Lynch Betting Propositions
Both Running Backs to Lead Team in Rushing Touchdowns
Yes +200
No -260
For the Oakland Raiders I could see Lynch leading the team in rushing touchdowns, but in New Orleans I don't see it happening. Last year Mark Ingram led the Saints with six rushing touchdowns and fullback John Kuhn even had four rushing touchdowns. There's too many quality guys on the Saints backfield to say that Peterson will lead the team in rushing touchdowns, and that is the reason why I like the 'No'.
Both Running Backs to Lead Team in Rushing Yards
Yes +220
No -280
Last year the Raiders leading rusher was Latavius Murray (788 yards) and the Saints leading rusher was Mark Ingram (1,043 yards), and I would be shocked to see either running back lead their team in rushing. Peterson will be sharing carries with Ingram and Lynch will probably not get many attempts with younger legs on the team. The 'No' at -280 seems a bit low, and it wouldn't shock me to see this number close around -300.
Either Running Back to be Traded During Season
Yes +500
No -800
This betting proposition should have been labeled, 'Either Running Back to land on the Injured Reserve'! US oddsmakers never want to see bad things happen to players or teams, so that is why this prop is out. No all the way!!
First 20-Yard Rush in 2017 NFL Regular Season
Adrian Peterson -125
Marshawn Lynch -105
Both running backs should come into this season with fresh legs and something to prove, and this prop is one of my favorites. Both running backs are big and can break tackles, but I'm leaning towards Peterson at -125. I'm not saying that this prop will be cashed on Week 1, but since Peterson is playing against his old team Vikings in Minnesota on Monday night I wouldn't be surprised to see him break a tackle on the line and run for a long touchdown.
First Touchdown Scored in 2017 NFL Regular Season
Adrian Peterson +110
Marshawn Lynch -140
Both teams and running backs would love to score a touchdown in Week 1, and it wouldn't shock me to see that happen. With that being said, the New Orleans Saints don't play until Monday on the road in Minnesota and the Oakland Raiders play on Sunday against Tennessee. That is why Lynch is the favorite -140, and this prop will be bet up the closer the season starts.
Longest Rush in 2017 NFL Regular Season
Adrian Peterson -130
Marshawn Lynch +110
We all I remember some of the great runs Peterson had with the Minnesota Vikings, and some of those were long ones. Lynch doesn't have the speed like Peterson, and I see Peterson being used more than Lynch. A little shocked this number is only -130, and I would be more shocked if this number closes at -130.
Most Rush Attempts in 2017 NFL Regular Season
Adrian Peterson +44.5 Rush Attempts +145
Marshawn Lynch -44.5 Rush Attempts -175
I'm torn on this prop because getting Peterson +44.5 Rush Attempts looks tempting. Lynch will be used a lot, and if he stays healthy he will rack up attempts. Peterson has tons of competition, so getting attempts down the stretch could be difficult. I understand why the number was made at 44.5 Rush Attempts, but again it does seem a bit high.
Most Rushing Yards in 2017 NFL Regular Season
Adrian Peterson +275.5 Rushing Yards +100
Marshawn Lynch -275.5 Rushing Yards -130
I'm taking Peterson +275.5 Rushing Yards in this prop just because what I have been saying for the other props. Peterson will be battling for attempts all season long but when he does get them he will rack up the yards. I see the Saints running the ball a bit more this year, and that will help us with Peterson getting more touches. Plus, 275.5 yards is high in my eyes and then throw in getting plus money! I'm taking AP and we should cash this ticket.
Most Touchdowns Scored in 2017 NFL Regular Season
Adrian Peterson +2.5 Touchdowns -115
Marshawn Lynch -2.5 Touchdowns -115
If and when the Oakland Raiders are at the goal line it will be almost certain that Lynch will get the ball. Out of all the props on this article this one will hurt Peterson and the depth the Saints have in the backfield. When healthy and playing all 16 games in the past, both running backs have scored double-digits touchdowns, and this prop could be settled in the last couple of weeks of the regular season.
Raphael Esparza is one of the best handicappers in all sports. This week Esparza will have plays from MLB, WNBA, Boxing, CFL and UFC Fight Night on Saturday. Esparza is looking for another winning football season and right now Esparza has all his football packages available. Last year in College Football Esparza cashed not ONE but TWO 8-Unit College Football Game of the Years and this football season he looks to dominate the gridiron. New clients can take advantage of Doc's no-hassle $60 free picks offer and get Esparza's weekday picks. Click here for $60 worth of free picks .