NFL Betting Predictions: Week 16 Opening Line Report and Picks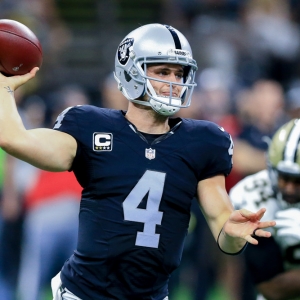 My No. 1 fade candidate in the final two weeks of the 2017 regular season? Unquestionably the Cincinnati Bengals. Not only have the players already quit on the season, but so apparently has the head coach.
Cincinnati's season effectively ended on Monday night in Week 13 when it blew a 17-0 lead at home against Pittsburgh and lost 23-20 in an incredibly physical game. The Bengals had zero left in the tank on a short week the next Sunday in a blowout home loss to Chicago and then barely got off the plane in Minneapolis in losing to the Vikings 34-7 this past Sunday.
Ahead of that game, ESPN's Adam Schefter reported that Coach Marvin Lewis wasn't coming back next year on his own accord. Lewis, the second-longest tenured coach in the NFL after Bill Belichick, reportedly does still want to coach, but if he can't find another job would be interested in working in a front office or as an adviser to one of his former assistants who are now head coaches such as Minnesota's Mike Zimmer, Washington's Jay Gruden or Cleveland's Hue Jackson. Lewis naturally has denied the report, but Schefter is almost never wrong. Frankly, Lewis was probably going to be fired anyways, especially with how the team has looked the past two weeks.
As for who might replace him, the Bengals are a very conservative franchise and generally promote from within. When Lewis was hired in 2003, he became the first Cincinnati coach since 1980 -- and just second ever -- who didn't have any prior ties to the organization. It's possible that Jackson could land in Cincinnati. Browns owner Jimmy Haslam has said he's bringing Jackson back in 2018, but Haslam has made plenty of statements that he didn't follow through on. Plus, new GM John Dorsey might want to hire his own guy and didn't say for sure he would bring Jackson back. I guarantee the Bengals would love to get Jackson as Andy Dalton had his best season when Jackson was the Cincinnati offensive coordinator. Maybe the Browns are so petty they keep Jackson simply so he can't go to Cincinnati. Or perhaps the teams could work out some sort of compensation. Hey, Belichick was traded from the Jets to the Patriots in 2000 (sort of). The Bucs won a Super Bowl after they traded for Oakland coach Jon Gruden.
Cincinnati closes their home schedule vs. Detroit this Sunday - the Lions ( -4.5) still have a wild-card spot to play for - and at Baltimore on New Year's Eve. The Ravens likely will be playing for a wild-card spot then as well. I'll be betting against Cincinnati in both games.
Here are some Week 16 early lines that caught my eye. I won't touch on Saturday night's game (Vikings-Packers), my in-depth Sunday matchup (probably Seahawks-Cowboys) or the Monday afternoon game (Steelers-Texans) as I will be previewing them here individually.
Browns at Bears (-6.5, 38.5): I almost feel sorry for the NFL fans in Ohio, maybe the second-most football-mad state in the USA after Texas. Obviously, the Bengals are now a dumpster fire as I mentioned above, but they almost look like the Patriots compared to the Factory of Sadness. For the second straight season, the Browns are 0-14 following Sunday's 27-10 loss to Baltimore in Cleveland's home finale. I will note, however, that Jackson's past two wins as a head coach both came in Week 16 on Christmas Eve: last year over the Chargers and in 2011 in Kansas City when Jackson was coach of the Raiders. If the Steelers have something to play for in Week 17, and it now appears they will, the Browns have no shot of winning in Pittsburgh. So this might be their last realistic chance to avoid 0-16 infamy with the 2008 Lions. One interesting story line in what is otherwise an awful game is the rookie QB matchup of Cleveland's DeShone Kizer (unless he's benched again) and Chicago's Mitchell Trubisky. The Browns really liked Trubisky and thought about taking him No. 1 overall in the 2017 draft but opted for Myles Garrett. A main reason the Bears traded up from No. 3 overall to No. 2 with the 49ers is they were worried Cleveland was working on a deal with San Francisco get that pick. The Pick: Bears and under.
Bills at Patriots (-12.5, 47): Holy trap game Batman! This sure seems to set up as one for New England off is amazingly emotional (and lucky) win in Pittsburgh on Sunday in the biggest regular season game of the year. It was the 53rd time Tom Brady led his team to a victory from a fourth-quarter deficit. The Pats now are in the driver's seat for the AFC's top seed yet again (and will visit Pittsburgh again next regular season with both as division champions); had they lost, they might have finished third in the AFC. One negative was the loss of running back Rex Burkhead to a knee injury, although it's not a torn ACL as first feared. He might return for the playoffs. Buffalo is very much alive in the wild-card chase as it looks to end the NFL's longest playoff drought. If the Bills win out (close at Miami), they almost surely would be in. A loss here wouldn't eliminate them. This is only the third season since the start of Buffalo's playoff drought in 2000 that it began with an 8-6 record. Brady has 27 wins all-time vs. the Bills, most of any QB against any opponent in league history. The Pick: Bills and over.
Raiders at Eagles (-8.5, 48.5): This is the Christmas night game and the final MNF matchup of the season. Maybe Carson Wentz won't be all that missed after all by the Eagles? OK, that's probably not true, but backup Nick Foles looked good in his first start for the injured Wentz in Week 15, a 34-29 victory at the Giants. Foles threw four touchdown passes as Philadelphia clinched no worse than the No. 2 seed in the NFC. It gets the No. 1 seed with one more victory regardless of what the Vikings do. You know Philly will go all-out to get that here so it can rest starters in Week 17 vs. Dallas. I think there was a bit of a Wentz hangover early in that Giants game as New York jumped ahead 20-7 by scoring on its first three possessions. Special teams really saved the Eagles as that unit blocked three kicks: an extra point, a punt and field goal. The block on the punt set up a touchdown. Oakland would need to win out and get a few miracles to earn a wild-card spot (it could be eliminated before taking the field) following a devastating 20-17 home loss to Dallas on Sunday night. You hate to blame QB Derek Carr for trying his best to score the winning TD with about 30 seconds left, but as he was falling out of bounds Carr tried to slip the ball over the pylon. He should have used two hands because it slipped out, went into the end zone and then out of bounds. Touchback and game over. At a minimum, the Raiders would have been able to kick a tying field goal to send it to OT if Carr doesn't fumble. The Pick: Eagles and over.
Doc's Sports has been successfully handicapping the NFL for years - more than four decades in the business - and wants to give new clients a chance to try our service for free. Click here for the hassle-free sign up and get $60 in free NFL picks today . Get free NFL betting picks weekly on Doc's Sports free football picks page .
Read more articles by Alan Matthews