NFL Draft Betting Props with Expert Wagering Predictions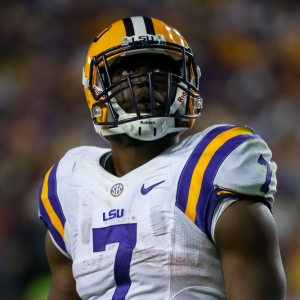 We are now just days away from the NFL Draft - a three-day spectacle that could and should be over in one day, or two at most. It's always a fun event to watch and see how your favorite teams fare. For bettors it can also be a fun event to bet on. My favorite way to bet on the draft is draft position "over/unders". They are a little confusing - oddsmakers offer a total, and you bet the over (that they will be drafted before the listed pick), or the under (that they will still be on the board by the time the listed pick is made). For example, if the total was set at 1.5 then the over would be the winning bet if the player went first overall, and the under would win if he went any other position than first. Here are the eight most interesting such totals offered by BetOnline :
Free $60 in Member NFL Picks No Obligation Click Here
Leonard Fournette o/u 4.5 pick: He's obviously the top running back in the class, and he has what it takes to be a serious star. The momentum seems to be that he is heading into the top five, and it feels like Jacksonville at four could be a good destination for him. The under is heavily favored here at -165, which makes sense. You can bet at +135, though, that Jacksonville or one of the two teams above them will grab him. I actually quite like that price, and it's worth a small risk.
Mike Williams o/u 10.5 pick: It's no lock, but Williams is one of three guys who could be the first receiver picked - and probably the most likely. Receiver isn't the most talented position in this draft, and it isn't a position that teams love to use big picks on, but there is some real momentum up the board for him at this point. Teams as high as Tennessee at number five could be in play here. He's also in real play to Buffalo at 10. You can get +180 to bet that he won't last past the 10th pick. I like that price.
Mitch Trubisky over/under 11.5 pick: At this point it seems pretty clear that Trubisky is most likely to be the first QB off the board. The Jets are in need of a quarterback, and they pick sixth. They have plenty of other needs, though, so it's no guarantee. The Bills could potentially be in the market at 10, though again they have more needs. And the Niners and Bears at two or three could both use a QB, but seem unlikely to take one there when other needs are as pressing and Trubisky is far from a sure thing. The floor seems to be the Browns at 12 - if they keep that pick they can't afford to take two guys without one being a pivot. That doesn't help us here, though. You can get +160 that he will go in the top 11. Interesting, and close to enough, but there are other prices more attractive here.
Deshaun Watson o/u 12.5 pick: This one is interesting. If you are bullish on the over for Trubisky then you have to like the over here, too. If Trubisky is off the board in the top 10 then Watson becomes the strong favorite to go to Cleveland at 12. If Trubisky lasts until the Browns, though, then I personally don't see Watson going before that. And if the Jets, for example, were to go off the board and take Watson sixth then I think Trubisky would go 10th or sooner, too, because teams would panic. So this play is hand in hand with Trubisky, but this pays +120 and Trubisky pays +160, so I would bet that one over this one.
Christian McCaffrey o/u 14.5 pick: I love this play - you can get +140 that McCaffrey will go in the top 14. I think that's a bit of a no-brainer. McCaffrey is a ridiculous talent, and in picking him you are buying versatility - the guy can play in four or five positions and will be very popular with fans. I think he's in play starting at eighth, and every team between there and 14th could be interested in him. With that many squads needing and wanting impact like that, I find it tough to believe he'll be passed over that many times. This is my favorite play so far.
Corey Davis o/u 18.5 pick: Davis isn't likely to be picked before Mike Williams, but if I was picking he'd be No. 1 with a bullet. The guy is special, and he'll be a bargain wherever he is picked. Teams like the Titans, Chargers and Bills could go receiver - and I'd love to see Davis in L.A. catching passes from Philip Rivers. The Ravens and Redskins could go receiver, too, and the Titans have a second pick at 18. With all of those options, the over is somewhat attractive here, but at +120 it's not ideal.
John Ross o/u 18.5 pick: Ross is the third of the top three receivers, so pretty much the same argument I made about Davis and Williams could be said here. Ross is the least impressive of the three in my mind, but his record 4.22 second 40-yard dash at the Combine will grab the attention of many teams, and he could be tough to resist. The price is -115 on both sides here, so while I would lean to the under (that he would get drafted after the 18th pick) I don't see any value on either side.
Jabrill Peppers o/u 28.5 pick: You can get +115 for the over here, and that seems like almost free money. Peppers is a freakish talent who can play in all three aspects of the game effectively. He can play safety, he played linebacker last year, he can play running back or receiver, and he is a strong returner as well. He's just a freak, and a team that needs help and values versatility will jump for him. I just can't see how he will fall this far on draft day. Let me put it this way - if I were to lose this bet it would be only because 28 NFL teams have made a really bad mistake.
Get free picks from any Doc's Sports handicapper - there is no obligation for this offer and no credit card required. Just sign up for an account, and you can use the $60 in free picks for any Doc's Sports Advisory Board handicapper and any sport. Click here to get started now .
Read more articles by Trevor Whenham