NFL Office Pool Picks Week 1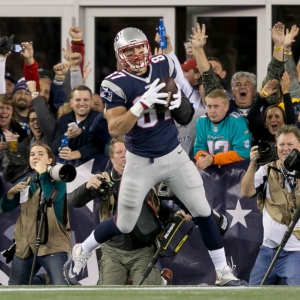 It is finally time for another NFL season. It's about freaking time. It's an interesting slate of games. Oakland and Tennessee are one of the more compelling games of the first month of the season. The Jets and Bills are one of the worst games I could imagine. And the rest fall somewhere in between. The two Monday night games aren't exactly the best the league could offer, but they'll be fine, and it doesn't matter anyway - football is football and some is better than none. As we have done for a lot of years now, we are going to pick the straight up winner of every game all season to help you dominate your office pools. So, without further ado:
Free $60 in Member MLB Picks No Obligation Click Here
Kansas City at New England: I don't think the Chiefs are getting enough respect this year. They won 12 games last year, and it wasn't a massive fluke. I don't think they are going to be quite that good, but they are certainly a factor in their division. That being said, New England is still New England, and they rarely lose - especially at home. Take the Patriots.
New York Jets at Buffalo: The only correct decision is to pretend that this game never exists. The game is like the eclipse - if you look at it without proper eye protection you'll likely go blind. So awful. I guess the Bills are the better team, but that doesn't mean that they are remotely good. Take the Bills.
Atlanta at Chicago: The Bears are a proud team that will put forward a decent effort here. They are also a bad team. I really don't trust the mindset of the Falcons this year, and I hate the loss of Kyle Shanahan and the impact it will have on the offense - Steve Sarkisian is a worthy replacement for Shanahan like Coors Light is a good replacement for a fine IPA. Still, the only pick is obvious - take the Falcons.
Baltimore at Cincinnati: Another dog of a game. We don't know as I write this is Joe Flacco is going to be active or effective. We do know that the Bengals are a mess of a team with horrible coaching that is going to struggle this year. A war of attrition. Take the Bengals.
Pittsburgh at Cleveland: The Browns are improved from where they were, but where they were was a dark, ugly place. They could be 30 times the team they were last year and still only win five games. Pittsburgh is a good team locked and loaded for another division title. Easiest game on the board. Take the Steelers .
Arizona at Detroit: I have no issue at all with the Matthew Stafford extension. It's a stunning amount of money, but it's not like they could have done anything other than pay him. He is at the helm of a team that is quietly pretty solid this year. Arizona, meanwhile, seems to have been content to watch their window, which was wide open not too long ago, slam shut right in front of their eyes. Take the Lions.
Jacksonville at Houston: As I write we don't know where this will be played, and we don't know who the QB will be for the Texans. And none of it matters. Houston is a much better team anyway, but with the emotion behind them they are going to be playing at a different level. Take the Texans.
Tampa Bay at Miami: I don't hate the Jay Cutler addition as much as some people do, but it doesn't really factor into my decision making. I really like Tampa Bay this year and see them as a division winner. I would have picked them regardless of who was playing QB for the Dolphins. Take the Buccaneers.
Oakland at Tennessee: What a compelling game. Oakland was the team that took the biggest step towards sustained relevance last year. Tennessee is very similar right now to what the Raiders were at this time last year. Both teams would love to start off on the right note, but only one can. Both teams have huge strengths and a couple of questions. This will be a great game. Take the Titans at home.
Philadelphia at Washington: Tough divisional game to pick. The Redskins have the better current situation at QB - even if they stubbornly refuse to accept that. The Eagles probably have more talent top to bottom. Neither team is going to win the division, but they should be in a battle with each other all season. A bit of a coin toss. Take the Eagles.
Indianapolis at L.A. Rams: Andrew Luck is out for this game. Without him the Colts are just plain bad. With him they are still pretty bad. It's not like the Rams are great, and Jared Goff doesn't deserve to even play catch with Luck - even if they are both top picks - but at home the Rams are the easy pick.
Seattle at Green Bay: This is another one that is a great game and a compelling matchup. Everyone seems to be saying that we are going to see a newly focused and intense Seahawks team after a couple of years where things felt just a little bit off. I'll only believe that when I see it. Green Bay is tough to play at home, and I am very bullish on Aaron Rodgers this year. I mean, I'm bullish on him every year, obviously, but even more so right now. Take the Packers.
Carolina at San Francisco: I am really tempted to make an upset pick here. We don't know if Cam Newton will be ready or how he will be able to perform if he is. The Panthers have gone through some big offensive changes after adding Christian McCaffrey, too, and that transition won't be entirely smooth. The Niners have had a surprisingly good camp, and I am very high on Shanahan as a coach. A competent, stable coach can have a big, immediate impact after two years of chaos with a program. Screw it, I'm going for it - take the Niners.
New York Giants at Dallas: Another good game, though not as good as it could be. I am not feeling the Cowboys right now. As I write this I don't know if Ezekiel Elliott will find a way to delay his suspension and be eligible, but I don't really care. I think the Cowboys are going to take a fairly significant step back, with Dak Prescott leading the way backwards after an improbably strong debut season. The Giants are far from my favorite team, but they are just quietly competent. Take the Giants.
New Orleans at Minnesota: This game will be interesting for a couple of minutes, but then the novelty of Adrian Peterson in Minnesota in a different uniform will wear off, and a lot of the appeal will be gone. Both teams have strengths and glaring weaknesses that make the only barely relevant. Take the Vikings.
L.A. Chargers at Denver: This game won't be interesting for nearly as long as the first game on the Monday night twinbill. I just can't get too excited about this one. I like the Denver defense but am not a Trevor Siemian guy at all, so the fact he is starting this one by default after Paxton Lynch's injury does little to thrill me. The Chargers should be improved, but the turmoil of the offseason won't have helped. Take the Chargers, but not by much.
Want free NFL picks? Doc's has you covered. New clients can take advantage of this great offer of $60 in free Doc's Sports members' picks for any handicapper on Doc's Advisory Board. Just check out these guys' pages and see what great work they have done making money for themselves and their clients over the years. Click here for this exclusive $60 picks offer . Also, get three handicappers for the price of one when you sign up for a full-season football package! Click Here for details . Get free NFL betting picks weekly on Doc's Sports free football picks page .
Read more articles by Trevor Whenham
---
Most Recent NFL Office Pool Pick Articles