NFL Office Pool Picks Week 3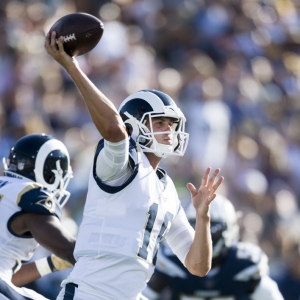 The first week of the NFL season was a bit of a mess, and my lackluster results in these picks showed that. Not much made sense. Week 2, though, was a different story. The games still largely sucked, but at least they were far more predictable, and the results were far more logical. It led to a pretty strong showing in my office pools, and that in turn left me with the optimism that another good showing can be possible this week. Heck, let's not go for a good showing - let's go for a great one. Here's how I see the week playing out, with straight up picks for every game:
L.A. Rams at San Francisco: The Rams have not been terrible this season - not nearly as bad as they could have been. The Niners have played reasonably hard, but just aren't very talented, so are just as bad as expected. The new head coaches here have a history together, so we should see some fun wrinkles. Take the Rams.
Baltimore at Jacksonville: The Jaguars are my least favorite type of team - one that looked surprisingly good in their opener and impossibly bad a week later. What changed? Baltimore is banged up and quite tough to love right now despite their 2-0 record, but I still have to give them an edge. Take the Ravens.
Denver at Buffalo: I never would have believed it, but maybe Trevor Siemian could be a legitimate NFL quarterback after all. This week will prove nothing on that front, though, because Buffalo is not a legitimate NFL team. Take the Broncos.
New Orleans at Carolina: Carolina invested heavily in their run game heading into this season, and the only problem is that they can't run the ball. New Orleans can't, either, but they sure can pass it. Carolina has been defensively solid, though, and that should be the difference. Take the Panthers.
Pittsburgh at Chicago: Stubbornly mishandling a quarterback situation - it's what the Bears seem to do these days. And they are good at it. Pittsburgh just keeps rolling along like they always do, and the Bears aren't going to be a bump in their road. Take the Steelers.
Atlanta at Detroit: Atlanta is another team that was excessively ordinary in their opener - though they got the win - and then very strong in Week 2. Detroit, though, has been playing good football, and they are at home. Edge goes to the home team. Take the Lions.
Cleveland at Indianapolis: If you watch this game you are either a masochist or a moron. Maybe both. There is no reason to care about this contest. And it is impossible to make a sound pick on this one. Both teams are horrible. I suspect the Browns are slightly less horrible and therefore the pick , but that's like saying being eaten by sharks is a slightly less-horrible way to die than being trampled to death by a clown parade. Neither is a good choice.
Tampa Bay at Minnesota: Minnesota is too reliant on quarterback play. After an unexpected bye week, Tampa Bay sure looked like they were a legitimate Super Bowl contender. If they want to maintain that belief then this is a good chance to prove it. And they will. Take the Bucs.
Houston at New England: Houston bounced back and got a win after their opening debacle, but squeaking by against the Bengals is hardly confidence inspiring. New England looked rocky in the opener and then very much like the Patriots in Week 2. They aren't going to stumble twice in three weeks. Take the Patriots.
Miami at New York Jets: Jay Cutler was fine in the opener, but he only won because a rookie kicker choked with the game on the line. The story will be different here. Cutler will be more than fine against this joke of a team, and the kickers will be irrelevant. The game will only be close until the kickoff. Take the Dolphins.
New York Giants at Philadelphia: I was skeptical of the Giants heading into the season despite a fair bit of hype around them. Now I just plain don't like them. They have a lot of holes and are playing like they are fully aware of it. Philly has been far from perfect, but they have been better, and they are at home. Take the Eagles.
Seattle at Tennessee: Seattle has not looked very good offensively so far. Not good at all, in fact. Tennessee is yet another team that was disappointing in their opener and much improved the next time out. I liked Tennessee more than Seattle heading into the season, and that hasn't changed yet. Take the Titans.
Cincinnati at Green Bay: The Packers have issues and can't get out of their own way yet. The Bengals, though, are just plain awful, and there aren't enough issues that the Packers could have that could impact them enough to cause them to lose this one. Take the Packers.
Kansas City at L.A. Chargers: The Chargers find horrifying ways to lose each week, and there is no reason to think that that will change against a pretty good Kansas City team. This is a rivalry game, but that is far less relevant when there isn't a home crowd. Take the Chiefs.
Oakland at Washington: Washington is a decent team playing okay so far this year. The defense has been a problem. Oakland is a very good team playing great so far this year. And their offense is rolling. That's a problematic matchup for the home team. Take the Raiders.
Dallas at Arizona: Not only is Dallas dealing with a running back that is a distraction off the field, but now he's a problem on the field, too. It's a real problem for this team going forward. They'll be fine now, though. Arizona has real issues - they barely beat a horrific Indianapolis team last week. Take the Cowboys.
Doc's Sports has been successfully handicapping the NFL for years - more than four decades in the business - and wants to give new clients a chance to try our service for free. Click here for the hassle-free sign up and get $60 in free NFL picks today . Also, get three handicappers for the price of one when you sign up for a full-season football package! Click Here for details . Get free NFL betting picks weekly on Doc's Sports free football picks page .
Read more articles by Trevor Whenham