NFL Power Rankings Week 1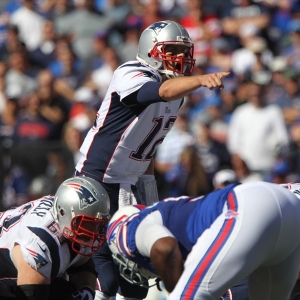 Football will not save us.
We plunge headlong into The Fall. The known horrors of winter are deep on the horizon but approaching with certainty. Although they are almost a trifle compared to the open corruption, paranoia, demagoguery and hypocrisy that continue to flood our systems.
But football is not a balm. Football is not a distraction. It is not some pet to be played with. It is not a game. Professional football is a monolith. It wants to destroy your soul. It wants to steal your time and absorb your hard-earned money. It has been fondling us all spring and summer, laying its trap. Lulling the general public into collective sense of excitement and submission. And now that the time has come for The Games to begin, Football is ready to swallow the unsuspecting whole.
Certainly there is purity in the destruction and ritualized violence that we've come to know and love in our shared national passion. In a time of fake news and alternative facts, there is still Truth on the scoreboard and at the betting window. The immutable laws of mathematics still hold. The numbers don't lie. Our eyes, our friends, our politicians and institutions all lie. But the score is seeped in truth. Either you won or you lost. Either you covered the spread or you didn't. Either you were right or you were wrong. It's basic arithmetic. And as long as that is True then the center still holds.
I am imbued with many emotions at the dawn of every football season. But Hope is not one of them. I've been doing this for too long to drown in that false fountain. Hope is weakness. Truth is power. And only the powerful can fully enjoy the five-month orgy of gambling, drinking and brutality that is the NFL season. And only the foolhardy think that they can challenge the beasts of Fate and Football armed with anything as fickle as hope.
Hope is day drunk and piss-soaked right now in some Detroit strip club, muttering something about Lot's wife and the safety blitz. Faith is submission to the mystical. And in case you haven't noticed, the Gambling Gods are imposingly indifferent to your suffering and to the suffering of those bloodthirsty beasts with hyperactive pituitary glands ready to shave years off their lives every Sunday in pursuit of Glory.
No. Our only choice is cold, cruel calculation. It is every man for himself. At least until these wretched storms pass. There will be plenty of time for rationalizations later. This is about survival and nothing less than Total Victory. I am ready to gamble and to test myself against the crushing tides of The Future.
Don't panic. "It's a great life. If you don't weaken."
But Football will not save us. We can only save ourselves.
Below are my Week 1 NFL Power Rankings. This is a brief sketch of how I see the teams heading into the beginning of the season. I'll release these rankings every Wednesday from now until the end of the season, and this is your go-to place for an NFL betting perspective on the league landscape.
Also, for previews and Las Vegas season win totals odds and picks for all 32 teams, you can CLICK HERE .
Here is Doc's Sports NFL Power Rankings for Week 1:
1. New England Patriots (0-0) - There should be little doubt about this one. The Patriots are the defending Super Bowl Champions, and they reloaded during the offseason. Yes, the Julian Edelman injury hurts. But Brandin Cooks should offset that loss. And I think that Chris Hogan and Danny Amendola are savvy enough to fill that slot role. New England is an outstanding 18-6 ATS in their last 24 home games and they are a spectacular 34-16 ATS over the past three seasons. It is stunning that this group can surpass the inflated expectations that they face week after week, season after season.
2. Seattle Seahawks (0-0) - That Sheldon Richardson trade is a potential game-changer for the Seahawks. Seattle has been in the Top five in points allowed and total defense each of the five seasons, although last year's numbers were their weakest. Yeah, that's kind of splitting hairs to knock a team from "slipping" from No. 1 in scoring defense and No. 2 in total defense to No. 3 and No. 5, respectively. But Richardson's presence will help this unit reassert itself as the best in football. The Seahawks are 0-5 ATS in their last five games at Lambeau and just 3-7 ATS in their last 10 meetings with the Packers.
3. Atlanta Falcons (0-0) - If there are any lingering mental effects from The Worst Collapse In Football History then the Falcons certainly weren't showing them this preseason. This team is still absolutely loaded. And I think they will see a significant improvement from last year's No. 25 defense. Atlanta is the consensus play in Week 1, taking in 80 percent of the betting action as a road favorite in Chicago. The Falcons are 11-6 ATS in their last 17 season openers, although they did lose at home to Tampa Bay last year.
4. Pittsburgh Steelers (0-0) - I just don't see how this team has the chemistry to be a true threat to the Patriots in the AFC. Talent has not been Pittsburgh's issue. But between all the drama involving Big Ben, Le'Veon Bell, Martavis Bryant and the like you have to wonder how in sync this offense will be out of the gate. Fortunately the Steelers get what generally amounts to a fifth preseason game against the lowly Browns. The Steelers are 4-0 ATS in their last four against the Browns and 7-2 ATS in the last nine meetings.
5. Arizona Cardinals (0-0) - This looks like the last stand for Carson Palmer and the Cardinals. Arizona has the oldest roster in the NFL this season. And they were the biggest underachievers in the league last year. So it is kind of now or never with a group that is desperate to bounce back. Arizona was No. 1 in the NFL in yardage differential last year. And their season point differential was better than six playoff teams. Arizona is 5-2 ATS in its last seven season openers and 4-0 ATS in their last four against the Lions. However, the road team is just 1-11 ATS in this series, and the Cardinals are just 1-4 ATS in their last five trips to Detroit.
6. Green Bay Packers (0-0) - Be careful not to expect Aaron Rodgers to come out and play like he did during that eye-popping late-season run last year. It will take him some time to get things going. Surprisingly, the Packers made some late roster moves to bolster their defense with veterans Ahmad Brooks and Quinton Dial. I like both pickups and think they will pay dividends. But these moves only seem to highlight all the moves the Packers HAVEN'T made during the last seven or eight offseasons. If Green Bay was half as aggressive as the Patriots in building their roster perhaps Rodgers would have more than one title. The home team has won six straight and nine of 10 in this series, with Green Bay going 3-0 ATS in the last three.
7. Kansas City Chiefs (0-0) - All they do is win. Period. Andy Reid has won 60 percent of the games he has coached in his 18-year career and he's had just one losing season in the last 11 years. Alex Smith has won nearly 60 percent of his 135 career starts, and he is 60-25 over his last six years under center. That's a remarkable 71 percent success rate. Yet despite all that winning almost no one thinks the Chiefs stand a chance in Foxboro on Thursday night. Kansas City's 3-7 ATS mark in this series may have something to do with it.
8. Oakland Raiders (0-0) - I know this ranking seems a bit lower than what the general consensus is on this team. But I think it is really easy for people to forget how lucky this team was last year, going 7-0 in games decided by six points or less and outplaying their Pythagorean Win Total by a mind-boggling 3.3 games. The Raiders are one of four teams that opened as a favorite but is now an underdog. This is also the third straight season they are playing in Nashville, having beaten the Titans 17-10 last year and 24-21 in 2015.
9. Denver Broncos (0-0) - Despite a protracted and public quarterback battle, the Broncos, statistically were actually the No. 1 team in the preseason. Their primaries outscored opponents 50-10, and that plus-40 differential was nearly double the next best team. The Broncos are just 2-7 ATS in their last nine Monday Night Football games. But they have dominated their series with San Diego, winning eight of the last 10 dating back to 2012.
10. Carolina Panthers (0-0) - I have a hard time wrapping my arms around this team. Cam Newton's balky shoulder could be a major long-term issue. And since we didn't see much of him in the preseason there is no telling what he's really capable of. Carolina's Cover-2 scheme is the yin to Kyle Shanahan's offensive yang. The Panthers will likely let the 49ers move the ball between the 20s, but I don't see how the 49ers will crack this Carolina defense in the red zone. The Panthers are 13-3 ATS in their last 16 games against the 49ers and 8-1 ATS in their last nine trips to San Francisco.
11. Minnesota Vikings (0-0) - The Vikings offense line, their clear weakness last season, will have new starters at all five positions this season. This group is revamped but didn't look all that impressive this preseason. Minnesota's defense also seemed to get worse as the preseason went on. We'll see how they respond to lining up against former franchise great Adrian Peterson this Monday. The Vikings are an outstanding 22-7 ATS in their last 29 home games, and they are 38-17 ATS in their last 55 games overall, one of the best marks in the NFL over the past four seasons.
12. Baltimore Ravens (0-0) - You can sense a bit of desperation around this organization. The Ravens know that they are dangerously close to slipping into irrelevance after serving as one of the AFC's standard bearers most of this young century. Baltimore has a throwback Ravens defense that should be able to win games by itself. So the key will be offensive execution from a group that's had seven different systems in seven years. That lack of identity is as much of an obstacle as Joe Flacco's myriad injuries. The Ravens are 8-1 ATS in their last nine league games. But they are just 1-4 ATS in Cincinnati and the road team is just 3-7 ATS when these two play.
13. Houston Texans (0-0) - There is going to be an absurd amount of emotion swirling around this game. The Texans, their families, and their fans have all had to deal with extraordinary circumstances over the past two weeks, and it's almost childish to try to handicap how this will impact a football team. But that's what we are here to do. The line has shot up a full point despite all the distractions. Houston has beaten the Jaguars six straight times, and they are 4-2 ATS in those games. But they are just 1-5 ATS in their last six home games against Jacksonville. Tread lightly.
14. Dallas Cowboys (0-0) - Dallas has been a circus over the last two months. Injuries, suspensions, and outright drama has plagued this team. But now it is time to play. And we are going to see if the Cowboys are for real right out of the gate. They should not have lost either game to the Giants last year, outgaining them in both and losing by a combined four points. Just 15 total points have determined the last five meetings, and only one of those five were decided by more than a field goal. In fact, more than one score has decided just one meeting in the last five years between these two clubs. With all the issues between these two teams I wouldn't touch this game with a 10-foot pole.
15. New York Giants (0-0) - Odell Beckham is going to play on Sunday. I wouldn't worry about that for one second. This guy loves drama and loves the spotlight, so you can expect him to milk the attention for every drop heading into the Sunday Night Football game. The Giants swept Dallas last year and they are 5-0 ATS in the last five meetings. New York always embraces the underdog role. And I think that Ezekiel Elliott's eligibility will actually galvanize this outstanding defense even further. The Giants are 6-2 ATS in their last eight games in Dallas and the public is actually on board with New York, with nearly 70 percent of the action in this game coming down on the visitors.
16. New Orleans Saints (0-0) - Preseason stats can always be a bit meaningless and misleading. That said, I feel like the efforts of the Saints first team defense were one of the most underreported stories of August. New Orleans' defense did not allow a single point in its three preseason games, the only team in the NFL not to do that. I understand skepticism toward a unit that has finished No. 27 or worse in scoring defense and total defense the past three seasons. But if this group can find the middle of the pack then New Orleans might be in business. The Saints are just 1-5 ATS in Week 1 and they are just 1-4 ATS in their last five Monday Night Football appearances.
17. Tennessee Titans (0-0) - Maybe the third time will be the charm for the Titans, who have lost to Oakland in Nashville each of the past two seasons. There is a textbook reverse line movement in this Raiders-Titans game, as only one-third of the bets in this one are coming down on Tennessee while the line has moved nearly four points the other way. Tennessee does have the situational advantage of the early start time. And the favorite is 4-0 ATS the last four times these teams have gotten together. But the Titans are just 7-21 ATS in their last 28 home games and they are just 14-36 ATS in their last 50 games overall. It is tough to trust a team that's covered just 28 percent of their games over the past three years.
18. Tampa Bay Buccaneers (0-0) - The postponement of their Week 1 game won't just put the Bucs at a severe disadvantage for the rest of the season (they now play 16 straight weeks), but it will also put them behind the eight-ball right out of the gate. The Bucs host the Bears in their home opener on Sept. 17. But by then it will have been several weeks since the Bucs starters have faced live action whereas Chicago will have been able to work the kinks out this week at home against Atlanta. Tampa Bay is going to be playing catch-up all September.
19. Philadelphia Eagles (0-0) - I know that the Eagles are a big "buzz" team and a big "sleeper" pick in the NFC East this year. But they didn't impress me that much in the preseason. Their cornerback situation is still a mess, and offensively they were up and down. This is a team I am very interested in seeing this week.
20. Cincinnati Bengals (0-0) - It hasn't drawn a lot of ink, but the Bengals are in full-blown rebuilding mode. Last year they had the 10th-oldest roster in the NFL. This season they enter with the third-youngest. And that is with some long-tooth players like Pac-man Jones and Andre Smith on the roster. They've also endured a brain drain from the coaching staff in recent years, and this simply isn't the same crew that won 10 or more games from 2012 to 2015. The Bengals are 6-1 SU and 5-2 ATS in their last seven against the Ravens. The home team has won eight of 10 in this series.
21. Los Angeles Chargers (0-0) - Philip Rivers proved again this preseason that no matter what scuzzy pile of skill players he has around him he can still lead one of the most explosive offenses in the league. And this Chargers team, based on the 2016 metrics, is a dangerous one this season because everything is pointing toward a major bounce back. The Chargers have gone 10-4 ATS in their last 14 games in Denver and the road team is 11-3 ATS in this series.
22. Washington Redskins (0-0) - I don't know if anyone looked worse than the Redskins this August. Injuries have crippled this team, and they looked out of sync on both sides of the ball. Their starters were outscored in every game and outscored by a total of 15 points this preseason. That said, I am a bit surprised to see the Redskins as home underdogs to the Eagles this week. They have beaten the Eagles five straight times and are 6-0 ATS in their last six against them. Washington is just 8-18 ATS in September home games and the road team has won five of the last seven matchups.
23. Detroit Lions (0-0) - The Lions haven't made back-to-back playoff appearances in over 20 years, averaging just six wins per year in the season following their last five postseason showings. Matt Stafford was rewarded for dragging this franchise to respectability; the Lions have won fewer than seven games just once in six years after pulling that trick nine times in the 10 seasons prior to 2011. Detroit is on the wrong end of one of the largest line movements of any Week 1 game. They started as 2.5-point favorites but are now two-point underdogs. The Lions are 10-4 ATS in their last 14 season openers.
24. Miami Dolphins (0-0) - I, for one, couldn't be happier that Jay Cutler is back starting in the NFL. Cutler has solidified himself as one of the league's all-time losers, going just 54-78-3 ATS in his career as a starting quarterback. That is a 59 percent winning rate over the last decade just betting against this one guy. The Dolphins will now play 16 straight weeks since their Week 1 game will be rescheduled until Week 11. They will also play just two games in Miami before Halloween, and they will be on the road for the next three weeks since their Week 4 "home" game will actually be played in London.
25. Chicago Bears (0-0) - This is it for John Fox. In his 16-year coaching career Fox has never had three straight seasons below .500. In fact, he had never had back-to-back losing seasons before coming to Chicago. Every possible statistical metric I utilize suggests that the Bears will have a bounce-back season this year. But how much can you possibly trust Mike Glennon? Chicago's defense looks vastly improved. And Fox will be overcommitted to the running game. But will the Bears be able to grind down enough opponents to win some games and cover some spreads?
26. San Francisco 49ers (0-0) - I was moderately encouraged by what I saw from the 49ers first team this preseason. They are playing with purpose, if nothing else. Brian Hoyer takes care of the ball. And as such I think San Francisco is going to be able to move it between the 20s all season long. The question will be whether or not the 49ers defense, which was dead last in both points and yards allowed last season, can generate enough stops for this group to remain competitive. San Francisco is 6-0 ATS in its last six season openers but just 3-8 ATS in their last 11 conference games.
27. Buffalo Bills (0-0) - Tyrod Taylor has been cleared and is set to start this week. Taylor looked horrendous this preseason, going just 9-for-21 for 54 yards before getting knocked out. Taylor has absolutely nothing to work with in the passing game (again), and I expect new offensive coordinator Rick Dennison to ride last year's No. 1 rushing attack as much as he can before LeSean McCoy gets injured. The Bills can dominate on the offensive and defensive lines. But it's a passing league. And Buffalo is woefully undermanned in the passing game on both sides of the ball.
28. Jacksonville Jaguars (0-0) - Among the early prop bets posted offshore for this week's games, Blake Bortles is even-money to get benched this week in favor of Chad Henne. If that happens it is definitely time for Bortles to start questioning his life choices. Jacksonville is somehow 13-5 ATS in their last 18 season openers despite the fact that they are just 11-24 ATS in their last 35 September games.
29. Cleveland Browns (0-0) - I might be overly optimistic having the Browns this high! But hey, these guys look a whole lot better heading into this season than they did prepping for last year. I think starting DeShone Kizer was the obvious move. I normally don't like pressing young quarterbacks into action too soon. But Kizer has no pressure and a solid offensive line, which is rare for such a poor team. I am a big fan of Duke Johnson's, by the way, and I think he'll be dynamic as Kiser's safety valve. Cleveland has lost to the Steelers by an average of 13.6 points in their last six non-Week 17 games against the Steelers. The Browns are 0-11 ATS in their last 11 divisional games, 3-14 ATS in Week 1 and 5-21 ATS in their last 26 games overall.
30. Los Angeles Rams (0-0) - After four straight seasons of fielding the youngest roster in football the Rams now have the second-youngest roster to go along with the youngest coach in the league. Jared Goff doesn't look like any less of a loser. But I do expect Todd Gurley to have a bounce back season behind a retooled line. Also, keep an eye on Cooper Kupp. All the guy did was get open and make plays this preseason, and he could be an impact receiver, especially on third downs, for Goff. The Rams are just 3-13 ATS in their last 16 season openers and they are just 15-35 ATS in their last 50 games in September.
31. Indianapolis Colts (0-0) - With a healthy Andrew Luck - which it doesn't appear the Colts have the benefit of - this team at least has a fighting chance at .500 this season. Without him they have a roster that is only a shade better than the Jets' woeful crop. Indy's offensive line is still laughable, the skill players not named "T.Y. Hilton" or "Frank Gore" are bad, and the defense is full of holes. Indianapolis has 11 rookies on its 53-man roster, the highest number in the NFL, and the Colts' roster is the fifth-youngest in the league. This group looks suspiciously similar to the 2-14 debacle led by the immortal Curtis Painter. The Colts are just 1-8 ATS in their last nine Week 1 games.
32. New York Jets (0-0) - Wow. That's all I can say about this roster. I definitely think that this team and this roster is worse than the one we saw in Cleveland last year; and I was way, way ahead of the curve in predicting that last year's Browns team would threaten to go 0-16. Interestingly, quarterback Josh McCown and linebacker Demario Davis will be starters for both teams. I don't see any way that Todd Bowles keeps his job through the season, and I don't see any conceivable way in which this team wins more than one or two games - if they even get that many.
Throughout the season I will have my NFL Power Rankings every Wednesday. My next ones will be released on Wednesday, Sept. 13.
Robert Ferringo has been the top football handicapper in the country the past five years, earning nearly $14,000 in total football profit. He has also posted five of seven winning seasons (including a winning 2016-17) and Robert tallied over $20,000 in football profit between 2011 and 2016, including his amazing 2013 NFL season in which he hit 62.1 percent (95-58). Robert has produced 18 of 29 winning football months and an amazing 41 of 64 winning football months over the past decade. Robert has eight of 10 winning NFL preseasons and he is at nearly 60 percent winners over his last 800 totals picks. Also, Robert's proprietary KING College Football Betting System has posted three of five winning seasons Robert is looking to follow up a winning 2016 with more profit this fall. SIGN UP HERE TODAY AND TAKE ADVANTAGE OF OUR EARLY BIRD SPECIALS !
We are offering new clients $60 in free college football picks for Robert's picks or any Advisory Board handicapper of your choosing. Get your free college football picks now !
Read more articles by Robert Ferringo
---
Most Recent NFL power rankings Articles