NFL Power Rankings Week 16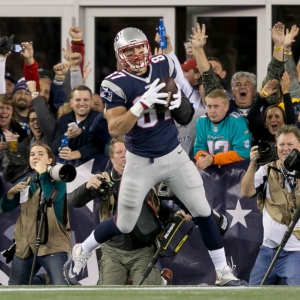 So last week I touched on the rash of favorites covering in the NFL this season . And while I hate to be redundant, I wanted to revisit that issue against this week because right now it is THE story in NFL betting.
The favorites pummeled the sportsbooks again last week, going 10-4 against the spread. (The Patriots-Steelers and Cowboys-Raiders games were both a 'push' at most books). That now means that blindly betting the NFL favorites has turned a profit in six of the last seven weeks, and over the course of the last six weeks the chalk has posted a gaudy 57-33 ATS mark (63.3 percent).
On the whole, favorites are having their best season in over a decade, covering the spread at a 55.1 percent rate this season. Over the past two months the favorites have covered the spread by an average of more than five points per game, meaning that they are not just beating the numbers but destroying them.
Further, favorites are on a 16-9 ATS run in primetime, and the most heavily bet NFL game of the weekend has seen the favorite go 9-5 ATS this season (again, with the Pats-Steelers counting as a 'push').
That ATS success from the favorites is a big part of the reason why the spreads are so inflated for this weekend's action. Add in the betting public being suckers for betting on teams in "must-win" games, and the books are doing everything they can to dissuade favorite action entirely.
Look, the regression to the mean is coming. Favorites will not continue to cover nearly two-thirds of the time. But right now the books are getting demolished, and the discrepancy between the "good" and the "bad" teams in the NFL has never been larger. Don't question how, why, or if it will continue; just take advantage of Santa's early Christmas presents to all gamblers.
Here is Doc's Sports NFL Power Rankings for Week 16:
1. New England Patriots (11-3) - The Patriots have obviously dominated the Bills for the last 20 years just as they have dominated their entire division for the last 20 years. But the home team in this series is just 7-20 ATS. New England is 35-16 ATS in its last 51 games overall, and they are 33-16 ATS in their last 49 home games.
2. Minnesota Vikings (11-3) - The Vikings are now 41-16 ATS in their last 57 games, and they are essentially an automatic play.
3. Philadelphia Eagles (12-2) - No one should be surprised that Nick Foles can play. No, he doesn't have the improvisational skills that Carson Wentz does. But he also has more experience than Wentz, and he is going to be a fine fill-in moving forward.
4. New Orleans Saints (10-4) - This is a big revenge spot for the Saints, who did not play well in Atlanta two weeks ago. The Saints have actually lost three in a row to Atlanta, and the favorite is just 1-7 ATS when these two meet.
5. Pittsburgh Steelers (11-3) - That was a catch. Now we will see if the Steelers, who are always prone to emotional letdowns and have a nasty tendency to play down to the level of their competition, can rebound this week on the road in Houston.
6. Carolina Panthers (10-4) - I will be surprised if Thomas Davis' suspension isn't reduced. But there is essentially no way he will suit up this week against the Bucs. Carolina is 4-1 ATS in their last five meetings with Tampa Bay, but the favorite is just 2-5 ATS when these teams play, and the host is just 1-6 ATS.
7. Los Angeles Rams (10-4) - This offense looks simply unstoppable right now, averaging 33.8 points over their last four games, and over the last three week's they've rung up an insane 8.8 yards per point.
8. Atlanta Falcons (9-5) - Matt Ryan missed a lot of throws on Monday, and the Falcons never put their foot on the gas against an overmatched Tampa Bay team. But they got the win, and Atlanta is 7-1 ATS in their last eight Sunday games after playing on Monday Night Football. If they can beat the Saints this weekend they can throw a lot of chaos into the NFC seeding.
9. Jacksonville Jaguars (10-4) - The Jaguars have had the benefit of playing five of their last seven games in Jacksonville. But the last two times they have gone on the road - at Arizona and at Cleveland - they looked awful in both games. The Jags have to make a long trek out to San Francisco this week, and they have to be sure not to look ahead to next week's potential division decider with Tennessee.
10. Kansas City Chiefs (8-6) - That's what everyone gets for doubting Andy Reid. The Chiefs still may miss the playoffs. But they will go down swinging, and this can't be a team that anyone wants to face right now. Kansas City is 5-2 ATS in their last seven home games, and they have held 13 straight visitors to 20 points or fewer.
11. Seattle Seahawks (8-6) - The levy has broken for Seattle, and I don't expect an 11th hour run from this group. They simply don't have the talent on either side of the ball. And their chemistry issues, which have been a focus for the past 12 months, are boiling over as the pressure mounts. I would not want to be on that Seattle sideline this week if things go south.
12. Los Angeles Chargers (7-7) - The Chargers have not been good when playing on the road in 1 p.m. EST kickoffs. And this will be their second game in a row on the road after their loss in Arrowhead. San Diego is just 3-8 ATS following a loss and 1-6 ATS in their last seven games in December.
13. Dallas Cowboys (8-6) - The Cowboys are one of the biggest public wagers of the weekend, taking over 70 percent of the early betting in their game against the Seahawks. The line has responded by moving from -3.0 to -5.0, which I think is stiff considering that Dallas didn't exactly look sharp last week against the Raiders.
14. Detroit Lions (8-6) - The Lions' only hope for making the playoffs is to win out and get some help. They are on a 5-2 run in their last seven games. But two of those wins were over the Bears, one was over the Bucs and another over the Browns. I can't say this Detroit team looks good enough to deserve a postseason bid.
15. Baltimore Ravens (8-6) - The Ravens are just 1-9 ATS in their last 10 games against the Colts and just 1-5 ATS when they host Indianapolis. Granted, most of those games came with either Andrew Luck or Peyton Manning at the helm for Indy. But it is still something to keep in mind before laying out 13.5 points this Saturday.
16. Tennessee Titans (8-6) - The Titans have a slight situational advantage this week in that this game is a 10 a.m. PST start, and they are catching the Rams off a peak effort up in Seattle. Tennessee is unbeaten at home this year, and they are 8-2 ATS in their last 10 home games. However, they are still just 20-43 ATS in their last 63 games and just 17-36 ATS in their last 53 games against a team over .500.
17. Buffalo Bills (8-6) - The Bills, who have not made the playoffs since the 1999-2000 season due to the Flutie Curse, have been in this position before. And this is the point in the season where the perpetual losers always manage to throw up on themselves. They are 4-1 ATS in their last five trips to Foxboro, though.
18. Green Bay Packers (7-7) - Mike McCarthy is absolutely right that there is no point in playing Aaron Rodgers with the Packers out of the playoff hunt. And once he sits his star quarterback, I expect the rest of the team to take the cue and roll over.
19. Washington Redskins (6-8) - The Redskins have now been outgained in seven of their last nine games. There is absolutely no way that this team should've beaten Arizona on Sunday, and it will be interesting to see how they handle a resurgent Broncos team this week.
20. Oakland Raiders (6-8) - I read several articles last week about how Derek Carr's play had been struggling because he had been trying to do too much. And then he went out and literally lost the game because he was trying to do too much.
21. Arizona Cardinals (6-8) - Arizona has been the worst team in the NFL in the red zone this year, converting just 38.6 percent of their opportunities. They have failed to score a touchdown on nine straight trips inside the 20, and they are just 2-for-11 over the last three weeks. Arizona hasn't scored an offensive touchdown in 10 quarters.
22. Miami Dolphins (6-8) - The Dolphins have to travel to play a cold weather game in back-to-back weeks, as it is set to be just above freezing this week in Kansas City. The weather obviously bothered Jay Cutler last week, and I don't expect him to be any sharper this time around.
23. Cincinnati Bengals (5-9) - I know I'm in the minority here, but I actually don't think Marvin Lewis should leave or be fired in Cincinnati. I think it is real easy to forget how close to the Browns the Bengals were before he arrived. And when I see this team, I see a problem of personnel rather than one of scheme.
24. Denver Broncos (5-9) - I have absolutely no idea where the hell that came from out of Brock Osweiler. But if I am a Broncos fan I wouldn't get my hopes up.
25. New York Jets (5-9) - Once again, the Jets were more game than anyone could've expected. However, they still lost by double-digits despite being gifted a load of Saints turnovers.
26. San Francisco 49ers (4-10) - Jimmy Garoppolo has been outstanding working the controls of Kyle Shanahan's offense. But the 49ers still need to find a way to cash in when they get in the red zone. They are converting just 23 percent of their opportunities over the last three weeks, instead settling for 15 Robbie Gould field goals.
27. Chicago Bears (4-10) - John Fox likely won't keep his job this offseason. But he 100 percent won't keep his job if the Bears lose to the Browns this week.
28. Houston Texans (5-9) - The Texans have lost four straight games, all by at least a touchdown. But three of the four games were on the road, and they could be up for a spoiler role this weekend.
29. Tampa Bay Buccaneers (4-10) - This team was already a MASH unit before playing the Falcons on Monday night. Then it seemed like every drive they lost at least one more player to injury. I honestly don't even know how they are going to fill out a 45-man active roster this Sunday for their trip to Carolina.
30. Indianapolis Colts (3-11) - Great call by whomever decided to load up the Colts schedule with primetime appearances late in the season. Indy has lost five in a row, but just one of those losses has come by more than two touchdowns.
31. New York Giants (2-12) - Last week was the first time this season in which the Giants outgained an opponent, and it was their highest-scoring output in two years.
32. Cleveland Browns (0-14) - I'm going to answer Hue Jackson's question about whether or not DeShone Kizer will ever "get it": "no". Nothing I've seen from him this year makes me think that there is potential greatness just waiting to burst out. It's back to the drawing board for the Browns, who are 2-12 against the spread this season.
Robert Ferringo has posted nearly +$7,000 in overall football profit since the start of the regular season and is a solid 26-16 (62%) with his top football plays this year. This week he will have an 8-Unit NFL Game of the Year on Sunday and his first two 8-Unit Plays this season were both blowouts with the Raiders hammering the Jets 45-20 and the Rams throttling the Texans 33-7. Don't miss out on his final 8-Unit Play of the season!
Robert has been the top football handicapper in the country the past five years, earning nearly $14,000 in total football profit. He has also posted five of seven winning seasons (including a winning 2016-17) and tallied over $20,000 in football profit between 2011 and 2016, including his amazing 2013 NFL season in which he hit 62.1 percent (95-58). Robert has produced 18 of 29 winning football months and an amazing 41 of 65 winning football months over the past decade. SIGN UP HERE TODAY AND TAKE ADVANTAGE OF OUR EARLY BIRD SPECIALS !
We are offering new clients $60 in free college football picks for Robert's picks or any Advisory Board handicapper of your choosing. Get your free college football picks now !
Read more articles by Robert Ferringo