NFL Power Rankings Week 9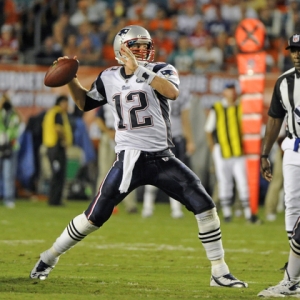 Let me first say that I think, generally speaking, that NFL officials do a pretty solid job relative to other sports. NBA refs probably have the easiest jobs. MLB umpires are generally outstanding and do the best of all professional sports. And I literally can't watch college football sometimes because the officiating is so grossly incompetent. So relatively speaking, NFL officiating is pretty solid.
That said, NFL refs are still kind of a mess.
The NFL officials need to adopt more of an NBA-playoff mentality. That is that if a penalty is not kind of blatant or obvious then swallow the flag. Penalties can be game-changing calls. They negate big plays. Or they put teams at a down-and-distance disadvantage that can be too much to overcome. I'm sure you've heard the old adage that, "there's holding on every play". That may be true. And that's all the more reason for the NFL refs to quit making so many of the judgment calls and err on the side of "let them play".
Free $60 in Member MLB Picks No Obligation Click Here
There are simply too many blown calls and too many questionable calls each week. Some crews are better than others. But until the NFL brass does something to rein in guys like Ed Hocholi or Booger (Jerome Boger) and their crews, we are going to have too many fans leaving frustrated over too much interference from the guys in black and white.
Here is Doc's Sports NFL Power Rankings for Week 9:
1. New England Patriots (6-2) - The Patriots' defensive reconstruction is one of the most impressive feats of the season. They've allowed an average of just 13 points per game over their last four outings. But their 29.7 defensive yards per point is completely unsustainable.
2. Philadelphia Eagles (7-1) - Doug Pederson has done a fantastic job raising the level of efficiency for this Eagles team. They are No. 2 in the NFL in red zone touchdown efficiency (68 percent) and No. 2 in the league in third down conversions. They are extending and finishing drives, and that is their hidden strength.
3. Kansas City Chiefs (6-2) - Tyreke Hill's bizarre interception - seriously, WTF was that play call? - in the first quarter of the Denver game was Kansas City's first turnover since their very first play of the season. That's it. They have two turnovers on the season.
4. Pittsburgh Steelers (6-2) - That was a really unimpressive effort from Le'Veon Bell on Sunday night. Pittsburgh really needs a power back, someone that will simply take the ball and plow ahead for tough yards, to compliment Bell's lax running style.
5. Seattle Seahawks (5-2) - That was a solid move by the Seahawks to go out and grab Duane Brown from the Texans to attempt to bolster their shaky offensive line. But we will have to wait and see how long before it pays dividends.
6. Minnesota Vikings (6-2) - Mike Zimmer was bailed out by Hue Jackson's stupidity at the end of the first half last week. Once the Browns reached first-and-goal Zimmer should've been using his timeouts to ensure the Vikings got the ball back with time to operate. These are the little game management things that separate good coaches from great one.
7. Los Angeles Rams (5-2) - The Rams lost 17-10 at home to the Giants last year in a game in which Los Angeles outgained New York by over 100 yards. The Rams haven't covered a spread against the Giants since 2000, going 0-8 ATS in the series since then.
8. New Orleans Saints (5-2) - The Saints defense is getting much-deserved praise for their progress. But the hidden reason for the Saints' surge is that they are not turning the ball over. New Orleans had averaged 25 turnovers per season over the past three years. But this season they are on pace for just 16 turnovers for the season.
9. Buffalo Bills (5-2) - I was a bit skeptical of the Marcel Dareus trade because I felt the Bills could've used him down the stretch this year and could've gotten more for him in the offseason. However, you have to continue to give this team the benefit of the doubt
10. Carolina Panthers (5-3) - The Panthers have lost three straight to the Falcons. But they are 4-1 ATS in their last five home games against Atlanta. The home team is 7-2 ATS when these two get together but the favorite is just 2-5 ATS in the series.
11. Dallas Cowboys (4-3) - Don't be fooled by the Dallas defense's stats over the last couple games. This is still very much an accidental defense, meaning that just about any stop they get is purely by accident. They are also on a 4-0 run against the total.
12. Atlanta Falcons (4-3) - It was shocking to me how unfocused and unprepared the Falcons were for what was really a must-win game last week. I get it that the rain was an issue. But so many of Atlanta's mistakes were from simple lack of concentration. This team still does not look good at all.
13. Detroit Lions (3-4) - I didn't think that Golden Tate would play last week. But he stepped up again and showed why he is one of the true warriors in the game.
14. Oakland Raiders (3-5) - I know everyone is pointing the finger of blame at Derek Carr right now. But I think the Raiders are starting to realize that their decision to can Bill Musgrave and hire Todd Downing as offensive coordinator was one of the worst moves of the offseason.
15. Denver Broncos (3-4) - Before the calls for Trevor Siemian's benching get too loud let's remember something: Paxton Lynch wasn't good enough to beat this guy out in camp. Lynch is hurt and he hasn't shown much in his brief experiences in the NFL, either. So the idea that Lynch will somehow spark this floundering offense is a stretch.
16. Washington Redskins (3-4) - This is a tough draw for the Redskins, who have to travel across the country and play in one of the NFL's toughest venues (Seattle) just one week after a draining rivalry game. Washington is on an 0-4 ATS slide. But they are 10-4 ATS in their last 14 road games and 7-3 ATS in their last 10 games against teams with a winning record.
17. Houston Texans (3-4) - Deshaun Watson is absolutely the truth. He is absolutely legit and I simply don't see how any defense is going to slow this offense down. Also kudos to Bill O'Brien. He has really reshaped the Texans offense and they are doing some really creative things. These guys are must-see TV each Sunday.
18. Cincinnati Bengals (3-4) - The Bengals should not be laying out points. I think that this team is back in its preferred role this week as an underdog heading down to Jacksonville. The Bengals have covered four straight in this series and they are 4-1 ATS in their last five road games.
19. Tennessee Titans (4-3) - The Titans defense seems like it is making strides, allowing just 15.7 points per over the last three games. But they've faced the Browns, Colts and Dolphins, so I'm not buying in yet. The Titans are 6-1 ATS at home but just 2-5 ATS after a bye and a laughable 17-40 ATS in their last 53 games overall.
20. Jacksonville Jaguars (4-3) - The Jaguars are 7-3 ATS in their last 10 home games and they are coming out of a bye week, where they have gone 6-1 ATS over the last seven years. Jacksonville is not used to being a favorite this late in the season, though, and they are just 2-6 ATS in their last eight home games.
21. Chicago Bears (3-5) - The Bears have covered the spread in four straight games. They have three of their next four at home and still get to host both San Francisco and Cleveland down the stretch. This team won't be making a postseason run or anything like that. But I do still think they will be a solid moneymaker in the season's second half.
22. Los Angeles Chargers (3-5) - Why did the Chargers stop going to Melvin Gordon? After his 87-yard touchdown run he carried the ball just 13 more times for 50 yards. The Chargers should've force-fed Gordon the ball, and it really doesn't make any sense that L.A. wouldn't have pounded the Patriots on the ground all afternoon.
23. Green Bay Packers (4-3) - I know the season isn't even half over. But this Monday Night Football game against Detroit is a season-definer. Green Bay is 4-1 ATS in the last five meetings and 5-1 ATS in their last six home games against the Lions. But for the first time in over a quarter century, they enter this game without having the better quarterback.
24. Baltimore Ravens (4-4) - The books have not released a line on the Ravens-Titans game yet as they wait to see if Joe Flacco will be available. I'm hearing that Flacco will play. But how will he play? How is this guy going to be 100 percent? The opening number I have seen is Baltimore as a four-point underdog. (Oh, and give the ball to Alex Collins. A lot.)
25. Miami Dolphins (4-3) - Jarvis Landry is a guy that the more I see of him the less impressed I am. He drops passes. He misses blocks. He takes penalties. He is an actively negative force in this offense, and the Dolphins should absolutely let him walk at the end of this season.
26. Arizona Cardinals (3-4) - No, the Cardinals have no hope with Drew Stanton under center. Their season is effectively over. But how they finish will be crucial to where their value resets to for next season. The Cardinals are 7-19 ATS in their last 26 games overall and just 1-5 ATS in their last six after a bye week.
27. Tampa Bay Buccaneers (2-5) - Keep an eye on the Bucs this week. This team is beyond desperate and they know their opponent, the Saints, very well. Dirk Koetter will be extra-aggressive this week against what is still a vulnerable New Orleans defense. Tampa Bay is 4-2 ATS in the last six meetings, and you have to think that this group is due to break out at some point.
28. New York Jets (3-5) - There are two kinds of bad teams here in the bottom tier of the NFL. There are bad teams that play hard, tough, physical football but just don't have the talent to compete. And there are bad teams that are actively bad and whose terribleness infects everything they do; these are teams that are going to go out of their way get blown out. The Jets are among the first group.
29. New York Giants (1-6) - The Giants have been outgained in four straight games, with the numbers over the last three weeks getting progressively worse. New York is 4-1 ATS after a double-digit home loss and 7-2 ATS in their last nine games after a loss overall. However, my expectations for what Ben McAdoo will have been able to do during the bye week are pretty low.
30. Indianapolis Colts (2-6) - Much like the Jets, the Colts are a team that plays hard but just doesn't have the players. Chuck Pagano is going to be fired and even deserves to be fired. But this group, unlike teams like Tampa Bay or the Giants, aren't losing games because of coaching. They are losing games because their roster is atrocious.
31. San Francisco 49ers (0-8) - It will be interesting to see how long Kyle Shanahan takes to prep Jimmy Garappolo before he throws him to the wolves. I like the aggressiveness that the front office showed by targeting a guy and going to get him. But Garappolo is absolutely no sure thing, and we'll see if he suffers the same fate of so many others when they leave the Brady-Belichick cocoon.
32. Cleveland Browns (0-8) - All you need to know about the state of the Browns right now can be gleaned from the hilarious drama surrounding Kenny Britt. Kenny Britt is awful. Britt has been awful for most his career. That he is not playing should be a surprise to absolutely no one. Yet Cleveland has drummed a controversy where there absolutely isn't one.
Robert Ferringo posted a profit in six of the first eight weeks to start the NFL regular season and he is riding a run of six of eight overall winning football weeks. Robert has exploded for +$7,100 in football profit over the last five weeks and is an astounding 36-18 (67%) with his NFL totals plays this season. Robert nailed his Pac-12 Game of the Year last week and went 2-0 on plays rate 6.0 or higher. This week he's coming back with his SEC Game of the Year to compliment another strong Sunday NFL card.
Robert has been the top football handicapper in the country the past five years, earning nearly $14,000 in total football profit. He has also posted five of seven winning seasons (including a winning 2016-17) and tallied over $20,000 in football profit between 2011 and 2016, including his amazing 2013 NFL season in which he hit 62.1 percent (95-58). Robert has produced 18 of 29 winning football months and an amazing 41 of 65 winning football months over the past decade. SIGN UP HERE TODAY AND TAKE ADVANTAGE OF OUR EARLY BIRD SPECIALS !
We are offering new clients $60 in free college football picks for Robert's picks or any Advisory Board handicapper of your choosing. Get your free college football picks now !
Read more articles by Robert Ferringo
---
Most Recent NFL power rankings Articles