AFC Championship Game Betting Advice: Keys and Distractions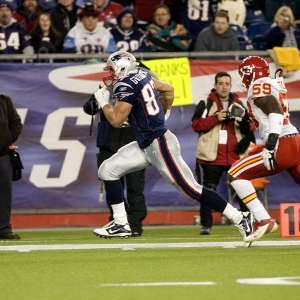 The AFC Championship Game, like any football game, is a complex set of circumstances and possibilities that will likely be decided by just a few key matchups. The difference between the best teams and the worst in the NFL is really not that big, but the best teams just have the small edge in a few areas. That's the difference between winning it all and winning a high pick in the draft. So, when it comes to looking at individual games, those few key matchups are a good starting point. Here, then, are five of the biggest keys in the showdown between heavily-favored New England and Jacksonville as well as two distractions not worth any real attention:
Keys
Patriots offensive line vs. Jaguars pass rush: Tom Brady isn't as mobile at 40 as he once was - and he never was the most nimble of guys. The Pats offensive line has done a pretty decent job of protecting him this year and giving him the time he needs to be dangerous. It hasn't been perfect, and I'm sure he'd like to pick himself up off the ground less, but it has been fine. Jacksonville, though, has the most dangerous defensive front in the league. There are more talented guys out there, but what makes the Jags so dangerous is that they can attack a QB from anywhere, and they are very good at adjust and adapting to keep offensive lines guessing. Pittsburgh saw the Jags' attack twice and never figured it out. New England has a truly massive advantage at quarterback, but if they can't protect him then it won't matter. Brady's favorite move is to step forward into the pocket to avoid outside pressure. The outside pressure is a given, so if there is no pocket to step into then there could be real issues.
Jacksonville defense vs. Rob Gronkowski: Gronkowski is a one-man wrecking crew, and no QB has better chemistry with a receiver in the league. It's strange, too - Gronk has been doing it for a long time, everyone knows that the ball is going to him, and yet defenses are powerless to stop him. Jacksonville has a strong set of linebackers, and some real talent in the secondary as well. They have the personnel to handle Gronkowski, but just having the people doesn't mean they will get the job done. If Gronk has a Gronk-like day then the path for the Patriots is wide open. If the Jags can contain him, though - and especially if they can do it while making Brady uncomfortable at the same time - then they give themselves a fighting chance.
Patriots run defense vs. Leonard Fournette: Fournette has played Pittsburgh twice and has been a one-man wrecking crew both times. Last week the offense was flying and Fournette was the jet engine. He was not hugely effective against the Bills in the wild-card game, and Jacksonville was lucky to survive. Fournette is the key to this team's offense right now. Bill Belichick loves nothing more than to force an opposing offense to be one-dimensional. It seems very likely that they try to contain Fournette, forcing the fate of the Jags onto the arm of Bortles. If they can do that then the spread won't be big enough. If Fournette can assert himself like he did last week, though, then New England could get the scare that Pittsburgh did.
Distractions
New England drama: By now we have seen the Patriots play a game after the reports of all their internal conflict and impending doom. And all that they did was play arguably their best game of the year. It is not at all worth any effort or stress to worry about those stories. Nor is it worth worrying about any coaching drama - both coordinators reportedly have head coaching jobs sealed up for next year. Belichick only hires pros, though, and he will tolerate nothing more than a full effort from them regardless of what else they have going on. Don't let the soap opera the media wants to talk about drag you in.
The mysterious glove: Tom Brady's hand was jammed in practice. An x-ray showed nothing, but he missed practice the next day, and was seen wearing a glove at practice. Now everyone seems fixated on that glove. Don't be one of those people. Brady will be just fine, and even if he isn't completely fine he'll find a way to be ready for this game.
Here's an amazing offer - we will give you $60 worth of Doc's Sports member picks absolutely free. No obligation, and no credit card needed. Get $60 worth of premium members' picks free . Get free NFL betting picks weekly on Doc's Sports free football picks page .
Read more articles by Trevor Whenham