Best-Case Scenario Each NFL Team in 2018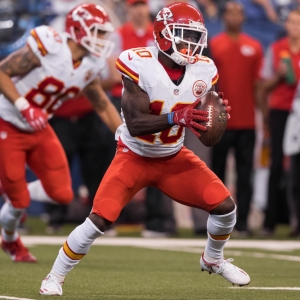 The NFL Preseason is, mercifully, over. We have to be a little patient, but soon enough the regular season will be here and football will finally matter again. To kill the time until then, the best thing we can do is speculate wildly. Or at least that is the most fun thing to do. Here is a look at the best-case scenario for all 32 teams heading into the season. Needless to say, it's easier to be optimistic about some teams than others.
Arizona: Josh Rosen gets a chance to start, he looks fine enough, and they can be confident that they have a starting quarterback for the next few years as they try to figure out what they are going to do at all the other positions they have questions at.
Atlanta: The offense plays to their full ability, Matt Ryan avoids the brain cramps he is capable of and which are wildly contagious on his team, and the Falcons are amongst the many potential contenders for a berth in the NFC Championship Game.
Baltimore: Joe Flacco and Lamar Jackson can find a way to coexist without drama, the team can maximize the positives of both, and the exciting offense that ensues can lead this team beyond the .500 plateau that seems like a hard ceiling for them at this point.
Buffalo: They can find a quarterback that can play right now amongst their group of never-been, never-will-be, and may-be-something-at-some-point-in-the-future. And if they do that they could win six games. But they probably won't.
Carolina: Cam Newton stays healthy and avoids the drama and plays like the MVP he has been, Christian McCaffrey has the breakout year he is so clearly capable of, the defense stands up tall, and the team is another among the long list of the NFC's serious threats.
Chicago: Mitch Trubisky takes a step forward, and people can believe that the team has their QB situation sorted out going forward. Until they do that, the new and improved coaching staff can't do a whole lot in terms of winning now.
Cincinnati: Management wakes up and Marvin Lewis is finally fired. His reign of terror as the worst coach in all of football has been a disgrace for this team for far too long.
Cleveland: Baker Mayfield takes over in time, looks good, and the team wins five or six games, looks competent, and has something real to build on - something built around all of the young talent they have in place.
Dallas: Someone other than Ezekiel Elliott proves they are ready for prime time on this offense, and the team can become more than a one-dimensional talent show on offense. Oh yeah, it would be great if Jerry Jones went away, too, but that's not going to happen.
Denver: Case Keenum brings some stability at the QB position after too long of grasping at straws, and the defense is allowed to shine like they are crying out to do. It's not enough to win anything meaningful, but it could win 10 games if all things fell into place.
Detroit: Matthew Stafford gets the respect he deserves and plays like he is clearly capable of. He is better than people think, yet never as good as he should be given his talent. If he can get it together then there is enough to like on this team that they could sneak under the radar, win a bunch of games, and cover the spread in even more.
Green Bay: Aaron Rodgers doesn't get hurt. It's as simple as that. Last year was a stunningly clear demonstration of his significance to this team. If he stays healthy then this team can win the NFC. At least. If he gets hurt again they aren't a playoff team.
Houston: Stop me if you have heard this before (and if you have read the Denver entry then you have), but they get health and stability at the QB situation so that they defense is allowed to shine like it is crying out to do. The upside is fairly significant for this team, but not if they are juggling guys hoping someone can play the QB position competently.
Indianapolis: Andrew Luck can stay healthy and be Andrew Luck. He isn't enough to fix this team by itself, and there are a lot of issues to deal with beyond him - like a running game that is the thing of nightmares. But if he can be healthy and be the leader this team so desperately needs then they can turn the page and begin working toward whatever the future holds for them.
Jacksonville: If they can recapture whatever magic they had last year then they could find themselves in the AFC Championship Game again. The defense could be special. The offense should be a little better. I surprise myself with how much I like this team.
Kansas City: The upside is a Super Bowl berth here. The offensive talent runs deep, and if Patrick Mahomes can step in and live up to the hype then this team will be tough to play against.
L.A. Chargers: Like Kansas City, if this team can stay healthy and everything can chug along at or near full potential then this could be an AFC Champion team. And there will be an average of 17 people watching each home game from the stands.
L.A. Rams: Super Bowl, baby. Not only is this the potential upside for this team, but they are more likely to win it than any other team from where I am sitting. A young team that faced adversity in the playoffs last year that they can learn from, and which has talent to burn. And the coaching is so good.
Miami: Best-case scenario, they don't have to bring Jay Cutler in again. That is as close to victory as they are going to get, because this just isn't a very good team.
Minnesota: Kirk Cousins was a gamble, but not a massive one. And I like this team almost as much as I like the Rams. Not quite, but almost. The Super Bowl is the ceiling here.
New England: This team makes me nervous because there are so many holes, and their QB is immortal but old. But the division is terrible, and the coaching is excellent. They are the Super Bowl favorites, so they obviously have Super Bowl potential. But I sure wouldn't bet on them.
New Orleans: It is amazing how many teams in the NFC have championship potential if things go their way. New Orleans is another one, and they strengthened their case by adding quarterback depth from the Jets. I'm not sure I can remember a conference tougher than this one.
New York Giants: The upside here is bleak from where I'm sitting. If OBJ earns his massive money, and Saquon Barkley justifies his draft position, then things could be less embarrassing. But no matter what, it isn't going to go well. I just plain don't like this team - going all in on Eli Manning is not smart now.
New York Jets: Best-case scenario they get Sam Darnold a full season without getting him killed, and he builds a foundation he can build on into the future. Unless he is freaking superman, though, this team isn't going to be much.
Oakland: Best-case scenario, the Jon Gruden experiment doesn't evolve into a complete circus. A lot of people are excited about him and what he brings. I am much more in the highly skeptical camp. The team should be much better than they were last year, but the Khalil Mack situation really makes me uneasy, and I just can't be optimistic.
Philadelphia: Best-case scenario, this team repeats as Super Bowl champs. Last year was no fluke, and they had a strong offseason. But teams as good as this or better have really struggled in their attempts to repeat. I like the team, but I am not going to be optimistic until they prove that they are immune to the curse.
Pittsburgh: A Super Bowl berth could really happen. The AFC is wide open, and as long as they get everyone on the field and stay healthy then this is an offense that could really be special. The defense is a little less inspiring, but the opportunity is there. I am not convinced that they measure up to the best of the NFC, but there isn't a ton of shame in that.
San Francisco: Best-case scenario, Jimmy G proves he is immortal, ascends to a higher plane, and leads his team to a promised land no other squad could even imagine. Or, if you don't fully buy into the idea that Garoppolo is our walking savior, then the best-case scenario is probably eight or nine wins and a future to look forward to.
Seattle: For the first time in a long time, the best-case scenario in Seattle isn't all great. The season will be a success if they avoid a total implosion. From Pete Carroll's perspective, the season will be a success if he doesn't get himself fired - and I'm not entirely convinced that he can avoid that fate.
Tampa Bay: Best-case scenario, the team leaves this season with some QB clarity. Either Jameis Winston uses his time off to reflect and grow up, or the team knows they need to move on and figure out what comes next. No matter what happens with him, the team isn't really going anywhere.
Tennessee: Marcus Mariota, ideally, will get back on track and show that he is indeed the future here. Last year was ugly from him, but this was still a playoff team. With a better showing under center, the team could easily get back to the postseason and maybe do something once they get there.
Washington: Best-case scenario, Alex Smith settles in nicely, Philadelphia deals with a Super Bowl hangover, Dallas struggles, and the Redskins sneak up and steal the NFC East.
Want free NFL picks? Doc's has you covered. New clients can take advantage of this great offer of $60 in free Doc's Sports members' picks for any handicapper on Doc's Expert Handicapper list. Just check out these guys' pages and see what great work they have done making money for themselves and their clients over the years. Get $60 worth of premium members' picks free . Also, get three handicappers for the price of one when you sign up for a full-season football package! Click Here for details . Get free NFL picks weekly on Doc's Sports free football picks page.
Read more articles by Trevor Whenham