NFC Championship Game Betting Advice: Keys and Distractions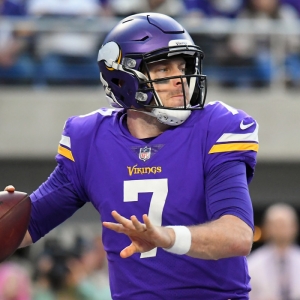 There are countless different components to a football game. More than 100 plays will take place in the game, and each one features 22 players all trying to make a difference. And each play features many coaches making many decisions as well. That's a whole lot of factors that could affect the outcome of a game. And the job of handicappers is to figure out which of those factors matter - which matchups are worth paying attention to because they could impact the outcome of the game. Here are three factors that I think are the most important in this game and one that is a big distraction because it seems so much more relevant than it really is.
Free $60 in Member MLB Picks No Obligation Click Here
Keys
Minnesota focusing on today: The Vikings are coming off one of the craziest wins of all time, and they are just one win away from becoming the first team to play a Super Bowl on their own field. Given all of that, it would be very easy for this team to be unfocused in this game. Looking ahead or resting on the past - both things could really derail what is a very winnable game for this team. If Minnesota is present and ready then I think they win this game quite comfortably. But that's a big "If". And part of focusing is staying out of their own way. They very nearly lost last weekend, and if they had it would have entirely been their own fault. Case Keenum threw a lousy interception, and they had a punt blocked, and the Saints turned those turnovers into 14 points. The team needs to avoid mistakes, and that will be much easier to do if they are fully focused and present.
Philadelphia's run defense: Philadelphia has the best-rated run defense in the league. But that's deceptive. Early is the season they were just brilliant. But as the season has gone on some issues have emerged - not the least of which being the loss of Jason Peters to injury at the end of October. In the second half of the year opposing teams have found that there can be room to run on the outside edges. Minnesota has a competent running game. If the Vikings can establish the run early on then Keenum will have more time to breathe, and the chances of a strong Minnesota offensive day will be high. If the Eagles can be more effective against the run, though, and shut down those outside lanes then the Eagles give themselves a very solid chance.
Foles and the short pass: When Carson Wentz was injured the Eagles had to scramble in a hurry. They had an established and experienced backup QB, but his best play had been in a very different system than the one he was stepping into here. They had to find a way to fit a square peg into a round hole and get enough production out of the offense to survive. And the way they have done that is by using the short pass like crazy. In his last four games Foles has averaged just 5.6 yards per pass. That is a long way from aggressive. Short passes are higher percentage passes, and they require less chemistry and timing. They also don't require a quarterback to buy himself as much time in the pocket. It's not a long-term solution for this or any team, but it has been enough so far to win, and it could potentially be enough to win again. If Foles can't find those short passes, though, then he'll be in trouble. If Minnesota can plug up the middle of the field and annoy the quarterback then they will be in very good shape. Foles is a train wreck when forced to pass deep. The Vikings can, and probably should, sell out defensively to force him to throw deep.
Distraction
Shurmur's departure: Minnesota offensive coordinator Pat Shurmur is reportedly set to become the head man of the New York Giants. For that he deserves our sympathy - that is not an easy situation to step into. Every time a coordinator that is still alive in the playoffs has another job lined up the media drums up storylines about divided loyalties, distractions, and a potential negative impact on the team. And it's just garbage. They are doing it this year with the two New England coordinators and with Shurmur. These guys are pros, though, and the last thing they want to do is to go into their next job with the shadow of a foul end to their prior one hanging over them. That's not to say that things will necessarily go exactly like they want them to - Kyle Shanahan surely dreamt of a different end to his coordinator career last year - but it would be a big mistake to spend too much time worrying about how focused Shurmur will be or what effect his imminent departure will have on the team. Football is a game of constant change - something Keenum knows very well thanks to bouncing around the league through his career - so guys don't expect anyone to be with them forever. This is not a story.
Want $60 worth of the same picks that Doc's Sports members get absolutely free? We figured you would. No obligation or sales people. Get $60 worth of premium members' picks free . Get free NFL betting picks weekly on Doc's Sports free football picks page .
Read more articles by Trevor Whenham