NFL Playoffs Expert Betting Advice: Ranking Postseason Teams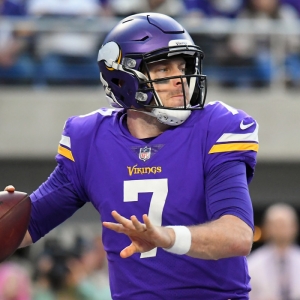 We know what the NFL Playoff field looks like now. So it makes sense that we should work to separate the contenders from the pretenders. There are a lot of teams that could win the Super Bowl without too much shock in this wide-open year - seven by my count. And there are a few teams that are only along for the ride. Here is how I rank the 12 Super Bowl contenders in order of their chances to shine and win it all ( Odds to win the Super Bowl are from BetOnline ):
Minnesota Vikings (+360): The Vikings have a pretty reasonable path to the Super Bowl, and despite being the second seed are quite likely to host the NFC Championship Game because of Philadelphia's woes. And they get to host the Super Bowl, which would be a massive advantage. They don't have a legacy of playoff success as a franchise, but they are balanced and dangerous, and I am a believer. Not enough of a believer to see any value in this price, mind you, but still a believer.
L.A. Rams (+1000): This is higher than most people would have this team, but I think they are the second-best situated team in the NFC, and I like the NFC a lot this year. I look at their likely showdown at Minnesota as the virtual NFC Championship Game - and a de facto early Super Bowl. They are young and inexperienced from the coach on down, and that is a concern. But they have a massive amount of swagger right now, the defense is potent, and they are very well coached.
New England Patriots (+220): They are favored to win yet again, and while I can't argue against it too strongly I just don't think they are deserving. They are well positioned to win the AFC, but the AFC just isn't good right now. They still likely have to get through Pittsburgh, and that won't be easy. And then they are going to face an NFC team with less experience but with a better defense and a strong offense. The Pats have defensive concerns, the offensive line isn't great, Tom Brady has faded down the stretch, and the offense is way too reliant on Rob Gronkowski. I wouldn't be surprised at all if they win it all - we have seen too much from this regime to be surprised by timely excellence. They just feel a little more vulnerable than last year, though, and certainly don't justify this price.
Pittsburgh Steelers (+600): The Steelers need to get over their mental issues with the Patriots, and they have to get Antonio Brown healthy. At full strength, though, they are capable of challenging any team in the playoffs, and they could easily come through. I don't quite trust them mentally, but they are still a solid contender.
Carolina Panthers (+2500): This is again higher than many would have them, but I like their experience and their diversity. Cam Newton carries his team on his back as much as any team in the playoffs outside of New England, and that can be a positive. And I don't have a huge amount of faith in the Saints, and the Eagles are awful, so the path is fairly manageable into the NFC Championship game. Basically, I believe in the NFC, and this is the third-best team in the conference.
New Orleans Saints (+1000): I have struggled to understand how this team has done what they are doing all year. They just don't seem good enough to be where they are, and I have waited for them to regress. They have held on this far and could easily keep rolling - that Philadelphia game is a big advantage if they win their first one and Atlanta doesn't win - but I can't really get behind them.
Kansas City Chiefs (+1800): They have already beaten the Patriots, and they played Pittsburgh tight. They have found their form again after a long swoon, and they are well coached. They are the third best in the AFC. I don't think that that is good enough, but it's at least possible that they could get things going. I put them as the last of the viable contenders, but I don't really expect success.
Jacksonville Jaguars (+2000): The defense has shown vulnerability the last couple of weeks, and the offense is only as successful as it has been because of the strength of that defense. I just don't believe that this team is good enough at this point to be a viable threat.
Atlanta Falcons (+2000): They have the experience from last year to draw on, but that's not enough. I don't trust their mental game this year, or the consistency of their offensive game calling. And their path through the playoffs is rough - starting with a brutal game in L.A.. I am a long way from a believer.
Philadelphia Eagles (+1200): The Eagles with Carson Wentz would be at or near the top of this list. The Eagles with Nick Foles are probably too high on this list at 10th. It's a stunning difference.
Buffalo Bills (+10000): Buffalo already won their Super Bowl by making it this far. They might win a game, but that's where the fun ends.
Tennessee Titans (+10000): If they lost their final game they would not only be out of the playoffs but also shopping for a coach. Teams in situations like that don't win Super Bowls. And teams led by a QB like Marcus Mariota, who has forgotten how to play, aren't winning anything, either.
New to Doc's Sports? We'd like to offer you $60 of free, no obligation picks. Try us out. See why experience matters, and why we have been around for so long while others have come and gone. Click here to sign up today . Get free NFL betting picks weekly on Doc's Sports free football picks page .
Read more articles by Trevor Whenham