Can the Philadelphia Eagles Repeat as Super Bowl Champions?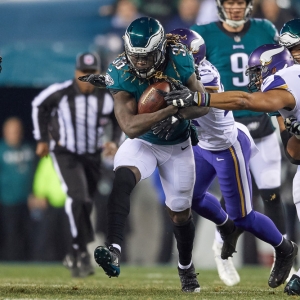 The defending champion Philadelphia Eagles are the second choice to win the Super Bowl at +800 at Bovada , and they are the first choice in the NFC - only New England at +500, the team that Philadelphia beat to win the Super Bowl, has lower odds. Now that the draft is done, and the heavy lifting of free agency is over with, the obvious questions looms - can the Philadelphia Eagles repeat as Super Bowl champions? It's a simple question without an easy answer. Let's look at it from a few different angles:
The hangover: Talking about the Super Bowl hangover is almost cliche at this point, but the effect is real. Teams that have made it to the Super Bowl often have a difficult time the next year. New England didn't last year, but they are led by robots. Atlanta, Denver, Carolina, Seattle, Baltimore, Pittsburgh, the Giants, Green Bay - the list of teams that have taken a step back after a Super Bowl appearance in recent years is not short. These guys have had to face pressure and exposure unlike they ever have had before, and there will inevitably be some egos that aren't as contained as they were at this time last year. It's not that a team in this situation can't hit the ground running and be exactly what they were again. But it takes a special and very well-coached team to pull it off. This is not a team that had much serious playoff experience before last year, so we won't know how they respond to the pressures until they are in live fire.
The quarterbacks: To be a top contender you need to have not just a top quarterback but also a top-quality backup if that starter falters - a case which the Eagles absolutely proved last year. Carson Wentz, who would very possibly have been MVP, went down, and after a slow early start Nick Foles not only managed the games in his absence but contributed significantly to the Super Bowl win. Impressive. And in Nate Sudfeld they have a guy who could be a backup - and a good one - for several other teams as their third-stringer. It's a luxury for the team, and it gives them the best QB group in the league at the moment. But it is no guarantee of success. First, Wentz needs to prove that he can come back from his ACL injury, keep playing at the high level he was before he left, and not let the injury infect his mind and force him to change what he has been doing. In recent days he has talked about how he realizes he needs to change his style, and while that could be true it's also a concern. And Foles needs to go from Super Bowl hero to backup again and still be a positive force for the team - something that would be beyond a lot of guys in the league. So, this is a potential positive for the team but not a guaranteed one.
Coaching: I will fully admit that I was wrong to have doubts about Doug Pederson. He did a heck of a job last year. But his staff went through a big overhaul. First, QB coach John DeFilippo left to become the offensive coordinator for the Vikings. He was upwardly mobile, and his path was blocked in Philadelphia by Frank Reich, so the move made sense for everyone. But then, after the Colts were left at the altar by Josh McDaniels, Reich became the head coach in Indianapolis. So, the Eagles had lost their OC and their obvious replacement. They filled the role from within, elevating receivers coach Mike Groh, who has been an OC at the college level, but it's all not an ideal situation. It remains to be seen how it plays out with the offense, but at least the defensive staff didn't have the same issues.
Turnover: The team did a good job of limiting the players that left. They lost a couple of tight ends - one by choice as they cut Brent Celek. And they had a couple of free agents move because they wanted too much money. But they didn't have a massive purging of talent, and they didn't leave any significant holes in their roster. For all intents and purposes, they are the same team they were last year.
Draft: The team didn't have a lot of picks to work with, but they did well with what they had. They traded down to the back of the second round then up a few spots to get in front of the Cowboys and take the second best tight end in the draft. They stole Josh Sweat in the fifth round - a defensive pass rusher with a knee injury in his past. And they made a couple more value picks, too. It was a good draft all things considered. It's not one that will dramatically change the fortunes of the franchise, but you don't get to have those when you win the title.
Competition: We can look at this in two ways. The division is a mess. Dallas isn't as good as they were last year after their senior leadership departures and the remaining issues with their talent - and they didn't change their coach. Washington seems to be making it up as they go along, and they aren't a great team. And I really don't buy into the Giants this year any more than I did last year. It won't be that tough to win the division again if the team is half as good as they are expected to be. The conference, though, is a different story. The Rams are a year older and hungrier, and they had a great offseason. The Packers have a quarterback again. The Vikings splashed out for a quarterback to add to an already strong team. The Niners think they are on the verge and perhaps could be if Saint Jimmy G is what he appeared to be at the end of last year. The NFC is brutal this year, and some very good teams are going to make early playoff departures simply due to numbers.
The bottom line: Can the Philadelphia Eagles repeat as Super Bowl champions? Sure. What they did last year was no fluke, and they are at least as good this year. Will they? History tells us the smart money bets against it and doesn't lose a lot of sleep doing so.
Doc's Sports is offering $60 worth of member's picks absolutely free - no obligation, no sales people - you don't even have to enter credit card information. You can use this $60 credit any way you please for any handicapper and any sport on Doc's Sports list of expert sports handicappers. Get $60 worth of premium members' picks free .
Read more articles by Trevor Whenham