QB Nick Foles to Leave Philadelphia Eagles Next Season? Bet on it!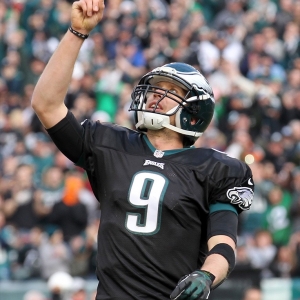 I will fully admit that I didn't see the last month of Nick Foles' life coming. He was lousy early on when he took over from Carson Wentz, and he was far removed from his strong season with the Eagles under Chip Kelly, so I expected him to be the anchor that sunk this once-promising Philadelphia season. So, of course, he won Super Bowl MVP.
The only consolation is that I am far from the only one who called him wrong. His success has raised an interesting question - one that seemed inconceivable even a month ago. Foles is suddenly an attractive option in a league starved for quarterbacks. The Eagles could keep him, or they could find a number of trading partners who would take him for the right price.
So, the question of where he will play next year is an interesting one - and BetOnline has set futures odds for just that question:
Eagles (+125): Philadelphia would be idiotic to trade Foles. We don't know when Carson Wentz will be back and healthy, so having a proven backup on a reasonable deal to play until the starter is ready is a big asset. They also know that Foles can win any game, so why risk going with anyone else?
But it's not a clear-cut decision. Foles will never be more valuable than he is right now, and after this season it is very unlikely that they will keep Foles around because he'll be too expensive to be a backup. The offensive coordinator and quarterback coach have both left for new opportunities, so change is afoot, and it's far from certain that Foles will thrive under the new regime like he did under the old one.
Maybe they should trade him away for a premium pick or two - they won't get the same haul that Kansas City got for Alex Smith, but it's a precedent to work from, anyway. That could be better than losing him for nothing at the end of the year, and there are guys out there - like Tyrod Taylor or Trevor Siemian - who could be had cheap and who could be reasonably competent for what they need. And they already have Nate Sudfeld, who they seem to be high on. Doing so would be basically accepting that they aren't going to be repeat Super Bowl champs, but they probably aren't anyway, and a good trade followed by a good pick could set them up for another run soon more than having Foles around would.
The Eagles have their first-rounder this year, but then they don't pick again until the fourth round, so another pick or two would really help. I still lean towards saying he'll stay in Philly, but the more I talk it out the less I like this price.
Cardinals (+450): You aren't going to trade for Foles without extending him for a few years because you wouldn't want to lose him after just one year. And given how Jimmy Garoppolo has set the QB market already this year, he's not going to be particularly cheap.
The Cardinals are a bit of a mess right now. They are starting from scratch in so many ways after lackluster times, a change in coaching, and a roster that isn't exciting. Given where they are at it probably makes more sense to develop a younger, and cheaper, quarterback than it does to pay for a more expensive veteran - especially one like Foles who, despite the success he has had in two stretches in Philadelphia, is far from a lock to be a star in his next job.
I don't love this price.
Browns (+500): The Browns could do absolutely anything at quarterback. They have the picks to take any guy they want in the draft, but patience is wearing very thin, and they might be more interested in looking to a veteran than trying yet again to trust a youngster - especially when there isn't a guy who is a stone-cold lock in the draft this year.
If I was in charge of Cleveland I'd take a shot at Kirk Cousins or Case Keenum first, but Foles would be a solid third pick. I think it's far more likely he ends up here than in Arizona, but ultimately I think this organization is still too stupid to do anything that makes sense.
Jets (+600): If Foles has any say in where he lands he would likely rather be with the Jets than with Arizona or Cleveland. Things are far from ideal in New Jersey, but they are not as bad as it seemed like they would be entering last season, and there are some decent pieces to work with.
I still think the Jets are more likely to go for Cousins, but this could be a more cost-effective option, so the price is somewhat attractive.
Broncos (+800): The Broncos have the No. 5 pick in the draft, so they are going to be able to pick one of the elite quarterbacks in the class. I think it is more likely that they go that way than go for a veteran. Despite the woes of the last few years at the position, I still think John Elway fancies himself as a QB whisperer, so the chance to turn a youngster into the next Elway will be too much for him to resist.
Bills (+800): Buffalo was a pretty decent team last year that was let down by a QB they didn't trust. They made the playoffs despite the Tyrod Taylor drama, but they could have been a better team if they had gotten better play or had trusted what they had. They are close to being at least a mid-tier contender, so I expect them to be in the veteran market.
Cousins is going to be crazy expensive, so Foles could be a decent fit - and he'd probably be reasonably keen to play for the Bills because they are a decent team, and a successful QB in Buffalo is a hero for life.
Vikings (+1000): New offensive coordinator John DeFilippo was Foles' QB coach with the Eagles this year, so there could be familiarity and trust there. I would be really surprised, though, if Minnesota doesn't commit to ether Teddy Bridgewater or Case Keenum again since they know what they have in both cases. And Philadelphia would be less likely to trade Foles to a strong NFC contender than to a team in a bigger mess of a situation.
This is an intriguing possibility, but not intriguing enough.
Jaguars (+1200): The Jags aren't going to be entirely happy about it, but they are going to realize that the devil they know in Blake Bortles is the devil they should stick with - at least for another year.
Doc's Sports has a great offer for new clients. You can get $60 worth of picks from any expert handicapper for any sport he handicaps. Get $60 worth of premium members' picks free .
Read more articles by Trevor Whenham