Scott Spreitzer Week 7 NFL Handicapping Notes
by Scott Spreitzer - 10/23/2018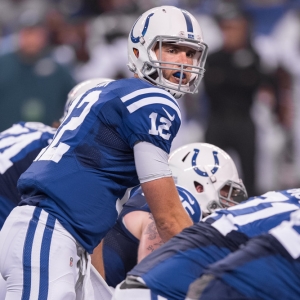 This is an informal look into my weekly NFL notes as I take them from highlight shows, internet recaps, and my own eyes while watching games. Please excuse the crudeness...consider a weekly rough draft. This will be posted every week on Tuesdays and this helps me immensely with my weekly NFL handicapping and preparation.
We finished 3-1 in CFB and 3-1 in the NFL this week, which ups our CFB / NFL run to 28-9. We're also on a 15-5, 75 percent CFB run the last 4 weeks and we're 68% on NFL Sundays this season and 35-15-1 with our last 51 NFL plays overall. We have a 7-Unit CFB Main Event and a 7-Unit NFL Main Event going this Saturday and Sunday, and we're on a 9-1, 90 percent CFB/NFL top plays run. Be sure to grab it all this week! Click Here to visit my Handicapper page.
NFL WEEK-7 2018 RECAP:
BILLS 5-37 INDY: Derek Anderson just signed during the week...and got the start. 20-31-175-3 INT...Bills turned it over 5 times in all. Andrew Luck 17-23-156-4 TDs (Luck leads the NFL with 20 TD passes). Mack big game running the ball...19 carries 126 yards...1 rushing TD and 1 rec TD. Bills QBs this season - 3 TD passes, 12 INTs, and sacked 26 times.
BROWNS 23-26 OT TAMPA BAY: TB missed FG as 4th quarter clock ran out. Chandler Catanzaro then made the 59-yarder in OT for the win. Browns have played 4 OT games already this season...record is 5 in one season. TB 456-305 total yards advantage - both teams averaged around 5 yards per play. Mayfield 23-34-215-2-0. Jameis Winston 32-52-365-0-2.
TITANS 19-20 CHARGERS (London): HC Mike Vrabel goes for 2 with 31-seconds left. Mariota 24-32-237-1-1 (28 straight games with 2 TD passes or fewer). Dion Lewis 13 rush 91 yards...64 rec yards. They ran all over LAC in the 4th quarter. Sharpe 7 rec 101 yards. Philip Rivers 19-26-306-2-0. Rivers 17 TD - 3 INTs on the season...only QB with at least 2 TD passes in every game this season. Tennessee 10.3 ppg during 3 game skid. 19 straight games scoring no more than 24 points in regulation.
TEXANS 20-7 JAGUARS: Bortles 2 TD passes and 8 INTs during 3 game skid. Not recognizing the blitz...struggled with this on Sunday. Jags have been outscored 57-0 in the 1st half of the last 3 games. Bortles benched for Cody Kessler...21-30-156-1-1. Jags 3rd game this season scoring less than 10 points. Deshaun Watson 1st game this season without throwing an INT. Jags DB's not even engaging at times when the opportunity is there to make a tackle.
LIONS 32-21 DOLPHINS: Lions ran for 248 yards. Kerryon Johnson 19 carries 158 yards. Matthew Stafford 18-22-217-2-0. Blount 10 carries for 50 yards and a TD. 3rd time this season Miami has allowed at least 160 yards rushing. Osweiler 22-31-239-2-0. Osweiler playing well filling-in for Tannehill.
VIKINGS 37-17 NY JETS: Adam Thielen 100+ rec yards each of 1st 7 games of the season. 3rd straight win for the Vikings. Darnold made rookie mistakes and didn't recognize coverages on several plays. Missed checkdown receiver being open multiple times. Jets gained just 3.8 yards per play. Darnold 17-42-206-1-3. Isaiah Crowell just 29 yards 11 carries. Cousins 25-40-241-2-0. Minn CB Xavier Rhodes sprained ankle.
RAMS 39-10 NINERS: Todd Gurley 3 TDs. Jared Goff 18-24-202-2-0. CJ Beathard 15-27-170-1-2. 4 turnovers in all for Beathard on Sunday. Rams 5.4 to 3.9 yards per play. Malcolm Brown and Gurley 28 carries combined for 128 yards. 49ers are 2-28 SU last 30 without Jimmy Garroppolo.
PANTHERS 21-17 EAGLES: Philly led 17-6 with 4:30 to go in the game. Panthers convert 4th & 10 own 31 down 17-14 with 2 min to go...35 yard pass play. Cam Newton 25-39-269-2-0 and 49 yards rushing. (16-22-201-2 in the 4th quarter). Cam to Gregg Olsen with 1:20 to go for the game winning TD. Carson Wentz 30-37-310-2-0. Zach Ertz 9 rec 138 yards. Alshon Jeffery 7 rec 88 yards, 1 TD. Carolina outgained Philly 226-22 in the 4th quarter. Philly - turned it over in the red zone with :30 to go.
SAINTS 24-23 RAVENS: Saints won playing Baltimore's style of football....but a Justin Tucker missed extra point with :24 left in the game...Tucker's 1st ever missed extra point...made 245 in a row. Drew Brees 22-30-212-2-0 (Brees 13 TD passes 0 INTs this season). Kamara 17 carries 64 yards 1 TD. Saints outscored Balt 17-6 in the 4th. Ravens had allowed NO 2nd half TDs in their first 6 games. Joe Flacco 23-39-279-2-0. John Brown 7 rec 134 yards 1 TD.
PATRIOTS 38-31 BEARS: Brady 25-36-277-3-1. Josh Gordon 4 rec 100. Trubisky 26-50-333-2-2...81 rushing yards 1 TD. Pats 4 have scored at least 38 points in 4 straight games...1st time ever for them in a single season. Kickoff return for a TD and a blocked punt for a TD were the difference in the game. Kahlil Mack 1 tackle and no sacks...2nd straight game without a sack. Bears 3-3...3 losses by 11 points. Sony Michel???
COWBOYS 17-20 REDSKINS: Dak Prescott 22-35-273-1-0 and ran for a TD. Zeke Elliott only 33 yards on 15 carries. Adrian Peterson 24 carries 99 yards. Alex Smith 14-25-178-1-0. Cowboys 0-4 SU on the road. Brett Maher missed 52-yard FG attempt as time expired after a false start on the center moved him 5 yards back...off the upright.
BENGALS 10-45 KC CHIEFS: KC 9-12 3rd down conversions. 551 to 239 total yards...averaged nearly 8 yards per play. 29-198 rushing...6.8 yards per carry. Mahomes 28-39-358-4-1. Mahomes targeted 4 different players at least 5 times...1 RB, 2 WR's, and TE. Kareem Hunt 15 carries 86 yards.
GIANTS 20-23 FALCONS: NYG covered with :05 to go TD and 2 point conversion. Giants offensive line continues to be a mess. Giants 433-423 yards...both teams 7 yards per play. Eli Manning 27-38-399-1-0. Matt Ryan 31-39-379-1-0. Giants couldn't get the ground game going...do so and they might have won the game.