Scott Spreitzer Week 8 NFL Handicapping Notes
by Scott Spreitzer - 10/31/2018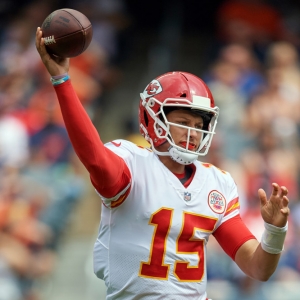 This is an informal look into my weekly NFL notes as I take them from highlight shows, internet recaps, and my own eyes while watching games. Please excuse the crudeness...consider a weekly rough draft.
We finished 4-1 in CFB and 3-2 in the NFL this week, which ups our CFB / NFL run to 35-12. We're also on a 19-6 CFB run the last 5 weeks and we're 18-8, 69% on NFL Sundays this season and 38-17-1 with our last 56 NFL plays overall. We have a 7-Unit CFB Main Event and our first 8-Unit NFL side going this Saturday and Sunday and we're on a 9-1, 90% CFB/NFL top plays run. Be sure to grab it all this week!
NFL WEEK-8 2018 RECAP:
SEAHAWKS 28-14 LIONS: Carson 25-105 rushing…Russell Wilson didn't have to throw a lot...14-17-248 yards-3 TD (perfect passer rating of 158.3)...3 straight games with 3 TD passes. SEA 4 straight games rushing for 150 or more yards. +10 turnover margin during current 4-1 SU run. Stafford 27-40-310-2-1....Lions Kerryon Johnson only 8 carries...far cry from last week when the Lions ran for 248...just 34 this week. Lions have allowed at least 160 yards rushing 4 times this season...they're 0-4 in those games.
JETS 10-24 BEARS: Darnold 14-29-153-1. Darnold 5th time this season with 1 or no TD passes. Crowell held in check again...25 yards on 13 carries. 5th time this season the Jets have failed to top 17 points. Trubisky 16-29-220-2...and 51 rushing. Trubisky 13-3 TD-INTs last 4 games. Howard 22 carries - 81 yards.
SKINS 20-13 NY GIANTS: Eli sacked 7 times. Adrian Peterson 149 yards rushing. Skins 5 wins AP 22 carries per game for 112 yards per game 5 TDs. Alex Smith 20-32-178-1. Barkley 13 rush for 38 yards...did have 73 rec yards. Eli 30-47-316-1-2. NYG 0-4 at home this season. 5 losses by 7 points or fewer.
RAVENS 21-36 PANTHERS: Balt fumble inside its own 30 turned the game. Flacco 22-39-192-1-2. Cam Newton 21-29-219-2...and 52 yards rushing 1 TD...6th straight game with at least 2 TD passes. Balt went into the game allowing just 14.4 ppg. Balt led NFL with 27 sacks...had 0 on Sunday. Carolina 9th straight home win.
BROWNS 18-33 STEELERS: Hue Jackson and Todd Haley - fired. Mayfield 22-36-180-2-1. Chubb 18 rush 65 yards. Big Ben 24-36-257-2-1. James Conner 24 rush 146 yards 2 TD...66 rec yards. Antonio Brown 5 straight games with a TD rec. Browns 15th straight loss at Pittsburgh. 25 straight road losses. Have not scored a 1st qrtr TD this season.
49ERS 15-18 ARIZONA: Josh Rosen TD pass inside a minute to go in the game. AZ a 15-3 final qrtr. AZ averaged 5 yards per play and 4.2 yards per run….and held SFO to 5 yards per pass. Rosen 23-40-252-2-1.
BUCCS 34-37 CINCY: Jameis stinks...18-35-276-1-4. 148 passes this season and 10 have been picked off...horrible. Fitzpatrick to start week 9. Fitz 11-15-194-2. Came in down 33-16 late 3rd. Barber 19 rush 85 yards 1 TD. Evans 6 rec 179 yards 1 TD. Dalton 21-34-280-2. Mixon 21-123-2. TB allowing 33 ppg on the season. Bengals defense 6 sacks...4 INTs...TD. But also allowed 576 yards.
EAGLES 24-18 JAGS (London): Wentz 21-30-286-3-1...13 TD, 2 INTs this season. Adams 9 rush 61 yards. Bortles 24-41-286-1...43 yards rushing. Jags 4 straight losses...averaging just 11.5 ppg and losing by an average of 17 ppg. 0-4 when rushing for less than 100 yards. Can't have Bortles throwing it 40+ times.
COLTS 42-28 RAIDERS: Luck 22-31-239-3. Mack 25 rush 132 yards 2 TD. Carr 21-28-244-3 and 1 rushing TD. Marlon Martin 13 rush 72 yards. Colts 21-0 4th qrtr after trailing 28-21 thru 3. Oak 3rd loss this season after leading thru 3 qrtrs. Allowing 31 ppg on the season.
BRONCOS 23-30 KC CHIEFS: Keenum 23-34-262-2-1. Lindsey 18 rush 95 yards, TD. Booker 9 rush 78 yards. Mahomes 24-34-303-4-1. Kareem Hunt 18 rush 50 yards and 36 rec & 1 TD. Watkins & Kelce 8 & 7 rec...combined 186 yards 3 TDs. 7 straight wins over Denver. Denver out-rushed KC 189-49. Denver 0-7 slide on div road. KC 19-1 SU run in divisional games.
PACKERS 27-29 RAMS: Gurley makes smart decision and sits at the 3 yard line to wrap-up the game. Rodgers 18-30-286-1 (13 TDs 1 INT season). Jones 12 rush 86 yards, 1 TD. Goff 19-35-295-3. Gurley 25 rush 114 yards...81 rec yards and a TD. Rams punted 1st 5 possessions...scored on 5 of the next 7. Aaron Donald 2 sacks...6 sacks last 2 games. Ty Montgomery fumbles kickoff return...game over.
SAINTS 30-20 VIKINGS: Vikings 423-270 yardage advantage...held the Saints to 270 yards...Vikes over 6 yards per play to 5 yards per play. Held Drew Brees to 120 passing yards 1 TD and 1 INT. But the PJ Williams pick-6 of a Case Keenum pass was the biggest difference in the game.

MNF: PATS 25-6 BILLS: Bills defense was terrific...but the offensive line was a disaster...and once again, a pick-6 was the difference, at least as far as the spread was concerned. Both offenses 6 yards per play. New England with a +2 turnover margin. Brady 29-45-324. Game featured zero offensive TDs.